I've been thinking about the role of fans in women's cycling for a while now. I try to think a lot, but it hurts. It also doesn't put me in a good place. I plan and scheme and put the world to rights; but it's a lonely world I live in. My ideas (dream scenarios for others – I'm convinced of that), my visions, are thrown out of the great thinking pot between my ears and against a very hard, big wall, repeatedly.  That hurts, repeatedly.  It leaves you low on the power and drive to keep thinking of new ways to take the sport forward.  So my initial thoughts on the fans' role come in three small parts.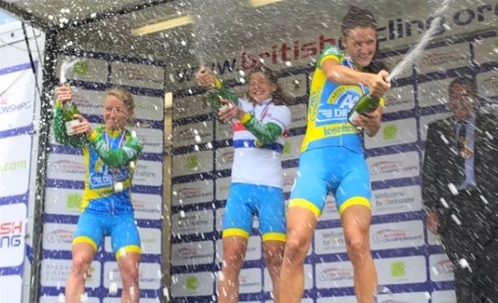 Part 1 – Spreading the word of women's cycling.  There are so many great people that follow the sport already, but it seems to me the key to growing the sport from this direction is getting these fans mobilised and together.  We tend to have cyber fans. They are awesome, and proud to be following the sport… scary I know.  The biggest fan I know is Sarah Connolly (@_Pigeons_ on Twitter).  Sarah is a "British Super Dooper Über Massive Huge Slightly Barmey Snarky Passionate Sweary Wicked Awesome" fan.  Now there isn't room in the world for many of these fans.  She rocks, and if you don't think so, I have no time for you, period.
I've taken Sarah to races in Europe, and to race in the UK. Seeing how Sarah comes alive at these events and her personal battles of professionalism verses fanism are hilarious to watch and be a part of.  So it strikes me that having Sarah at more races is a key to joining a lot of dots.  'Sarah' is, of course, fans in general.  We need these fans to come out to events, participate and feel (and make) the atmosphere that is women cycling.  It's a great place to be and so accessible.  So follows Sarah's lead and let's get the streets lined with fans, not just for the 'feature' events. Let's create our own feature events. Let's tweet the hell out of races and make an impact. Let's take photos and use social media, and fill it with firsthand knowledge; and let's do it together.
To conclude part 1, if you feel the need to go to events and need event information, look within the group of existing fans and send John Orbea (@Cyclopunk on Twitter) a message. He is the man with the info and as a fan he is taking the sport forward. We need more people like him.
Part 2 – Fan-backed teams. This is a subject that had hit my email inbox HARD this week.  The general feeling is these don't work. But, as normal, I have a slightly different feeling about that.  I feel that in the new world of social media and ease of information there is an opportunity for it to work.  As it stands (and of course I reserve the right to change my mind, be talked into different things, or be proved wrong), I feel there would need to be some simple rules if it were to run alongside my (or any) existing team:
It would need to not be the primary source of funding.
Salaries to riders would not be dependent on it.
It would be run by a small, but perfectly-formed, committee (I hate committee set-ups, so that really hurts me so much to say).
A large part of the fund would be used for promotional events for the good of growth and development, not racing cost.
Ok, so that's a wishy-washy list, and it's clearly not final, but at the moment they are the thoughts in my head to keep the possibility of this happening very real.
"What's the return?" or "What do I get back?" are the common questions.  The simple answer is "satisfaction." Know you were part of something.  You lose £1 or $1 a year or whatever you put in, but you gain the knowledge that you tried something.  You become part of a group of people that could be mobilised (As in Part 1 above) and who could raise the roof on the finish line of events.  You can be part of a group that allows a team to get real commercial backing to pay riders.  You get to feel good about yourself.
So it's early days and maybe it can't work. This isn't my plan; it's been put to me, and my email inbox. Is there the support for this kind of venture? Who knows?  You tell me.
On 1 January this year, when Matrix Fitness – Prendas started, it has 23,981 people in its Twitter community when you added the following of its riders and sponsors.  Today it has 81,042 in that community.  That shows the potential power of a small team. £1 from each of those people and we can almost change the world.
Part 3 – Fans' innovation. I always talk on here about innovation, and it's been a-maz-ing to see the take-off of the most exciting fan-led project in women's cycling in the eight years I've been involved in it.  The aforementioned Sarah and her partner in crime, Dan (who can be found on Twitter @entendered), have launched the Unofficial Unsanctioned Social Media Jersey.  This jersey idea, which I'll let you read all about yourselves, is basically where fans pledge some money, and from this fund, riders in real-life actual races get some money based on the votes given by fans for their performance.

Women's races have low prize funds, women riders don't often get paid, and many riders have to pay to get themselves to professional races with their 'professional' teams.  So if the UCI, organisers and teams can't help, perhaps Dan and Sarah can.  They are real-life super heroes who may well have started something a lot bigger than they first though.  But this is the best example of fans having an immediate, and huge, impact on women's racing right now.
So far it has raised $2,000 and in the next few days could go even higher, so please check it out and if you are feeling flush, pass on a dollar or two. Every little helps I'm sure
In many ways, women's cycling lacks history; certainly compared to the men's side of the sport. This era of raised interest in women's cycling is a chance to make a new kind of history for the sport, in a new, interesting and socially inclusive way.
Above all, fans are needed, respected, and appreciated.  We, as a team, take the time to speak to them, to interact and to pass on our reasons why we do things.  We aren't always going to agree, but we can compromise, or agree to disagree.  We are all entitled to our opinions, but above all we care about the same sport, so let's see if together we can make an impact for 2013.
Finally, I got told yesterday "Depends how keen you are to see your sport succeed??" – The answer is VERY. But that doesn't mean I can do everything single-handed. Fill every race with 80 riders, pay riders, provide press coverage, fill the Internet with interesting stories from riders, photos and videos.  But I try hard.
Perhaps if we work together, people won't need to say things like that to me and save my blood boiling quite so often.