Exceptional physical performance alchemists, Bioflow wristbands, have issued a product recall after their critically-acclaimed magnets caused Team Sky's Geraint Thomas to lose the Tour Down Under.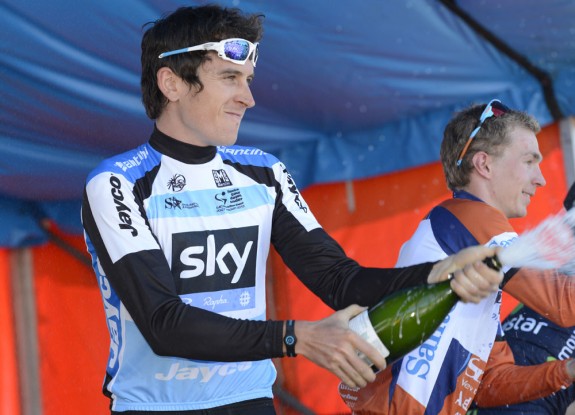 It has been suggested that Thomas lost time on the crucial penultimate stage due to the power of the magnet on his wrist interacting with local geology. This resulted in a 'wave effect' on the road surface that Tom Slagter (Bianco) was able to surf to the overall win.
Hugh Janus, head of nano-magnetic marketing, issued a statement after the final stage in which he bizarrely suggested that the silicone wrist bands cleverly impregnated with 'a magnet' had cost their star paid endorser the win. "We lost out on a huge marketing boost as the band went rogue and passed so much additional power into Thomas that it exited his shoes and disrupted local topography. We can't have this happening in the classics, otherwise Wiggo may arouse suspicion by winning Liège-Bastogne-Liège by too great a margin."
For his part Thomas was physiological about his loss of what would have been a great stage win. "These new bioflow bands, with not one, but two rings of silicon wonderment, have helped me remember so many things, whether to take the dog for a walk or check my bank balance. I can't imagine being able to oxygenate my blood in a non-magnetic manner now, and I hope the astrologers in the laboratory can come up with a means of preventing any further road surface dramas."
Janus went on to reaffirm the company's commitment to cleaning up sport, and specifically he wants to clean out the wallets of feeble-minded sports enthusiasts and golfists. "Don't let this huge disappointment put you off, these bad boys are essential. ESSENTIAL. You don't win all the things that I think Geraint has won unless your bio is flowing. And I see no other way to make bio flow than multi-directional force of magnetism called Central Reverse Polarity, or CRaP for short."
Anyone who can find the Bioflow band their elderly Aunt bought them last Christmas has been advised to return it to the factory with an unspecified sum of money in any legal currency. Several months later a new one may well make its way to your home navigating only by the power of the Milky Way.