by Marijn de Vries
Marijn is a professional cyclist with the Lotto-Belisol Ladies Cycling Team, as well as a freelance journalist. She is the author of Vrouw & Fiets, handboek voor de fietsende vrouw (Woman and Bike: A manual for the woman cyclist) You can follow her on Twitter @marijnfietst and read more of her writing on her blog: www.marijndevries.nl
* * * * *
The new year is over a week old, so writing about my sports moment of 2012 is super outdated. But I'm still doing it. Even though my moment has been rehashed a gazillion times already. Yesterday a journalist asked me to tell about my moment of 2012. Thinking her question over quickly before answering, I realised my moment wasn't the race I'd won. It wasn't even a moment of my own.
It was a moment belonging to Marianne Vos. Her second moment, actually, after winning the gold medal at the Olympics. While I answered the journalist like I was supposed to do, blabbering away about a moment of my own, I couldn't really focus on what I was telling because I could only think of the Worlds in Valkenburg.
Of how I sat next to Karl Vannieuwkerke to do the preview for the Belgian TV-station Sporza. We weren't finished yet before the race started. While I was answering Karl's questions, I kept on glancing over my shoulder to see how the girls gathered at the start line. The girls I had raced with the whole year. They were standing there, while I was sitting here.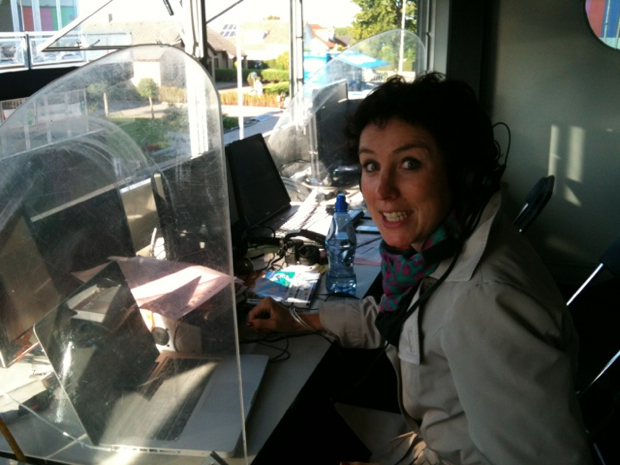 Of how the speaker incited the crowd, how the helicopters came closer, how the cheering got louder while I tried to answer to Karl's questions. The hairs in my neck raised. I felt the helicopters in my stomach. I heard Karl loud and clear in the earphones they'd given me, but I could hardly focus or look at him.
Of how I had the uncontrollable urge to turn around, to watch the peloton standing so close to me, about to start the race. The speaker counted down from ten until start while I heard myself saying Marianne would win the race, probably with a lot of help from Anna van der Breggen. I heard the gun. I felt the wind swirl caused by the riders passing by at no more than two meters distance. Goosebumps on my arms.
Of how I joined Gio Lippens after that, to commentate on the race for the Dutch national Radio 1. We sat on folding chairs in a tiny booth, with a hard plastic window which looked out over the finish line. In front of us two televisions, one with footage of the race and the other one with the time registration. There was hardly enough space left for the mixer which connected us to the studio in Hilversum, my laptop, and a cup of coffee.
Of how I started to talk faint-heartedly, but soon more fluently into the pilot-like headphones. Of how the race passed by like I was dreaming, and unfolded itself exactly like I had imagined. And of the moment where Marianne attacked, at the Cauberg. I had seen her doing that once, right in front of me, in a race where we were in the breakaway together. Inimitable – and today even more so.
Of how I raised from my folding chair, almost jumping out of the window and of how the words kept falling out of my mouth. I wasn't thinking, I didn't even realise what I was saying. Totally exalted, fully in the flow.
This is how it sounded. (It's in Dutch, of course, so you probably won't understand a word, but I'm pretty sure you'll feel my excitement. You'll hear me from 2'15" on.)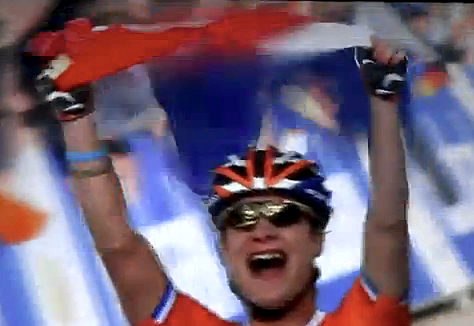 This is it. This is my sports moment of 2012. To me this was a more intense moment than the moment of my own win, or other great moments from last season. I didn't tell this to the journalist. Because it made me seriously doubt myself. I mean, if you're an athlete and your sports moment appears to be none of your own – what does that say about you?
* * * * *
Editor's note: for maximum goosebump effect, watch this – http://www.youtube.com/watch?v=i6nacYHQ-3k – mute the video sound, and listen to the audio commentary by Marijn and company for the final kilometers.