It's 3:30 a.m., I'm in the bus between Tel Aviv and Tiberias, and I really need to share with you what crazy things an air hostess has to go through while bringing a team of female cyclists to their training camp location.
The waiting area at Luik airport was packed. It had snowed so heavily you would think the windows were made out of milk glass, and we were already delayed more than an hour. We female cyclists were part of the cause, with our loads of luggage – suitcases full of training clothes, bikes, and massage tables. The bearded men dressed in black, with the black high hats and the long curls alongside their ears were also responsible, for they had to have their hats checked for hidden bombs one by one before they could pass through customs.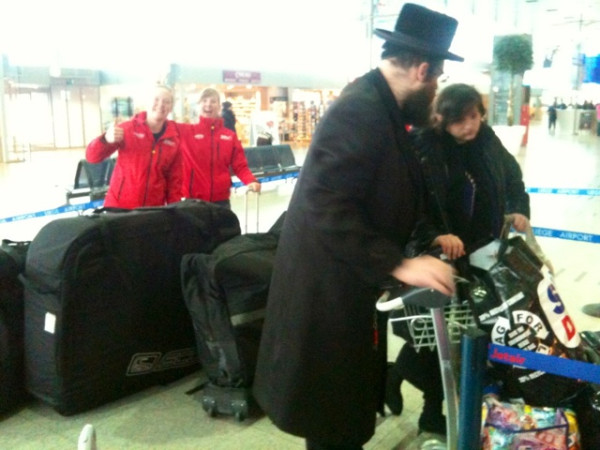 When we had finally boarded, the start ramp appeared to be full of snow. Patiently, the air hostess explained to us there were not enough workers to clear the ramp and it could take a while. Or two. The more impatient the passengers got, the more peace the air hostess started to radiate. Even when twenty men with beards stood up at once, grabbed their hats out of the luggage compartment, and rushed to the back of the plane without taking notice of whoever was in the way to start praying, swinging their hats against the toilet door and the onboard microwave, squeezing the poor air hostess in between them. In vain, she tried to explain the men it was not safe to keep praying there like herrings in a barrel.
Two hours and endless prayers later we took off. Two toddlers started a crying competition for four hours straight. The incredibly patient hostess tried to comfort them. If I had been her, I would have thrown the toddlers out of the window a long time ago. But not her. She stayed calm. She kept smiling. How did she do that? What was her trick?
One of her collegues had the same question, apparently. Because all of a sudden I heard the hostess whisper: "On the outside I might look calm, but on the inside I'm totally stressed." So she was a human being after all. An amazing one. Bravo.