by Marijn de Vries
Marijn is a professional cyclist with the Lotto-Belisol Ladies Cycling Team, as well as a freelance journalist. She is the author of Vrouw & Fiets, handboek voor de fietsende vrouw (Woman and Bike: A manual for the woman cyclist) You can follow her on Twitter @marijnfietst and read more of her writing on her blog: www.marijndevries.nl
* * * * *
We Dutchies think we live in such a cycling-friendly little country, but I've lost count of the number of times a car driver has tried to kill me. I'd rather live in Spain, a country which should be a great example for the Netherlands. I spend the winter in the Girona region where cyclists are more or less sacred here. In the cities, you see road signs which demand 'respect for cyclists' everywhere.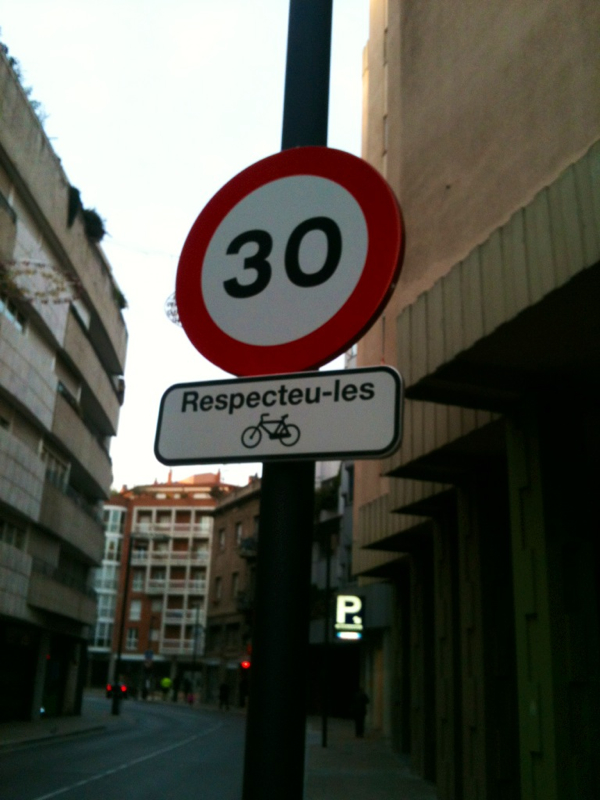 In the countryside you'll find big signs with the stringent request to at least keep 1,5m distance from a cyclist when passing with a car.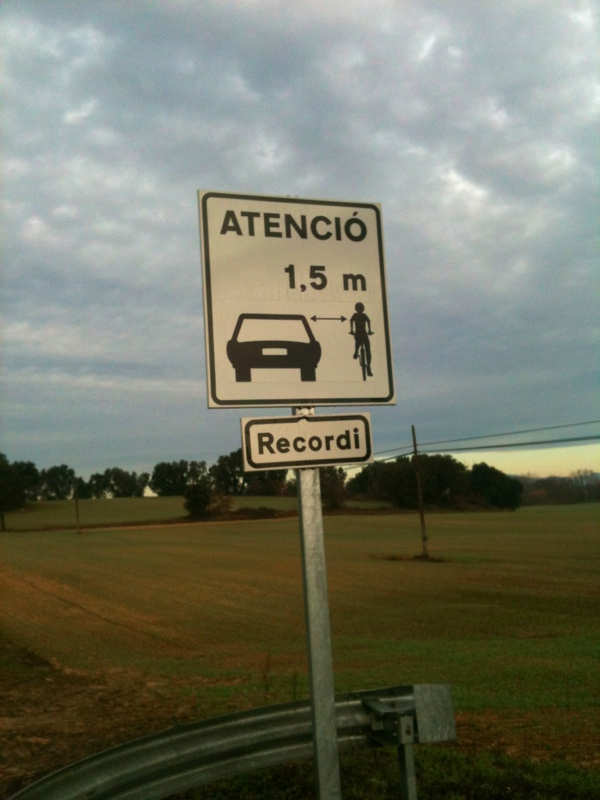 Everybody sticks to that, even if I'm riding my bike uphill at a pace of 20kph or less. Even then, car drivers will wait for half a minute or longer to pass me, without honking, pushing, or growling their engines. They are patient. They wait until it's safe to pass, and they'll do so at a large distance and with moderate speed. Sometimes they even give me the thumbs up: excellent job you're doing there, girl!
I wish motorists in the Netherlands were like that. I am well aware of the fact that some cyclists behave like total idiots, but I don't think car drivers should try to kill us in return. Numerous times I've been pushed into the ditch by morons racing past me at 130kph with only 20cm to spare in my favorite training area – even when there's no oncoming car to be seen. They could easily keep their distance, even without taking their foot off gas pedal that's pushed to the floor. Why do car drivers behave that? I keep asking myself, do they think it is funny, scaring a cyclist to death? Or is it some new and unknown-to-me Dutch sport – passing a cyclist as close a possible?
If so, then bus drivers are the unquestioned champions in this sport. They probably get a bonus from their bosses for it, as I cannot imagine that someone would be so mentally deficient without a reason. They really seem to enjoy stepping on the gas firmly to cross the road quickly while I'm approaching on a priority road. This forces me to an emergency stop, during which I can hardly avoid slipping down on the 'shark teeth' meant for the bus driver, nearly ending up under the wheels of the bus. Or they pass me blindly if I ride down the narrow bicycle lane in the center of my home town, forcing me to jump off my bike into the roadside (This truly happened! And not just once!) to save my dearly-beloved butt.
Come on, dear bus drivers, with your presumably-broad working experience – you really ought to know: a bus and a bicycle driving next to each other on that particular part of the road IS JUST IMPOSSIBLE! So WHY do you keep moving? Why don't you wait for just one second till there is enough space to pass me?
For these reasons I think I'll buy a colossal suitcase to take all the Spanish road signs with me to the Netherlands. I'll place them in my favourite training area. And along the roads in my home town.