by Marijn de Vries
Marijn is a professional cyclist with the Lotto-Belisol Ladies Cycling Team, as well as a freelance journalist. She is the author of Vrouw&Fiets, handboek voor de fietsende vrouw (Woman and Bike: A manual for the woman cyclist) You can follow her on Twitter @marijnfietst and read more of her writing on her blog: www.marijndevries.nl
* * * * *
Although I really hate dogs, I must admit that we female cyclists are a little doggie-like. At least I am. And I have a strong feeling I'm not the only one.
Because this is the thing: I recognize every spot where I ever peed. Even if I haven't been there for months, or even years. Not that I smell it. Or maybe I do, but I'm unaware of it. I don't just recognize the place, I also remember the whole training ride attached to it. Right, this is where we peed at that day with the strong wind, when we came home 1.5 hrs later than we planned, totally exhausted and in a very bad temper.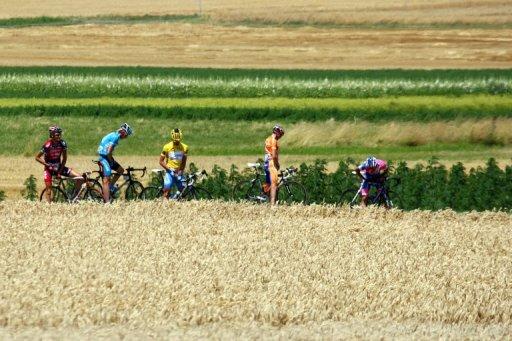 Last week I experienced this phenomenon again. I was riding somewhere in a valley, dashing through a corner and all of a sudden I recognized a small side way where we, while on training camp with the team at the Costa Brava, all sat down for a wee. It was a cold day, long bibs-weather, so there was a huge wrestling with clothes going on before we could relieve ourselves. I remembered this vividly – although I didn't think of this spot for at least a year.
Peeing makes group rides pretty troublesome now and then; if we followed all the individual peeing rhythms, we would stop every 45 minutes. Which means total chaos. So most of the times we agree to stop after half an hour for the ones with the small bladers and/or the huge drinkers amongst us. After that we only stop every 1.5 hours. You think you don't have to go? Pretty please try, because we won't stop again after only 20 minutes.
(Meanwhile you know how we female cyclists pee in the wild decently, right? That is, when the weather is good enough for legwarmers.)
Just like dogs we prefer fixed peeing spots. Not to mark out our territory, like quadrupeds do, but just because we always have to go after half an hour on the bike. Or after an hour. It differs per cyclist, but everyone I know has her own peeing moments during a training ride. So it's only logical you have some set spots to stop on your regular training loops – unless you're on training camp in an unknown area. Then we create occasional peeing spots. We return to these occasional spots if possible, so last week I weed in the small side way in that valley.
Not just any spot is suitable as a peeing spot, obviously. A good peeing spot has to have three important features, at least: out of the wind, as close to the road as possible and a little out of sight. So you won't get a cold, you don't have to tow your bike into the bushes and you're protected against all-too-prying looks.
The funny thing about having permanent peeing spots is this: whenever I pass by, I immediately have to go – even if I didn't feel any urge just until I got there. Typical case of a Pavlov reaction, I guess. I haven't really determined if the same thing happens when you pass by occasional peeing spots, because when I passed that spot in the valley, I had to go for a long time already.
At the Veluwe, my training area at home, I have a couple of these set spots where I always have to go, even if I didn't before arriving. Every week I pee there at least a couple of times. But I'm not going to tell you where my favourite peeing spots are. I'd rather keep them to myself. The best place to pee is in the privacy of your own bathroom. And believe me, for peeing spots, it's the same – the more private the better.