Another rusted, steel fire door bolted to a wall of pock-marked brick and crumbling mortar. The janitor, his hair so short and fine that it almost wasn't there, opened the lock and pushed. The door popped in its frame and I hesitantly stepped into a room that stank of mildew and some kind of rancid oil.
Even sunlight seemed reluctant to enter that place. Once the door was closed behind me the lone, undersized incandescent bulb pushed out an ugly, inadequate splash of yellow light that was barely assisted by gaps in the boarded up window at the back of the room.
Two feet from the door, resting against the leaking hot water heater, was a Diamondback faux MTB, with its needlessly heavy steel frame and its mock full suspension.
Eh.
But the janitor seemed to like it. He walked to it and one of his bony, too-pale hands brushed over the seat in a gentle, familiar way. The sharp edges of his shoulder bones poked up from outside the straps on his grey tank top as he went still, looking down at the bike meditatively.
It was obvious that he was a bit off. Maybe more than a bit.
I went to work, spraying most of the corners for spiders, which was my purpose for being at this building. I poked the beam of my flashlight around the room and made my way behind the small furnace that filled its center.
Two surprises waited for me on the other side. The first was a rat. It was bones, a hint of fur, not much else.
I toed the sleek, white skull. It half rolled to one side, then, as I moved away from it, settled back where it had been and returned to its long slumber.
The second surprise was a dainty black cruiser, its tires 3/4 flat, its frame covered with a layer of sticky dust. It leaned against the brick  wall just beneath the boarded up window. Saltpeter leaked from the mortar in a white fuzz, as is often the case in century-old brick buildings like this one. To my left was an opening, a small room, of just the size to accept that bike and its rider.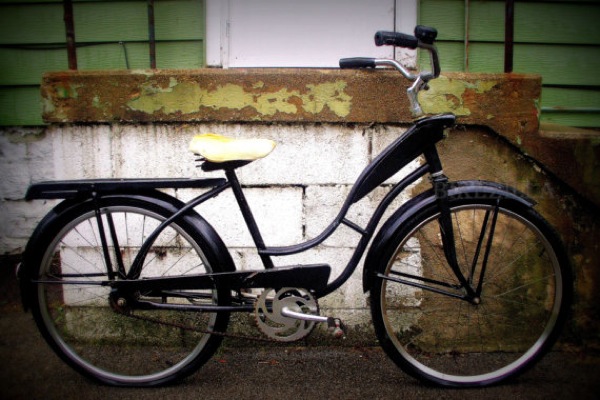 It all reminded me of Edgar Allan Poe's "The Black Cat." I could imagine the lunatic janitor unknowingly sealing the little darling up behind a wall of brick and lime plaster along with… who?  … after once already hanging it.
That story scared the hell out of me when I was a kid. Now that I was an adult, of course, it was no big deal.
"Nice little bike." I said, foolishly not looking back at him as I wondered if he was raising an ax to split my skull open.
"Yeah? You want it?"
I probably didn't flinch. I mean, I don't think I did, but maybe. Just a little. "What? I mean… really?" I said, and hardly stammered at all.
He looked at me either like I was needlessly jumpy or like he was calculating the best spot to bury that ax. I wasn't sure which, but I was leaning toward the latter.
He said, "Yeah. We put up a notice about a month ago, telling everyone to claim and mark their bikes. No one came for this one. You want it, it's yours. If not it'll end up in the dumpster as soon as I get around to it."
"You mean, you're not going to…  er, I uh, hell yeah. Thank you."
Clearly he was a deranged killer.
He had greeted me that morning wearing the grey tank top, moon-and-stars fleece pajama bottoms, and dirty orange flip-flops. If that's how he dressed for work, then I suspected it'd be a long damn time before he got around to the task of tossing this old bike in the trash. And like he really wasn't going to wall it up in that little alcove along with some poor innocent's body. Riiiiiiight.
I went inside the main building to knock on a few doors. When I came back outside he had pulled that little cruiser out of its tomb and removed the front wheel so I could fit the bike in my car.
Trying to throw me off my guard. Clever.
It was late evening before I had a chance to really examine the bike I had so recently saved from that raving madman of a janitor.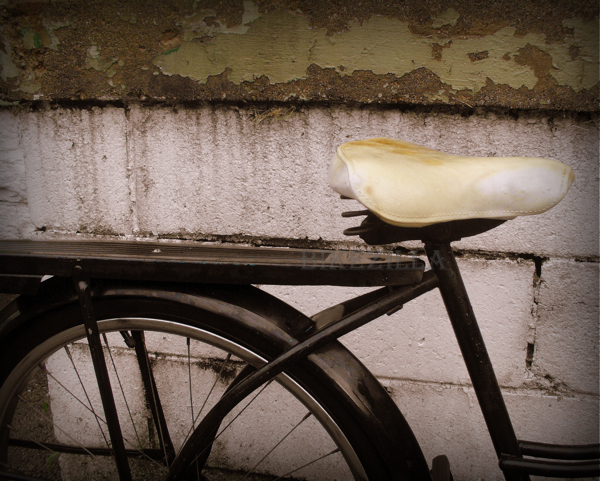 It was a girl's junior cruiser, its wheels of the 24″ variety, its seat cover rubber that was crafted to very nicely resemble leather. There were bits of rope stuck to the head tube and what appeared to be burn marks on the frame.
One of the first things I noticed was that the black paint had run in places.
Damn. Repainted.
Stolen? I speculated that it was not, because whoever had painted it took the time to remove all the pieces and parts from the frame before painting, rather than hastily covering everything that mattered with black in hopes that no one would recognize it and thereby getting paint on all the parts that shouldn't have paint on them.
No, this had been done by someone who was simply a better bike mechanic than he was a painter. He'd had some affection for this bike.
From the not-quite-entirely-flat state of the tires and from the amount of dust on the frame, I was guessing it was placed in that dungeon furnace room about nine months ago.
Had he intended to continue his work at some later time? Why had he abandoned it?
I knew exactly what had happened. The janitor. The ax. It was all clear, and suddenly I knew what befell the phantom painter and whose corpse was to be walled up in that alcove.
But, whatever. I had the bike now. His untimely demise was my gain.
On the tank, beneath the shabby, new black paint, was a sticker that said, "JAVELIN" and another that showed the Olympic rings.
The only thing that had not been painted over was the triangular head sticker, which was not on the head tube, but instead on the top front of the tank, just above the little fake head lights, one of which seemed to be missing. The head sticker read, "Roadmaster AMF."
It's not a valuable bike, but it's lovely, and worth some minor attempt at getting back on its wheels.
Odd though, there is a little white mark on the front fender. At first it seemed like nothing; a scratch, a drop of paint, of no consequence.
But each time I've looked at it since that first night it has come more and more to resemble a … gallows.
Or is that a can of aerosol paint?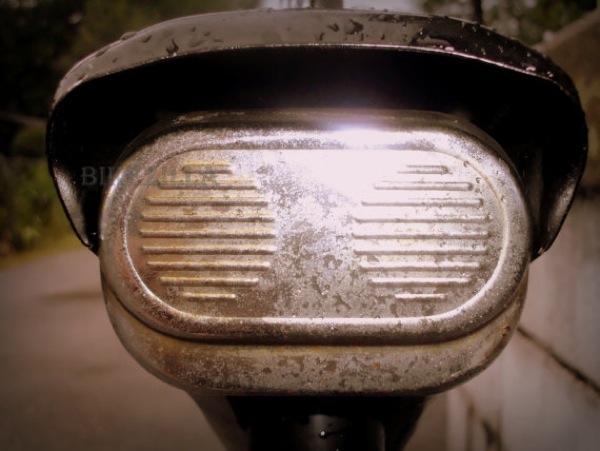 ————–
Duane over at Chester Cycles in Chicago has pointed me toward a product that MAY help remove the poorly applied black paint without damaging the original beneath.
About the author:
Bikezilla is the handle for Tom Schaller, a professional in the varmint control industry and a crack interviewer of personalities in the world of cycling. His writing can be found here and on his blog, "Bikezilla: Ride the Puddles."
At four years old, before he could read or write, and before he could ride a bike, Bikezilla wanted to be a writer.
He figured that if he couldn't write stories, he'd tell them.
For instance, he told his mom that he'd hold his new baby sister while she (mom) ran into the house for a moment. Then he dropped that very same new baby sister upon the ground. Not on purpose, but still he dropped her. She cried, mom came running, he got yelled at. They've hated each other ever since.
Some things are just meant to be, and she was meant to be a brother.
Sometime later he wrote a series of short stories based a Peter Gabriel's "So" album. One of his sisters, no not that one, loved them. Knowing that he was supposed to suck when he wrote his first stories he also knew that she was a lying ho bag. It did not matter than she read and reread those stories many times. She was a liar. And so they also came to hate each other.
Thusly did Bikezilla wander through his life, leaving a black trail of dysfunction in his wake. Until Lesli Cohen found him digging through a McDonald's dumpster for food and said, "Come, sit in that corner and eat your maggot covered dregs, and write for me, away from all the Wangdoodles and Hornswogglers and Snozzwangers and rotten, Vermicious knids."
Right, she quoted Willy Wonka. Bikezilla didn't get it, either. But he came and he ate his picked-over trash and he wrote and life was. It just was.
You can follow Tom on Twitter @bikezilla1 and can take a gander at his artwork on his Etsy page.