Author's note: While I'm in Chicago I see and sometimes meet people doing interesting things on their bikes. This, I hope, is the first in what will be an occasional series of interviews / stories about those people.
* * * * *
He is a smallish man from Mexico, with a heavy accent but an excellent English vocabulary. I've known him for five years and never learned his name.
"My name? Ohh . . . you can call me Joseph", he said when I asked him.
The previous month the building manager had told me that Joseph uses his bicycle to deliver fruit.
The bike is a well-ridden Specialized. The name "Specialized" is nearly worn off and there's no longer any hint of the model name visible. The seat is permanently covered with a plastic shopping bag to keep Chicago's weather from destroying it.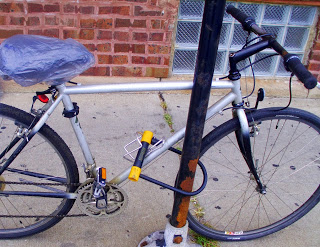 The bike has Shimano XT derailleurs,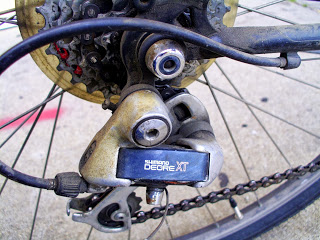 Shimano cantilever brakes,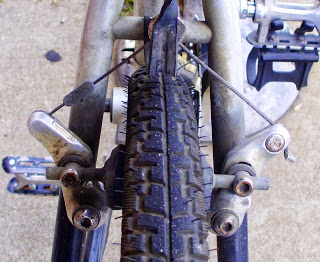 Araya VX 400 wheels ("Specially designed for use of hybrid/cross bicycles with cantilever brakes . . .")

Mismatched Kenda tires with the more aggressive tread on the rear wheel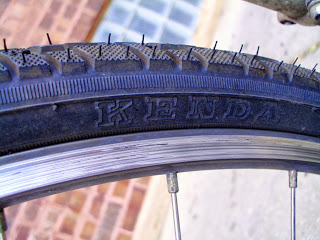 And handlebars so beautifully worn, with so much character, that you can tell he has taken many rides holding a package of food in his right hand while handling his bike with his left.

I at first thought the bike was about ten years old, but after doing a little research (see link for wheels, above) I believe it's closer to twenty.
To be honest, while we talked I thought admiringly about his bike. There are many bicycles of the same age around Chicago, but few of the same quality. Specialized and its peers no longer manufacture comparable bikes at prices affordable to the average rider. This was a most excellent find.
I remembered, or thought I did, that Joseph rode a newer blue Roadmaster MTB knockoff, but I vaguely recalled him telling me that he gotten a second bike. When?
"How long have you had that Specialized that's locked up out front, Joseph?"
"My bike?" he said, "About three years. Three years ago I got that bike."
The Roadmaster is gone. It just couldn't compare to the Specialized.
"I ride a lot in the summertime, from here to McCormick Place, up and around by the lake [Lake Michigan] then some up north [near Evanston]" he said.
"You deliver fruit on your bike?" I asked.
"No just . . . sometimes fruit, or something. The medicines and stuff. Salads."
He makes the salads himself. Salads and a lot more, but I'll tell you about that soon.
He took out his phone and he started thumbing through pictures.
"How long have you been doing this?" I asked him.
"A short time. A few months. It's a hobby," he said.
"What made you want to start?"
"Everything that I cook."
He eats healthy. He likes to help other people to also eat healthy.
"What do you carry it all in? A backpack? A basket?"
"No. I have a plastic bag. I hold it in my hand. With one hand I ride the bike."
He had continued to scroll through pictures as we talked. Now he showed me one.
"This is my burger." he said.
It was gorgeous. There are professional chefs whose presentation cannot compare. And he's delivering on a bike while carrying a plastic bag? I was, and continue to be, amazed.
Another picture. "My enchiladas."
He showed me picture after picture of different dishes. The variety and the consistently beautiful presentation was amazing.
What does he charge for these fantastic, hand-delivered, homemade meals?
"Six or seven dollars."
"Can you email me some of these pictures, so I can include them in the article?"
He said, "I have no email. I have too many troubles with email. People are crazy, they ask you for money. That's just stupid." He said he'd text them to me, but never did.
I wanted to take his picture to go along with the article, but he was skittish.
"I'm not . . . ah . . . how you say . . . not ready for the business. You know? Because I just started to cook. I'm not ready for the business to grow. It's only a hobby right now.You can take a picture of the bike."
So I did.
But, if you just happen to be in the area of Chicago that is around Devon (6400 north) and Clark (+/- 1600 west) you can have Joseph bring you one of his lovingly-made meals for the ridiculously low price of "six or seven dollars" by calling him at 773-397-0460.