We received some really interesting short stories about your commutes for our Abus Lock short story contest. Our highly-trained and discerning panel of expert judges has met and reviewed the submissions, and we're happy to announce that the winner of the contest is Kent Peterson for his story, "Spiders of the I-90 Bridge."
Kent is a fascinating character in the world of cycling, as this profile of him by The Bicycle Story reveals. Not only is he a cyclist, a bike mechanic, and an adventurist, he's a cycling advocate, he and his family have lived car-free for over two decades, and he once held the single speed record for the 2,000+ mile Great Divide Mountain Bike Race.
He is the author of a popular blog, Kent's Bike Blog, and you can see the pictures he took to accompany his short story there.
Congratulations, Kent! We're delighted to have selected your charming bike commute story as our winning entry. Your Ultimate 420 + Loop Cable lock is on its way to you.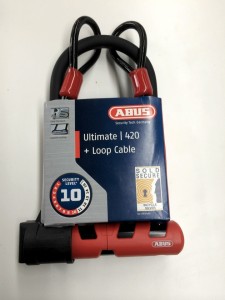 Tremendous thanks to HushLegs and MKidd3 for also submitting their stories of bike commuting to us.
Watch for a new contest on Tuesday, November 19th.