by Anna Zimmerman
Once again, we managed to tear @ZimmermanAnna away from feverishly tapping out her epic tome in order to focus all 150 watts of her awesomeness on the upcoming Bruyneel arbitration scenario. Thank you, Anna for putting the Great American Novel on hold for an afternoon of legal fun.
* * * * *
I just want to say that I love Johan Bruyneel. Smoochies from Austin, Texas. I wonder if Mr. Bruyneel knew that by arbitrating the USADA's claims that Lance Armstrong would likely be called as a witness to testify against him, hence putting Mr. Armstrong in a legal Catch-22 of epic proportions. If Mr. Armstrong refuses to appear, then the USADA can ask a civil court to issue a subpoena ordering him to appear or face arrest. If Mr. Armstrong lies under oath, then he can be criminally prosecuted for perjury. Most importantly for cycling fans still seeking the truth and an admission of wrongdoing, it gives the USADA another opportunity to question Mr. Armstrong about his use of performance enhancing drugs, blood transfusions, and the team-wide conspiracy to compel all other riders to dope. This makes Mr. Bruyneel either the most ill-advised fool on the planet or the most calculating enemy Mr. Armstrong has ever known. Cue the dramatic Mexican Tele-Novella music. Dun-dun-dun!
Of course I expect a barrage of complaints about the USADA harassing Mr. Armstrong if called to testify against Mr. Bruyneel, but I don't think any of them will pass judicial muster. As Mr. Bruyneel's star rider, it would be hard to argue that Mr. Armstrong's testimony would be so irrelevant as to merit his exclusion from the witness stand. But then, the Lance Armstrong Legal Team has argued more laughable points with a straight face, so perhaps I'm being optimistic in thinking they'll lay down the sword and peacefully allow him to take the stand.
Though Mr. Armstrong can't opt out of appearing, he can opt out of answering many questions questions, as can Mr. Bruyneel. The Fifth Amendment protects a person from being required to incriminate themselves in any criminal matter. The fact that this is an arbitration proceeding for a non-criminal matter is irrelevant. Mr. Armstrong cannot be compelled to provide any information that may result in future criminal charges, no matter how unlikely those charges are, but that doesn't mean he can't be asked questions that may cause him to incriminate himself or answer incriminating questions, thereby waiving his right to Fifth Amendment protection. However, he can be required to answer any question the arbitrator determines isn't likely to be incriminating, such as his name, which is probably the only question that will be asked that doesn't open the door for a series of questions about doping. If you've been following the case, then you're probably jumping up and down because you know that none of the performance-enhancing drugs and methods used by Mr. Armstrong were criminal acts, which may make it seem like he can be required to testify about his PED use. Doping is fraud and fraud is a crime, which means that if you're hoping for mandated admissions of guilt while on the witness stand, then you're likely to be faced with a wall of "I plead the Fifth."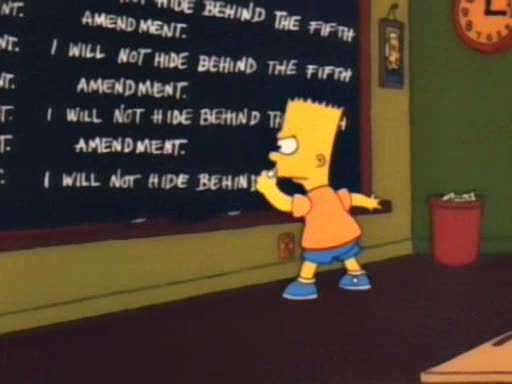 But what message would a repeated assertion of the Fifth Amendment send? The obvious question will be:  if Mr. Armstrong never actually doped, then why would he need to protect himself from self-incrimination by remaining silent? In a criminal proceeding, a witness's use of the Fifth Amendment cannot be used against the defendant to infer guilt, but in civil court or arbitration, a witness's refusal to answer on Fifth Amendment grounds can be considered by the judge or arbitrator(s) when deciding the case. If Mr. Armstrong pleads the Fifth, then he's likely to sink Mr. Bruyneel's battleship if for no other reason than his refusal to answer doesn't disprove the charges against Mr. Bruyneel. In other words, this is a situation when doing nothing isn't helpful, it's harmful. Such is the nature of the Fifth Amendment beast.
The other alternative is to continue the bald-faced lie that he never doped. Get on the witness stand, under oath, and perjure himself. What? Lance Armstrong lie? Never! Well, he already has lied under oath in the SCA Promotions depositions circa 2006. US Postal Service purchased an insurance policy that would require SCA Promotions to cover the cost of the contracted bonuses to be paid to Lance Armstrong in the event that he won the Tour de France. Mr. Armstrong won and SCA Promotions refused to pay the claim on the assertion that he doped. Ultimately, SCA Promotions was ordered to pay $7.5M to Mr. Armstrong ($5M bonus + $2.5M in court costs and fees). In fact, the video-taped depositions are the only the only time Mr. Armstrong has ever vehemently denied doping while under oath.
Lies told while under oath are called perjury. People perjure themselves all the time and even though it's a crime, it's rarely prosecuted. That doesn't make the law any less valid or enforceable. In the same way that Martha Stewart was charged, convicted, and served a federal prison sentence for obstructing justice (lying to the FBI when they were trying to nab her for the much more serious crime of insider trading, which I still think was bogus because it's the government's responsibility to make their case against you, not your responsibility to do it for them), it's possible that if Mr. Armstrong perjures himself during arbitration, he may find himself in a criminal court facing perjury charges and then he'll finally get his precious "beyond a reasonable doubt" standard of proof.
The Constitution functions as a line in the sand. It is a list of enumerated rights that cannot be erased or hidden. Its purpose is to protect the people from abuse by the government, not to shield them from liability for their own wrongdoing. Whoever is on the other side of the line can tease and taunt you, but they cannot drag you across that line against your will. Constitutional rights must be waived before they can be withdrawn. You can choose to cross the line of your own volition, even if you do so haphazardly, foolishly, or unintentionally, and once you do, you can never go back. The Constitution expects people to be ever vigilant and to not play the part of the willing fool.
Mr. Armstrong made a big production about the "unconstitutional vendetta witch hunt kangaroo court" the USADA sought to try him in, however, this "kangaroo court" has almost all of the Constitutional protections of a civil court. The only Constitutional rights Mr. Armstrong doesn't have in arbitration are the ones he consented to waive via contract. Through his contract with USA Cycling, Mr. Armstrong consented to forego resolving any disputes regarding his actions as a professional cyclist in civil court. Chances are your employment contract requires you to resolve disputes regarding your professional performance via arbitration. There is nothing new about using arbitration to resolve employment disputes. It's a civilized process that's governed by the Federal Arbitration Act. But Johan Bruyneel isn't an American citizen, he doesn't live in the United States, and he didn't sign a contract with USA Cycling agreeing to arbitrate disputes about his professional conduct in the United States. So how does the USADA have any authority to pursue claims against him in arbitration? Because he outright consented to arbitration after receiving the charging letter. In all fairness, the USADA's authority to pursue Mr. Bruyneel was tenuous at best, but he consented anyways. Furthermore, the Constitution applies to anyone within the United States. When Mr. Bruyneel appears to defend himself, the Constitution will protect him to the extent that he doesn't waive it.
All of this presumes that Mr. Bruyneel actually shows up to defend himself when the arbitration begins and this hasn't been just a vindictive ploy to compel the USADA to exhaust their resources preparing a case against Mr. Bruyneel that he has no intent to contest. Given the wealth of evidence that Mr. Armstrong validated by refusing to contest the USADA's allegations, I doubt there is anything Mr. Bruyneel could present that would save him from a lifetime ban. Perhaps the credibility of some of the witnesses could be attacked on cross-examination or perhaps even more damning evidence could be released. Perhaps Mr. Bruyneel is so thoroughly infuriated by the situation that he will take the stand and blame Mr. Armstrong for instigating the doping and doping conspiracy. I think the likelihood of any criminal repercussions for Mr. Bruyneel as so low as to be a non-issue. Sure, he should plead the Fifth just in case, but I doubt he'll do that.
On a final note, there is no Constitutional protection against incriminating other people or revealing details about yourself that are less than flattering but not incriminating. If Mr. Bruyneel proceeds with arbitration, then Mr. Armstrong will likely be forced to reveal information that he doesn't want the public to know as well as to decide between perjuring himself or implicating Mr. Bruyneel. In an ironic twist, this is exactly what Mr. Armstrong sought to prevent by refusing to contest the charges and sanctions brought against him.