Another explainer from Doc @veloclinic showing in pretty simple terms why the UCI is full of shit when they say the biopassport program works.
 * * * * *
please note educational license was taken in over simplifying the limmits
so the expert experts kin jist simmer down uh bit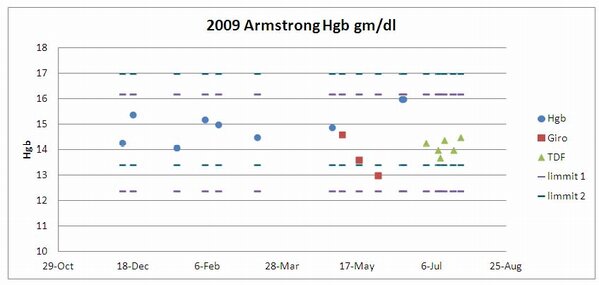 Armstrongs hgb plotted with biopassport limmits from 2 real live dopers
notice armstrongs values never cross the limmit from doper 1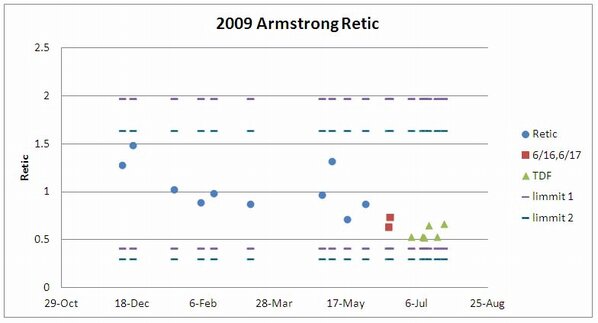 armstrongs retic plotted with the limmits from 2 real live dopers
notice Armstrongs values don cross either dopers limmits
…
a software program that flags based on limmits
is
never
gunna
see
patterns
…
solution
hire sum fuggin interns to screen that shit
or
get sum med students
there very trainable
n
exempt from labor laws
hell
outsource it
to
some night hawk "readers" oversees
what ?
what's good enough for
real world medicine
ain't good enough
to catch a doper ?
c'mon thefuggonnow
* * * * *
veloclinic is the reincarnation of one of our favorite Twitter friends, @captaintbag1, whose tumblr blog posts were a kind of blank verse, Tecate-soaked haiku of truthiness that cut through the slick bullshit and to the very core of what is gloriously fucked up about the sport of cycling. Although the Cap may be gone (sort of), his Doctor tbag/Captain Hyde alter ego lives on, and we're glad to share his pithy analysis here. Lest you think these are the idiot ramblings of a madman, we'd like you to know that the doc is a legitimate professional in the science of sports medicine, and a savant when it comes to doping analysis. You have been warned.