What is Team Sky's Chris Froome to do? Clearly on stage 17 he could have ridden away from his team leader Brad Wiggins on the final climb. Quite possibly he could have caught Movistar's Alejandro Valverde and won the stage for himself. Instead he stayed with his leader and they crossed the finish line in 2nd and 3rd place for the stage at 19 seconds back.
During the run up the Peyresourde Wiggins realized he would win the Tour. "I allowed myself to drift and that was the first time I thought, 'Maybe I've won the Tour today,'" said Wiggins. "Once we saw Nibali had cracked on the top of the Peyresourde, we knew we weren't going to have the danger of him attacking in the final. At that point I knew it was pretty much over."
Once this happened, it seems that Froome and Wiggins had some conversation on the road about Chris attacking to pull Valverde back and win the stage. In fact more than once you could see Froome actually pull away from Wiggins and then drop back. He even gestured to Brad, seeming to say, "Come on, Let's go"! Wiggins couldn't seem to match his accelerations though and Froome would drop his pace and allow his team leader to follow his wheel.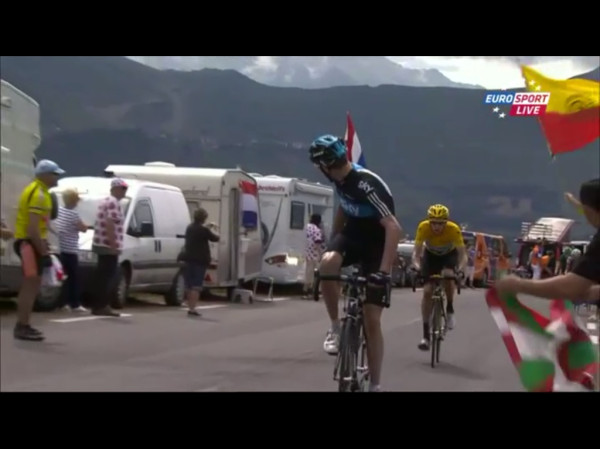 After the stage, Wiggins was asked about what had taken place out on the road. He said, "Chris said he wanted to go for the stage and I said yes. We weren't too sure of the time gaps. All the way up that last climb, my concentration had gone, everything about performance had gone. Chris was egging me on to take more time and I was in another world, really."
Afterword, Twitter lit up with complaints that Froome could have won had he been allowed to go on his own. People made mention that it looks bad for Team Sky to have Froome lose a stage he clearly could have won and that it also made Wiggins look bad, because he clearly wasn't the strongest rider on the team.
Jonathan Vaughters tweeted:
Would have been better for Froome to just drop Wiggo by 20 seconds or whatever and settle it in the time trial. That was just humiliation.

— Jonathan Vaughters (@Vaughters) July 19, 2012
Robbie Hunter:
I don't get why today the last 3kms they never let him go.. Wiggens I'm sure can ride 3kms alone with out having some hold his hand!

— Robbie Hunter (@RobbieHunter) July 19, 2012
UCI_Overlord said:
Well I hope Brailsford is happy with Froome's loyalty. He sacrificed a stage victory. Wiggins is the new Hinault. Or Riis #tdf

— Not Pat McQuaid(@UCI_Overlord) July 19, 2012
Significant others of the riders made comments on Twitter also. Again.
We understand the sentiment from those gentlemen and many others. In fact, initially we felt exactly the same way. We even retweeted some of those very sentiments. Then a thought arose in our empty heads, and bounced around in there for a bit. UCI rule 2.6.026 doesn't apply to this stage*.
Today was considered a summit finish.
Then we reread what Wiggins had said about not being sure about the gaps. This implies that radio communication may not have been the best. We've heard that the team cars were close enough for radio communication, but we wonder how clear it was with a mountain being climbed. Further, with riders all over the mountain, race radio was most likely having a hard time keeping up with everything going on, and updates from the time board weren't happening.
We also thought about the way the riders were spread all up and down the road. The team cars couldn't have been that close and Wiggins' closest non-teammate rival, Vincenzo Nibali, was only 2:23 behind him in the overall standings. Had Froome ridden away, and a crash, flat or a mechanical had happened, it could have been catastrophic for Wiggins despite being so close to the finish. The team cars could have taken much longer than two minutes to get to Brad. We had a demonstration of that recently on stage 14 when Cadel Evans had to stand around on the side of the road twiddling his thumbs while he waited for Jim Ochowicz to quit falling down in the ditch and change his rear wheel.
Last but not least, Froome and Wiggins discussed Froome going on to catch Valverde and win the stage. Froome pulled away from Wiggins easily the first time. It wasn't even a hard acceleration, he just pushed on the pedals harder and Wiggins went backwards. Chris Frändy'd over his shoulder and seemed to say something to Brad. Brad didn't respond. This lack of response seemed to get Chris' attention. He dropped back and he and Wiggins seemed to have a few words. Then he put Wiggins back on his wheel and started pulling. Soon he hit the gas a little harder to try and put time into Valverde and Brad dropped straight away again. This must have been a surprise to Froome. Not long before, Wiggins himself had gone to the front to pull and had seemed strong. Now all of the sudden he can't climb? Even when the accelerations are mild?  We remembered what Brad had said at the end of the stage, "All the way up that last climb, my concentration had gone, everything about performance had gone."
With all of these things combined, it seems Froome made a decision. In a short period of time he determined the following.
It was a mountain-top finish, the 3 km rule didn't apply.
Team cars were some were back on the mountain, but so was Nibali.
A crash, flat or mechanical would be disastrous to his leader.
They didn't know the gaps.
Nibali was much closer than the team cars or teammates.
Brad Wiggins was in la-la land, dreaming of standing on the podium in Paris.
He had to pace his leader to the finish.
Chris Froome proved not only what a great teammate he is but also how smart he is. He made a snap decision and sacrificed a stage win today, and over all he probably sacrificed winning the TdF this year. We hope Team Sky and in particular Brad Wiggins remember this next year. This is the second time Chris Froome has given up the big prize for a teammate. He needs to be rewarded for his unselfish behavior, amazing work ethic and his dedication to his team. If Sky can't do it, we sure hope some other team takes him and wins.
* * * * *
*UCI rule 2.6.026 is as follows;
In the event that a rider or riders suffer a fall, puncture or mechanical incident in the last 3 kilometres and such an incident is duly recognised, the rider or riders involved are credited with the same finishing time of the rider or riders they were with at the time of the incident.
They are attributed this ranking only upon crossing the finish line. If after a fall, it is impossible for a rider to cross the finish line, he is given the ranking of last in the stage and credited with the time of the rider or riders he was with at the time of the incident. For exceptional cases, the decision taken by the stewards committee is final.
This measure does not apply to:
• team time trials or individual time trials or summit finishes.