As our ongoing series looking at different aspects of the revenue-sharing debate draws toward its conclusion, we finally turn to the figure the AIGCP have attempted to make central to the debate: the Tour's TV revenues. Just how much is really being paid by the TV companies for the privilege of broadcasting the race?
"Newspapers created the Tour de France, radio made it popular, television made it rich."
~ Christian Prudhomme, 2010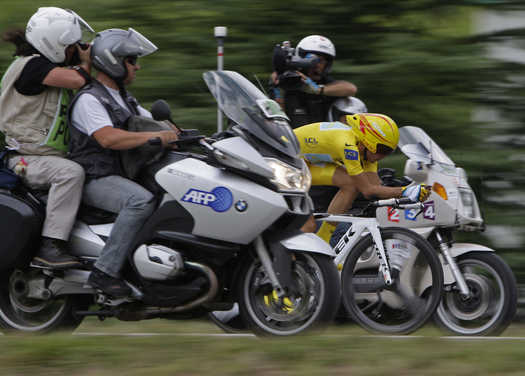 In a July 19 story on Bloomberg, the following comment appeared:
"ASO may get as much as $200 million from TV rights, while the 22 Tour de France teams typically have an annual budget of $10 million each from sponsorships, [AIGCP president Jonathan] Vaughters said."
The story was about attempts by Garmin-Cervélo, HTC-Highroad and Radioshack to limit France Télévisions' access to their team vehicles during the Tour, contrary to a requirement to grant access to the TV rights-holder. The funny part of this story is that, in the AIGCP's Ten Point Plan For Cycling, the team managers called for the use of in-car cameras and yet there they were during the Tour, blocking the use of such technology. Then again, the AIGCP's Ten Point Plan also called for the internationalisation of the cycling calendar only for the AIGCP teams to threaten to boycott the UCI's latest attempt to bring cycling to non-traditional nations with the the Tour of Beijing.
The fact that the AIGCP says one thing and then goes and does the exact opposite is not what's interesting about this Bloomberg story (though it's a fact worth filing for future reference). No, what's interesting is the comment quoted above. It's worth repeating. See if you can spot the problem with it.
"ASO may get as much as $200 million from TV rights, while the 22 Tour de France teams typically have an annual budget of $10 million each from sponsorships, [AIGCP president Jonathan] Vaughters said."
Did you spot it? Yes, that's right, it's the failure to compare like with like. As we all know by now [see parts passim] ASO's TV income – the value of which we'll return to in a moment – doesn't all come from the Tour de France. It doesn't even all come from cycling. But you show that Bloomberg article to someone you know and, after they've read it, ask them how much the Tour's TV rights are worth. I'm willing to bet the majority of people will say $200 million.
Now here's an easy question, one designed to see if you've been paying attention as we've dawdled aimlessly through different aspects of the revenue-sharing debate: in 2009, what was the total revenue of ASO? Correct, it was €145 million. Which is how much in dollars? Give or take a rounding error, I'd say that's about $200 million, wouldn't you? So either: a) ASO have had a phenomenal increase in revenues in the last year and a bit; or b) the $200 million figure for ASO's TV rights is total bunkum. Hmmnn, now there's a real two-espresso puzzler.
So how much are the Tour's TV rights worth?
Let's begin by looking at just one TV deal, the headline-grabbing one with the host broadcaster, France Télévisions. A broadcaster so powerful they can tell the UCI that race radios are killing cycling and the next thing you know Pat McQuaid is issuing an edict banning their use.
France Télévisions recently renewed their deal with ASO, covering the rights for 2014 and 2015. The deal is made up of a package of events, including not just the Tour de France but also Paris-Nice, the Critérium International, Paris-Roubaix, the Flèche-Wallonne, Liège-Bastogne-Liège, the Critérium du Dauphiné and Paris-Tours. The deal also includes other ASO events such as the Paris Marathon and the Dakar Rally.
France Télévisions' previous deal, signed in 2008, expires in 2013. The total value of that deal has been put at €120 million, being made up of €23 million for the 2009 rights, increasing by 2% per annum after that (i.e., rising through €23.9 million in 2011 to about €24.9 million by the end of the contract in 2013).
Now here's a question for you: of the €23.9 million France Télévisions paid ASO for TV rights in 2011, how much would you apportion to the Tour de France?
You could do some simple math: add up the number of days covered by all the relevant ASO events, work out what proportion of those days the Tour's twenty-three days represents and then apply that to the €23.9 million. You'd probably get a figure somewhere in the region of €5m if you did.
More correctly, you'd want to split the revenue based on audience share of the actual TV coverage of the individual events. The amount of work involved in doing that, however, is above my pay grade, so don't look to me to tell you what the answer would be.
What you most certainly do not want to do is be exceedingly generous and say that all of the €23.9 million is due to the Tour and all the other events in the package are freebies, part of a super-dooper BOGOFF deal ASO offers France Télévisions. Not that anyone would be dumb enough to do that. No, some people would be way dumber: they'd take the full value of the five year deal – €120 million – and say that was the annual value of the Tour's TV rights. There's some very, very dumb people out there.
There's also some very, very clever people out there. The sort of people who would take the total multi-year value of all of ASO's TV deals – call it $200 million – drop it into conversation, and then talk about the Tour de France and the annual budget of participating teams. Never once would they say that all of the $200 million related to one year, never once would they say it all related to the Tour de France. But neither would they ever say it didn't. Some people are too damned clever by far.
The point to note is that, whatever way you slice it, you will still end up with a figure well south of €23.9 million as being due to the 2011 Tour from the France Télévisions deal.
Now, having done all the math that's already been asked of you, you're probably feeling like going for a quick lie down. But you're only just past Go on cycling's Monopoly board. You now have to do the same math with all the TV deals ASO have in place before you get to sprint past the posh properties and collect your €200. And the Tour is – allegedly – seen on TV in 186 countries (the UN says the world is made up of 194 countries; one day ASO will list all 186 countries receiving the Tour and we'll be able to work out who the eight countries are that need to be love-bombed by cycling fans).
If calculating the French audience share of the various ASO events is above my pay grade, you can guess how much effort I'm willing to put into collating all the relevant TV deals, identifying the events each covers, finding insiders willing to put values on each contract (TV companies hate to reveal how much they pay for sports rights) and then trying to work out how much of that relates to one edition of the Tour.
It does all sounds like rather a lot of hard work, doesn't it? Is it any wonder people just pluck numbers out of thin air? But is using made-up numbers that bear little or no relation to reality a proper basis for discussing something supposedly as important as revenue sharing? No it isn't.
Is there a way of short-cutting the process? Possibly. Earlier in this series I gave you figures for ASO's performance in 2003. In that year out of a total 117 days of sport organised by ASO, 74 of them were cycling. In total, cycling contributed 70% of the company's revenue. ASO's total income – somewhere between €110 million and €120 million – was split between TV rights (44%), marketing (39%), competitors' rights (12%), and local communities (5%).
Let's, for the sake of argument, call the revenue €115 million. Let's start by being generous. Super generous, in fact, and say that all of ASO's 2003 TV revenue came from just one event, the Tour de France: that would have been €50 million (€115 million x 44%). Markedly south of $200 million, even allowing for inflation over eight years.
But, as we've already seen, being super generous would be super stupid. Let's try to be intelligent. Cycling's share of ASO's 2003 revenue was 70%, or €80.5 million. Let's make an assumption here, which is that ASO's TV revenue splits evenly across all their sports. Crazy assumption, I know, but let's run with it. That would give us cycling's TV revenue (in 2003) as having been €35.4 million (€80.5 x 44%). How much of that do we apportion to the Tour? It contributed about a third of the cycling days. Call the Tour's TV revenue €11 million? Or be generous, and say the Tour was worth at least half the TV revenue, €18 million? Hell, let's be kind and call it a nice round €20 million.
That was eight years ago. The sport has seen boom and bust since then. Can we find a more up-to-date roundabout way of doing the calculation? Well ASO's marketing director, Laurent Lachaux, has in recent years estimated that the Tour is getting as much as 60% of its revenue from TV rights (with 30% coming from sponsors and most of the rest coming from fees paid by the towns that host stages of the race). Previous estimates from Lachaux had put the TV revenue at 50%, with sponsors chipping in 40%. This suggests that sponsorship income, following years of doping scandals and a global ecomonic crisis, has fallen back somewhat. Whatever the figure, 50% or 60%, it's useless without knowing the race's revenue line.
Here we turn to an estimate I don't like. Pierre Ballester – David Walsh's partner in crime for L.A. Confidentiel and Le sale tour – has in recent years put a guesstimate of €100 million on the Tour's budget. For me, that number's far too round, looks too much like it was plucked out of thin air. It also looks far too high, based on previous estimates. But let's assume that Ballester knows something here. His figure would tell us that the Tour's TV revenue was in the region of €50 million to €60 million. A substanial figure, but again, substantially different from the figure the AIGCP have tried to suggest.
* * * * *
What have we got at this stage? We've got a ballpark figure for the Tour's TV revenues as somewhere between €20 million and €60 million. I say that the upper figure is over-inflated while accepting that the lower figure needs beefing up. Can we find an acceptable middle ground, that the Tour's TV revenue is probably in the region of €40 million to €50 million?
Whatever the figure, it's important to remember that the teams currently get €1.6 million of whatever it is. Which, as AIGCP president Jonathan Vaughter's recently noted, barely pays for two bus drivers per team when shared out among the individual teams. So just how much of the Tour's TV revenues do the AIGCP expect ASO to share with them? Clearly more than €1.6 million. And, from comments made by Vaughters' AIGCP colleague Johan Bruyneel, clearly more than the €3.4 million total prize pool, too. Which leaves me wishing I knew the answer to this question: just how much do the AIGCP think ASO can afford to share with the teams?
Let's wrap this up with a question: why TV revenues? Why single them out? Why not simply demand a share of all the Tour's revenue? Why not simply point out that the participation fees negotiated between the teams and ASO – presumably between the AIGCP and ASO – are no longer deemed sufficient and the teams have rethought their previously-negotiated position and, on mature reflection, now think they deserve a greater reward for their role in this sport?
The AIGCP won't do this, for obvious reasons. So they focus on the emotive issue of TV revenues. But do the AIGCP really believe that the TV revenues are surplus to ASO's requirements, that all the other costs of putting the Tour on – which include, don't forget, travel and accommodation expenses for all twenty-two teams for all three weeks of the race, which alone must run to an amount not unadjacent to the €1.6 million cash the teams already take out of the race – are covered by the Tour's other income, from sponsors and host towns? That TV revenue is pure profit to ASO? Bear in mind here that, in 2006, 2008 and 2009, ASO reported total profit of just €32 million a year. That's from all their events, not just the cycling ones and most certainly not just the Tour de France. It seems clear, to me at least, that TV revenues are not surplus to ASO's requirements.
Right now, I am not arguing that the AIGCP don't deserve a greater share of the cake, don't deserve more crumbs from the table. Right now all I am doing is questioning the manner in which the AIGCP are asking for their due. Because right now, the AIGCP's attempts to focus this debate on a massively-inflated TV revenue figure just make the managers look pretty damned silly.
Next: Can a salary cap stop the teams from blowing all their pocket money in the one sweetshop?
Previous: Licenced to thrill.