So far in this series of articles looking at some of the key issues in the revenue-sharing debate, we've looked only at two of the key stakeholders: the Amaurys (the biggest of the race organisers) and the UCI. In this tenth part we finally turn to the issue of revenue sharing itself and consider how the Tour's revenue is currently shared by the Amaurys. 
From the beginning, the Tour de France has shared its revenue with the participating riders and teams.  At that first Tour, away back in 1903, riders were competing for a prize pool of 20,000 French francs, with the winner pocketing 3,000. In addition, L'Auto subbed the riders five French francs per day. Over the years, the manner in which the Tour has subsidised the cost of participation has changed. And the prize fund has grown. And grown. And grown. Want to see how much it's grown? Try the chart below.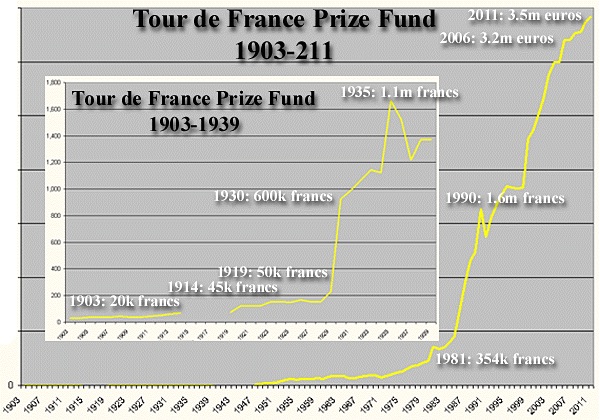 Figure 1: Tour de France Prize Fund, 1903 to 2011
(k = thousands, m = millions)
Source: ASO
Because we're dealing with three different currencies here (pre-1960 French francs, post-1960 French francs and, today, euros) I've had to convert everything into a common currency. Because the growth in the prize fund in the first forty or so years is somewhat lost, that's covered in the inset chart.
Table 1: Distribution of 2011 TdF Prizes

Total Prizes
€

BMC Racing Team

493,990

Team Leopard Trek

395,310

Team Europcar

147,130

Team Garmin-Cervélo

145,940

HTC-Highroad

104,940

Omega-Pharma Lotto

96,600

FDJ

90,660

Euskaltel-Euskadi

87,780

Saxo Bank Sunguard

72,290

Sky ProCycling

67,000

Movistar Team

46,660

AG2R La Mondiale

45,560

Cofidis Le Credit En Ligne

41,740

Vacansoleil-DCM

35,650

Lampre-ISD

30,100

Saur-Sojasun

26,930

Rabobank Cycling Team

24,290

Liquigas-Cannondale

22,360

Quick Step Cycling Team

19,940

Katusha Team

12,380

Pro Team Astana

11,710

Team Radioshack

10,540

Total

2,029,500

Source: ASO
The issue of revenue sharing, as raised during the Summer by the AIGCP, is about sharing money with the teams, not the riders. The Tour's prize fund though – generous and all as it seems – shares ASO's wealth with both teams and riders. While I realise that riders deserve to be well-paid for what they do, and deserve to have a generous prize fund to compete for, right now I want to ignore the issue of sharing the wealth with riders. Cervélo's Gerard Vroomen has recently addressed the issue of sharing the wealth with riders at all levels of the sport through a minimum wage. His views are worth considering and taking on board as part of the whole revenue-sharing debate. For me, the issue of riders' salaries, bonuses and winnings is an area I have mixed views and insufficient information on so, insofar as it relates to the upper echelons of this sport, I'm keeping well out of it. Call me a coward but I'm with Roger McGough on this: discretion is the better part of Valerie.
For me, what's interesting about the Tour's prize fund is how much of it feeds back into the budgets of the teams compared with how much goes into the bank accounts of the riders and their agents. This is the aspect of the prize fund that relates to the revenue sharing debate as it has been framed by the AIGCP.
Some of you will have seen the table (right) breaking down the 2011 Tour's prize money between the different teams. Cadel Evans' BMC Racing Team topped the table with an impressive €493,990 while Johan Bruyneel's Team Radioshack were rooted to the bottom with a paltry €10,540. But how much of that actually went to the teams and how much of it went to the riders?
The original table included the overall team prize (€120,000), the team time trial (€25,000) and the sums won by the teams of each of the stage winners (€56,000). If we apportion that €201,000 to the correct teams, subtract the resulting figures from the original set of numbers then we should have the figures for how much the teams got and how much the riders got out of the 2011 Tour.
Except we don't. If you look at the table you'll see it accounts for just over €2 million of prizes. Yet ASO claimed that the total prize fund for the Tour was €3.4 million. What happened to the missing million and a lot?
Here's where ASO play a smoke and mirrors trick on the media. Their total prize fund of €3.4 million includes fees negotiated between the AIGCP and ASO for their participation. Yes, at the Tour, you get a 'prize' just for turning up. Just like school sports day.
At the Tour, each team receives a €51,243 participation allowance. In addition, teams finishing with seven or more riders (out of the nine that started) get a bonus of €1,600 per rider. So the worst performing team can take home an additional €51,243, while a team finishing all nine of its riders will ride away with €65,643. So let's add those two figures into the mix and see what the final picture looks like:
Table 2: Distribution of Tour de France 2011 Prize Fund
(incl participation allowance and bonuses)

Participation
+ Bonus
€

Team Prizes
€

Teams Total
€

Rider Prizes
€

Total Prizes
€

BMC Racing Team

65,643

7,800

73,443

486,190

559,633

Team Leopard Trek

65,643

33,800

99,443

361,510

460,953

Team Europcar

64,043

15,100

79,143

132,030

211,173

Team Garmin-Cervélo

64,043

68,400

132,443

77,540

209,983

HTC-Highroad

65,643

17,600

83,243

87,340

170,583

FDJ

62,443

500

62,943

90,160

153,103

Euskaltel-Euskadi

62,443

10,800

73,243

76,980

150,223

Omega-Pharma Lotto

51,243

8,900

60,143

87,700

147,843

Saxo Bank Sunguard

65,643

600

66,243

71,690

137,933

Sky ProCycling

64,043

8,100

72,143

58,900

131,043

AG2R La Mondiale

64,043

20,300

84,343

25,260

109,603

Movistar Team

62,443

3,000

65,443

43,660

109,103

Cofidis Le Credit En Ligne

65,643

0

65,643

41,740

107,383

Lampre-ISD

64,043

250

64,293

29,850

94,143

Saur-Sojasun

65,643

250

65,893

26,680

92,573

Liquigas-Cannondale

65,643

300

65,943

22,060

88,003

Vacansoleil-DCM

51,243

200

51,443

35,450

86,893

Rabobank Cycling Team

62,443

3,400

65,843

20,890

86,733

Quick Step Cycling Team

62,443

300

62,743

19,640

82,383

Pro Team Astana

62,443

500

62,943

11,210

74,153

Katusha Team

51,243

200

51,443

12,180

63,623

Team Radioshack

51,243

700

51,943

9,840

61,783

Total

1,359,346

201,000

1,560,346

1,828,500

3,388,846
The key point here isn't that Garmin-Cervélo came out of the Tour with eighty grand more than the oil-rich oligarchs in Katusha did (although that is a nice point). It's that, of the €3.4 million ASO shared with riders and teams, only €1.6 million went toward helping to defray the costs of running the teams. As splits go, it doesn't seem to be that bad, at 46:54. But it's the teams who are the ones spending the money on fancy team buses and the like, not the riders.
How does the €1.6 million of the Tour's revenue shared with the teams this year compare with previous editions of the race? Let's look back over the past four years:
Table 3: Tour de France Prize Fund 2008-2011 (Budgeted)

2011
€

2010
€

2009
€

2008
€

GC

1,005,000

1,005,000

1,005,000

1,005,000

Stages – Riders

450,000

472,500

450,000

472,500

Stages – TTT

25,000

0

25,000

0

Green Jersey

128,000

142,300

145,400

140,750

Polkadot Jersey

104,700

106,350

105,300

101,350

White Jersey

66,500

66,500

66,500

66,500

Combativity

56,000

56,000

56,000

58,000

Special Awards

10,000

10,000

10,000

10,000

Team Classification

176,000

178,800

176,000

178,800

Total Prizes

2,021,200

2,037,450

2,039,200

2,032,900

Participation Allowance

1,127,346

1,127,346

1,024,860

1,024,860

Finishers' Allowance

264,000

212,000

212,000

212,000

Total Prize Fund

3,412,546

3,376,796

3,276,060

3,269,760

Rider Prizes

1,820,200

1,858,650

1,838,200

1,854,100

Team Prizes + Allowances

1,592,346

1,518,146

1,437,860

1,415,660

Number of teams

22

22

20

20

Source: ASO
The sharp-eyed among you will have noticed a slight difference between the numbers given here for 2011 and the numbers given previously. Simple answer: these are pre-race budgeted numbers, using guesstimates for the number of finishers, which impacts the final figures for some prizes and allowances.
The important point to note is that the only real difference in the revenue shared with the teams over the last four years has been because of the number of teams participating and the inclusion (or not) of a team time trial in the race. The base numbers – a €51,243 participation allowance, €1,600 per rider for teams finishing seven or more riders, €2,800 per stage, €120,000 for the team classification and €25,000 for the team trial – have been static.
Could ASO do better? Should ASO do better?
Before answering those questions, I think it's necessary to consider what else ASO is already doing. The Tour is but one of a stable of races they control. While it is central to the cycling calendar and is loved by one and all, the Tour does unfortunately act as a distorting glass, warping our perception of what's going on elsewhere in our sport. So what is happening elsewhere within ASO's stable of races?.
Table 4: Prize Funds at ASO Races

Date

Race

Organiser

Status

Days

 

Prizes
€

2-Feb

Ladies Tour of Qatar

ASO/QCF

2.1

3

18,689

6-Feb

Tour of Qatar

ASO

2.1

6

102,618

15-Feb

Tour of Oman

ASO/MoM

2.1

6

111,642

6-Mar

Paris-Nice

ASO/TDF Sport

WT

8

138,400

26-Mar

Critérium International

ASO/TDF Sport

2.HC

2

40,088

10-Apr

Paris-Roubaix

ASO/TDF Sport

WT

1

91,000

20-Apr

Flèche Wallonne

ASO/RCPCL

WT

1

45,750

20-Apr

Flèche Wallonne Femmes

ASO/RCPCL

CDM

1

5,130

24-Apr

Liège-Bastogne-Liège

ASO/PSO

WT

1

55,750

13-May

Tour de Picardie

ASO/TDF Sport

2.1

3

41,958

4-Jun

La Classique des Alpes Juniors

ASO/TDF Sport

1.1U

1

2,120

5-Jun

Critérium du Dauphiné

ASO/TDF Sport

WT

8

120,000

2-Jul

Tour de France

ASO

WT

21

2,021,200

4-Sep

Tour de l'Avenir

ASO

2.Ncup

8

 

9-Oct

Paris-Tours*

ASO

1.HC

1

20,000

9-Oct

Paris-Tours Espoirs*

ASO/TDF Sport

1.2U

1

6,010

* = Prize figure based on 2010 race

Source: ASO (Individual Races)
This time round, for the Tour de France, I've excluded the participation allowance and finishers' bonus as the comparative figures for other races are not available and we really should compare like with like. On the issue of participation allowances, the UCI sets a minimum of €7,500 (per team, per race) to be paid to all ProTeams participating in WorldTour (WT) races, excluding the Grand Tours: for other teams and other races, the figure is to be negotiated with the event organiser. When I asked the AIGCP if figures were available for fees negotiated at other races, I was told that – with the exception of the Grand Tours and a couple of other races – they receive only the UCI minimum. €7,500. Whether it's a stage race or a one-dayer.
A factor you need to consider with regard to the participation allowance is the costs picked up by ASO, principally accommodation. Back in the day, that five French francs per diem the Tour allowed riders in 1903 was just that, a per diem. The riders had to sort out their own accommodation. As the years went by, that's an expense for which the Tour itself started to pick up the tab. For a time, the race organisers tried to cover it by hiking up the amount charged to enter the race, rising from 10 French francs per rider back in 1903 to something in the region of £25,000 (circa 125,000 French francs) by the mid-eighties. Today, there is no direct fee for entering the race.
Some of the costs assumed by the race, though. have actually become a source of revenue for the Tour. Away back in the eighties, one Tour anecdote has it, Félix Lévitan was shocked to see Colombian riders queuing for payphones, their pockets bulging with centimes so that they could phone home to Colombia. Lévitan issued an edict that, henceforth, all riders' hotel rooms should have a telephone. Soon enough the Tour brought on an official partner who paid for the privilege of being the Tour's telecommunications provider.
Digressing a little into the Tour's history, another story is worth telling in relation to this aspect of the race's finances. In 1989 Jean-Pierre Courcol – having stepped down as Tour director after the Delgado affaire – took a long hard look at the way the Tour provided transport. Peugeot provided official vehicles. Courcol thought they should pay for the honour. Jean Todt – now head of the sport some in cycling want us to model ourselves on, F1 – thought Courcol was joking. He offered 500,000 French francs. FiatFrance could see that Courcol was being deadly serious. They bid 6,000,000 French francs. And got the gig. Once the Tour's organisers caught the official partner bug they exploited it for every centime it was worth. And then some.
No figures are available for the costs assumed by ASO today – or the revenues they pull into to mitigate them – but you don't need to be a math wizard to work out that just putting 22 teams up in hotels for more than three weeks doesn't come cheap. This alone is one of the reasons some towns and cities are willing to pay such large amounts for the privilege of hosting the Tour: a lot of the money immediately flows back into the local economy. One estimate has it that the average spend is in the region of €150 to €200 a head. Multiply that by three thousand or so people (riders, team personnel, organisers and media) and then add in something for the thousands of fans who also spend money while following the race and the cost of hosting the Tour doesn't seem so expensive, does it?
The issue of the extra costs borne by ASO is also one of the reasons why the revenue-sharing debate is, in my opinion, poorly framed: you can't consider revenue without considering the costs associated with it. Some of those costs – and who is levying them – we will come to later in this series.
Back to the issue of prizes at ASO races then. There are a few things interesting in the table of prizes, such as the pathetic sums on offer at the two races ASO organises for the women's peloton. But, again, what I'm interested in here is the issue of team prizes. The Tour apart, they're offered at just three other races in the above table: the Tour of Oman (€5,100), the Tour of Qatar (€5,100) and the Ladies' Tour of Qatar (€1,850). All the rest of the prize money in all the other ASO races flows directly to the riders (or, to be precise, the riders and the team personnel amongst whom the pooled prize money is shared).
Just four ASO races offering team prizes. Just one ASO race paying more than the UCI-approved minimum participation allowance. Doesn't seem like much, does it? So let's ask the question again: can ASO do better? Me, I think they can. Cycling is a team sport and the teams deserve to be rewarded for their efforts. Not all the glory – or all the wealth – should go to the riders.
But should ASO do better? To answer that question I think it's worth considering the prize money on offer at some other races. ASO might be the biggest race organiser out there. But they're not the only one. And, if we're going to ask them to do something, we should also be asking the same of other race organisers.
Next: Sharing the wealth at the WorldTour.
Previous: Monitoring the UCI's cholesterol levels.