Editor's note: Guest author Nick Hussey (@aslongasicycle on Twitter) is the founder and head honcho over at one of our very favorite cycling clothing companies – Vulpine.cc. This piece originally appeared on Nick's bloggy at Vulpine, and we thought it so hilarious in its prescience that we promptly stole it. With Nick's full coercion cooperation, mind you.
Enjoy!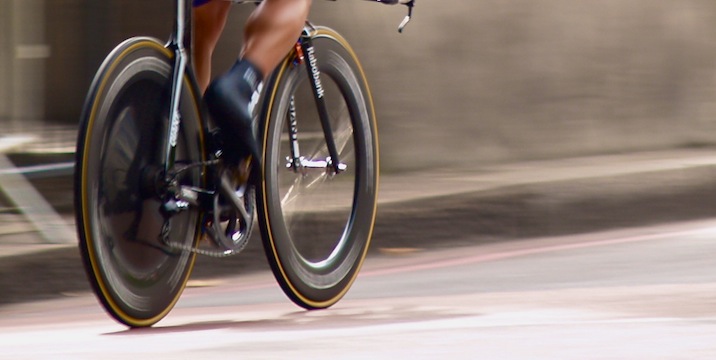 Le Tour de France. Behemoth of cycling. Greatest spectator sport in the world. Source of drama, horror and helicopter shots of horses running alongside sunflower fields.
Here are THE Tour de France predictions, which will all come true, definitely. Lets call them A Prophecy. I'm available for parties.
Stage 1
Wiggins will win the prologue. He will moan about having the Maillot Jaune. But we won't mind. Brits will do a little skip and jump. Lovely.
Stage 2
Sagan wins into Seraing. A star is born. (Well, a star was born when he wheelied over the line of every one of his previous 572 victories, aged 17, but now he's in Le Tour, so it actually counts. He does not wheelie today. Basso has had words about that.
Stage 3
Cav wins into Tournai. Sagan does a wheelie in a feed station. But not at the finish. He has respect.
Stage 4
On the early Northern flat stage to Rouen there will be a howling side wind. Somebody will hit a labrador. It will be Frank Schleck. Frank will retire with a hurty toe.
Meanwhile, pandemonium ensues. Wiggins is caught behind the crash. Evans is not. Wiggins loses 40 seconds to Evans. But he won't mind, he hates the Maillot Jaune. The yellow jersey not to be defended, but coveted. That is lore. It is not part of THE PLAN.
Up the road, Cancellara takes yellow by default, having come second in Liege, but also wins the stage, powering away in the last 800m to beat Sagan who crosses the line doing a superb wheelie in front of Goss. Cheeky (but loveable) little (huge) bastard.
Froome makes the split with Evans. Every other Sky rider waits for Brad. Brad is not enamoured with Froomey. Tension builds. Political statements replace breezy insouciance in the post-race interviews. It has started.
Stage 5
Cav says something controversial about Matt Goss straight after taking second place to him due to getting balked by Stuey O'Grady at St.Quentin. He immediately retracts it, apologises, hugs the Aussie sprinter, hugs his own team mates (who are all grouped tightly around Wiggins, as usual) and thanks them, even though only Bernie helped. A lot of people moan about Cav. A lot of people defend Cav. There is some shouting on Twitter. Life goes on. He is World Champion. Which is great, isn't it.
Stage 6
Cav wins a rain soaked stage into Metz. As he crosses the line he pulls a stencil out of his back pocket, places it against his chest and sprays pink glittery loveliness onto his chest. The stencil leaves a flattering portrait of Bernie over his pecs. The World swoons. Bernie and Cav weep. Actually, Bernie doesn't weep, he picks up an infant and kisses it. More swooning, etc., etc., ad infinitum…
Stage 7
On the first mountain stage into La Planche des Belles Filles (catchy!) Froome and Wiggins are evenly matched. They are evenly matched! Evans steals 10″, attacking at 1.5km, extending yellow and winning. This is still in THE PLAN, ish. We stop taking the piss out of Cadel. We like him again. Wiggins' sideburns bristle. Froome looks bashful, but cannot hide a glint of want. The press write off a Wiggins victory. Silly press.
Stage 8
A breakaway is allowed to go on to Porrentruy. It consists of Sylvain Chavanel, Amets Txurruka, Luis Leon Sanchez, somebody sick of getting shouted at from RadioShack (Yaroslav Popovych), Maarten Tjallingii, Robert Kiserlovski, Vladimir Gusev and Liewe Westra. Sanchez will win because he descends the Col de la Croix like a maniac, with Chavanel in tow. The man with the easiest name to pronounce wins and justice is done.
Evans comes in with yellow, 2 minutes down. Tony Martin gets dropped and we finally stop quoting him as a potential winner. Nobody with thighs like that should be allowed to go up mountains quickly. It's unseemly.
Stage 9
Wiggins wins the time trial. He tonks it, putting 45″ into Evans but less into Froome. Thankfully he doesn't take yellow. This is in THE PLAN. But instead Froome does buy 7″. This is not in THE PLAN. Wiggins looks a bit grumpy. But we still love him. Froome looks sweet and innocent and a bit confused. The national news bang on about his previous nationality. Twitter bangs on about it. He's still in yellow though. So there. Happy days.
Top 5 overall update: Froome, Wiggins, Cancellara, Evans, Leipheimer.
Rest day
During the rest day Bernie Eisel, Housewives' Favourite™, learns that he is to play Ryan Gosling in a movie about Steve McQueen. The entire cycling fraternity swoons in delirium. God, he is soooo gorgeous.
Stage 10
Status Quo (probably not the ponytailed, leather-waistcoated kind, unless they've been training hard or buying fridges in Spain) is maintained between the favourites, coming into Bellegarde sur Valserine (what happened to "Grenoble" or "Pau"??). A small tanned Basque chap in orange (lets say Txurruka, because Sanchez will be watching Evans, and also because spelling his name gives me immense satisfaction, despite the pain) will win, falling at insane speeds down the Col du Richemond like a sack of lathes in a time wormhole.
Vinokourov will have attacked on the previous mountain, but is forced to retire after tearing his own pelvis apart with his quadriceps. That'll teach him.
Froome remains in yellow, just. Wiggins pretends not to be bothered. He is bothered.
Stage 11
The stage into Les Sybelles is a smasher! Pierre Roland, having lost vital minutes in an early Tour crash, is determined to cement the extraordinary promise of last year. He attacks at the base of La Croix du Fer, taking Evan's sacrificial lamb, Tejay Van Garderen with him, along with Brajkovic, Basso (returning Nibali many old tired favours waiting to be returned), and Nicolas Roche. They quickly gain 6 minutes.
Sky are forced to chase, as Liquigas and BMC sit back for Nibbles and Cuddles respectively. Eddy Boassen Hossen Hagen Smaggen does a monumental pull up the Croix du Fer, and drops back, destroyed. Siutsou manages to hang on to take them over the top of the Col du Mollard at 6 minutes back. Rogers shepherds the lanky pair of Froome & Wiggins through to the base of La Toussuire, with Richie Porte in reserve. Nibali attacks as the gap drops dramatically, with Roland dropping the others. Basso is caught by his team mate, the Shark of Messina (I always saw him as a nice fresh wiggly salmon) and Ivan pulls him for half a click before blowing.
Evans reacts and Sky follow. Porte puts the hammer down and Evans yo-yos. In the final three kilometres Brad and Chris attack together. Nibali catches Rolland for the stage, The Lanky Brits cross the line together, in a moment reminiscent of Lemond/Badger in '85, but less scary, due to Hinault not being there to stare into your soul. Evans loses only 5 seconds though, coming back in the last 500 metres. Game on.
Top 5 update: Froome, Wiggins, Evans, Nibali, Porte.
Stage 12
Annonay Davezieux (oh come onnnn) sees the usual letting go of a large group of chancers. The field licks their wounds, Evans and Wiggins exchange jokes, Nibali tends his tiny little facial hair thingummy. Maybe its a shark fin made of beard hair. Who knows?
Anyway…The following teams are represented: Ag2r, Argos, Cofidis, Europcar, FDJ, two Katusha, Lotto, two Saxo, Lampre, Movistar, Omega Pharna Quick Step, Saur-Sojasun, & two from Vaconsoleil. They gain 12 minutes, nobody gives a monkey's and three riders pull clear on the last climb with 25 minutess to go. In it are Hoogerland, Vigano, and Taaramae.
Johnny attacks at 6km, gets the gap, but then rides into the rotors of a hovering TV helicopter. He is cleanly scalped, his brains glistening in the burning sunshine. Someone grabs the top part of his skull and he pushes it back into place, except it's back to front. The only way to keep it on is by tightening his helmet straps. Blood and brains drip from his chin. He cleans himself off, and continues. He wins, to the adulation of everyone. Ever. Somehow he manages to look ever more beautiful, vulnerable yet manly with his this bubbling river of horror bisecting his face. Cycling is Epic™. Brilliant!
Stage 13
Cav wins into Le Cap d'Agde. A classic sprint with a gargantuan crash at 600m. Cav hovers near Goss for green. Sagan is notably absent, as regards wheelies. Sigh.
Stage 14
Nothing happens with the GC on the race into Foix (praise be, a name we can remember). Another time for the pre-Tour GC contenders who lost too much time to make good. Nicolas Roche finally gets his win, outsprinting Daniel Martin for an Irish (stop that muttering at the back) 1-2.
Stage 15
Hurrah! Another good stage name, Pau. A lumpy ride on a hot day sees Greenedge controlling the race for Goss. Sagan lurks, occasionally bunny-hopping cows for kicks. Cav suffers on the multiple rises and gets dropped. Sky won't commit their mountain men and he comes in well down. Meanwhile Goss beats Freire and Sagan, stamping his mark on green.
Rest day
On the rest day, with the Maillot Vert looking ever more unlikely, and less than a fortnight until the Olympic road race, Cav agrees with Brailsford that he should abandon. He's just done a huge training block, won stages, and has a perfect period to taper. It makes perfect sense. The non-specialist press go nuts. We roll our eyes. Good on him.
Sagan has also left the Tour, for the same reasons. A stage is enough for now, and apparently Box Hill in Surrey is perfect for pulling wheelies. For nine laps.
Stage 16
With a decent finish, the next mountain stage to Bagnères-de-Luchon ends with a hyper-select group of eleven after Sky smash the pace on the Peyresourde. Evans, Wiggins, Froome, Porte, Rogers, S. Sanchez, Nibali, Horner, Vanendert, Dan Martin and Leipheimer. Sanchez beats Evans to take the stage.
Top 5 update: Froome, Wiggins, Evans, Nibali, Leipheimer.
Stage 17
This is it. Last chance saloon for the climbers. Since the top 5 are all strong time trialists, but not as imperious as Wiggins, they know they must attack here, to get ahead of Brad for the TT, where Wiggins could put a minute or more into anyone.
BMC, Greenedge, Quick Step, Garmin & Leakygas send top 20 nearly-rans up the road, to force the chase from Sky. Again Basso goes, with Tom Danielson, Velits, Gerrans and Moinard. Eddy Boassen Hosen Mosen starts pulling on the Port de Bales. He quickly tires and is dropped. Rogers is forced to chase earlier than expected, but suffering after a minor crash a few days earlier, he too bails before the top of the pass. Porte bravely sacrifices a few places on GC, from 8th to 11th, by hammering up to the top of Bales. Its Froome and Wiggins on their own. Who will chase for whom? Will they attack each other? Will they get a chance?
Up the final climb, Froome and Wiggins self-consciously exchange long turns at the front, Polka-dot jersey wearer Dan Martin (since his escape with Roche) attacks the select group as they catch Basso and friends. Froome and Wiggins follow, Evans, as ever, drags himself back on. Nibali is also on and attacks as Martin kicks again. Nibali wins, taking a 1'30" out of the Sky pair. Evans attacks at 5km and gets the gap. Froome looses 55 seconds and Wiggins 1'05". Evans takes yellow, just. The Sky pair both collapse. They have a little time to gather themselves for Saturday's TT.
Top 5 update: Evans, Froome, Nibali, Wiggins, Vanendert. Only one minute separates the top four.
Stage 18
A lumpy one for the last road stage before Paris, and the GC contenders just want to rest for the crunch TT. This is a day for a new name to shine, and all the non-GC teams fire any riders up the road that still have an ounce of motivation after such a long race. A huge group of 24 riders gets 15 minutes, and it stays at that. One French rider gets clear in the last 5km and hangs on for a famous victory with a huge, fresh smile, punching the air. The bunch rolls in quietly, intent on the next day.
Stage 19
Huge tension. It's anyone's race. Wiggins is expected to win the stage, but can he overtake the three men in front to take yellow, which he hasn't seen for weeks? Nibali is the least fancied, with Evans and Froome expected to be extremely close.
The lack of long-term endurance due to illness early in the year eventually tells on Froome, as he loses 30″ to Evans. Nibali beats Froome by 12 seconds, but he misses out on a podium by a grim two seconds.
Meanwhile The Wigginator puts 1'07" into Evans, taking the jersey by only seven seconds, a new Tour record for an overall victory. Wiggins gets new respect despite his metronomic performances. He digs so deep he collapses at the line and the podium presentations are delayed for 20 minutes until he is deemed okay to collect his prize. The Maillot Jaune.
Stage 20
Paris, and Greipel saves a terrible Tour for Lotto, beating new boy Kittel and old boy Freire on the cobbles. Goss gets green, Dan Martin the Polka dots. Team Sky will take the team prize, having never sent a single man up the road to attack for the entire race. It will not matter.
Final podium:
Wiggins
Evans
Froome
Wiggins is Britains first Tour Winner. In the absense of footballing or tennis success, and with Olympic fever in full swing, he is the new darling of the British rags.
Cocooned in his Canary Islands hideaway, he awaits the finish line of the Olympic TT in South West London, and finally the chance to get steaming-blind-smashed-out-of-his-skull drunk.
Froome signs with Greenedge shortly afterwards. Roll on 2013, a route that is likely to favour climbers, plus the return of Alberto and the Frandies. Brad better start losing some more weight.