Anthony Gibb (@agibby76 on Twitter) is a professional cyclist (World and Commonwealth Medallist) and a commentator for Eurosport, as well as the Head of Cycling Performance for The Centre for Health and Human Performance at 76 Harley Street. He can often be found sitting next to Rob Hayles in the commentary box, sharing his formidable opinion in the pre- and post-race shows for some of the top races on the World Tour, most recently for the Tour de France. Tony is currently at the Olympics covering Track Cycling for Eurosport and has graciously offered to give us a recap of his daily adventures there.
* * * * *
Olympics Day Three (3 August 2012)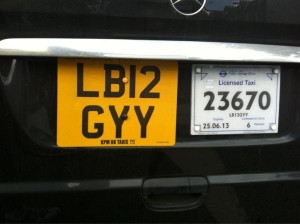 Well no rubbish today about my trip to the track or my run in with a black cab driver, today is simply about the bike riding!
Put simply, GB were unstoppable! Vicky Pendleton won the Keirin with a dominance I have never seen her show before, and with such power, speed and superior tactics it was a joy to watch as she moved women's racing on to a new level today! Utterly fantastic, confirmation that retirement is just days away, yet while in this form it seems a waste, but understandable given the years of commitment.
In the men's team pursuit, the Kiwis took a deserved Bronze medal over Russia, after a decade of roller coaster performances, but this night was all about the "old firm!"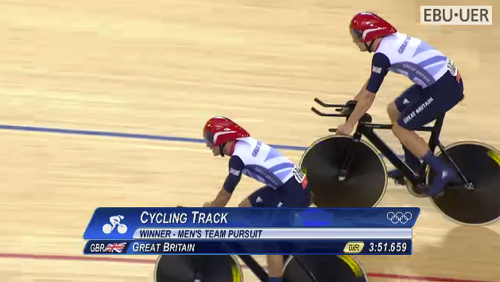 As the Aussies and Brits lined up for the start the velodrome hushed with tension, then the six bleeps from the starting system, the longest ten seconds I have ever spent stationers on a bike! And then it was on, the Brits taking almost half a second out in the opening lap, they held it there for a few laps until the golden-clad quartet brought the gap back to mere thousandths, I sensed all along that this was to be their undoing. Despite mind games they tried to play in qualification and the rounds, deep down I think everyone sensed they were going to come up short, and eventually come up short they did, with a blistering new world record – 3.51.659 – [set by Team GB] who really cares!
Brad Wiggins was in the crowd with wife Cath and the kids, and he was good enough to come down to the track centre and give me an interview. He wanted to congratulate the TP boys; he had received a standing ovation earlier in the night, but all he kept saying was "It's not about me, it's about the lads." I've said it before and I will say it again, a true true gent! What happened next will haunt me forever.
In a flurry of branded t-shirt and tabard activity I was told that he needed to leave the track centre with immediate effect! Apparently his accreditation didn't have the necessary number on it, really. "Yeah, but it's Brad and he really just wants to say well done to the TP boys." "I don't care, we are not having the medal ceremony until he leave this area," and yes, they were serious! Apparently he was presenting a security risk; I don't now the name of the bloke that was with him, but going by the size of him and the 'I'm a nice guy but I can kill you with a spoon' look, I'm guessing he had all the high-level security he needed!
A last mention to the team pursuit girls who qualified for the finals. Another world record for Dani, Joanna and Laura and they aren't done yet!
Roll on tomorrow I say. At this rate given how lucky I'm being, Elvis will be giving me an interview!