Anthony Gibb (@agibby76 on Twitter) is a professional cyclist (World and Commonwealth Medallist) and a commentator for Eurosport, as well as the Head of Cycling Performance for The Centre for Health and Human Performance at 76 Harley Street. He can often be found sitting next to Rob Hayles in the commentary box, sharing his formidable opinion in the pre- and post-race shows for some of the top races on the World Tour, most recently for the Tour de France. Tony is currently at the Olympics covering Track Cycling for Eurosport and has graciously offered to give us a recap of his daily adventures there.
* * * * *
Olympics Day Six (6 August 2012)
Well, the womens omnium is in full swing, Laura Trott has won the flying lap, a great ride, I'm not entirely sure where she was for the points race, I think team GB put someone up in her place, maybe she was getting her hair done or something, all I know is she didn't show up!
Clearly, she returned from her appointment elsewhere to dominate the elimination race. Flirting with danger hitting the front from the back to end up fighting it out for the win with Sarah Hammer of the USA, she defeated Hammer comfortably, but if it could have been anyone else, anyone!!! Tomorrow brings the pursuit, scratch race and the horrific 500 meter TT to finish.
In other unfinished business news, the women's individual sprint seemed to continue at a pace only mirrored by the entire Olympics, with Vicky Pendleton and Anna Meares seemingly destined for a meeting in the final. If I had to pick the other I'd say Guo and Vogel riding off for the bronze.
Over the years the French have been somewhat successful at track sprinting – Morolon, Rousseau, Tournant to name but a few who have dominated, totally dominated their respective generations. Great Britain have not! Yes, Queally won the kilo at the Sydney Olympics, but Jason's tactics in match sprinting and the Keirin were equalled only by his discomfort at riding within a mile of anyone else! Craig MacLean had some success, I think he finished second in the Worlds one year, but it's not Until Sir Chris Hoy switched from the Kilo that we had our first real sprint superstar, and my god what a star! He has cemented his place in the list of greats at these Games; he was already there but now he's smashed his way in to the hall of fame and pulled up a chair at the top table. Now, move over Sir Chris Hoy, Jason Kenny has landed!!!!!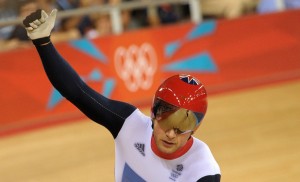 Having won the world sprint title in 2011 by default when Gregory Bauge was retrospectively banned for a "whereabouts" infringement I have lost count of the number of times I have commentated on a Kenny vs. Bauge final. But let me be very clear here, he's no new kid on the block, a team sprint gold and individual sprint silver (behind sprint gold) from Beijing four years ago shows he is no newcomer! In fact the similarities between him and Philip Hindes are clear for all to see!
The other story line here is that of Nijisane Phillip from Trinidad and Tobago, who has got himself all the way to the bronze medal ride off, having said all he wanted to do was come here and ride a good 200 metre time trial. Now this guy rides with some heart, and a lot of balls!!! It wasn't to be the fairy-tale ending of Rocky and Cool Runnings all rolled in to one, as Shane Perkins of Australia restored the norm and took the bronze in two straight rides.
No such norm being restored in the gold medal ride, Kenny defeated Bauge in two straight rides. Let me correct myself, Kenny annihilated Bauge in two straight rides, he showed him what to expect in years to come, and the rider that I have previously referred to as the Usain Bolt of track sprinting loses his crown. Don't expect any shows from Jason Kenny, don't expect to see him on TV, in magazines, doing cereal, hair shampoo or bread adverts, this is a very down-to-earth, almost shy young man, who's feet are firmly planted on terrafirma. all I can say is, this young man has much more to come, and he deserves every bit of the success he has already, and that that awaits him.
It's the last day tomorrow and I can't bloody wait, men's Keirin, the end of the womens omnium and women's sprint. Official odds of three team GB golds, 7 to 2, worth a punt I think?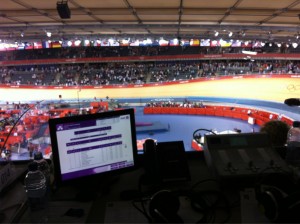 Sent from my iPad