Boring. Mundane. A coronation of the inevitable. These are many of the words used to crown this year's Grand Boucle. However, I still found entertainment value in the Tour and thought I'd share some of my favourite moments from inside and outside the Tour. It took many, many hours to suck them out of the archives, unlike this year's Giro, last year's Vuelta, or most likely the upcoming Vuelta.
Enjoy "The Overlordies"
Favourite Stage Win
Alejandro Valverde
This wasn't because of Valverde coming back from suspension to win a stage at the Tour, but more for the fact that it provided a little window of insight into the Chris Froome/Bradley Wiggins relationship. It showed that in spite of Froome's frustration as a potential Tour winner, he still upheld his duty as a consummate teammate. It also showed what opportunists Team Sky management are as they attempted to spin the moment after the stage completion.
Favourite Curse Word
C**T
Thank you, Bradley.
Favourite Fan Moment.
Naked Running Man (NSFW)
Eurosport's David Harmon first made mention of the naked runner, screengrabs abounded, and then Twitter personality @ednl immortalised the moment in an animated GIF, creating cycling's version of being "Rick Rolled." It spawned a two-day conversation and the hashtag #RicardoMontaldong (™ @autofact), which provided laughter and a much-needed outlet of silliness during some of the tense moments of Twitter anger between the Pro-Wiggins camp and the rest of cycling fandom.
Worst Performance by Journalist
Brendan Gallagher
His commentary on Twitter, and his soliloquies in the Telegraph hit new highs after being wrapped in the Livestrong flag for eons. Tweets like "Bradley Wiggins' pub French is better than most people's Queens English. U know exactly what he is saying and what he means!" or "Extraordinary that Brad Wiggins shd apologise to press for being a pain in the arse at times. His daily appearances hv been a highlight" or "It took 66 years to build Chartres Cathedral, which is 43 years less than it took to produce a GB tour winner!" indicate a gent that needs to be reminded what the definition of journalism is. Media cheerleading takes on a whole new meaning with this piece of work.
Best performance by an animal
The Newfoundland road furniture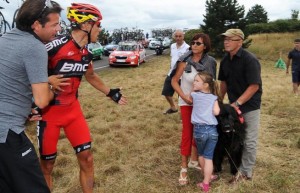 Why people insist on exposing their dogs to cycling continues to baffle me. Every year, there's always one that runs out and disrupts the peloton. Dogs like to chase bikes, and the training ride folklore of pros and amateurs alike includes many "outsprinting dogs" stories. Why bring the animals to the biggest race in the world? Gilbert had every reason to say a few words to the hapless family. Maybe next time they'll lock up their dog when the Tour comes through town.
Favourite Team
Lotto-Belisol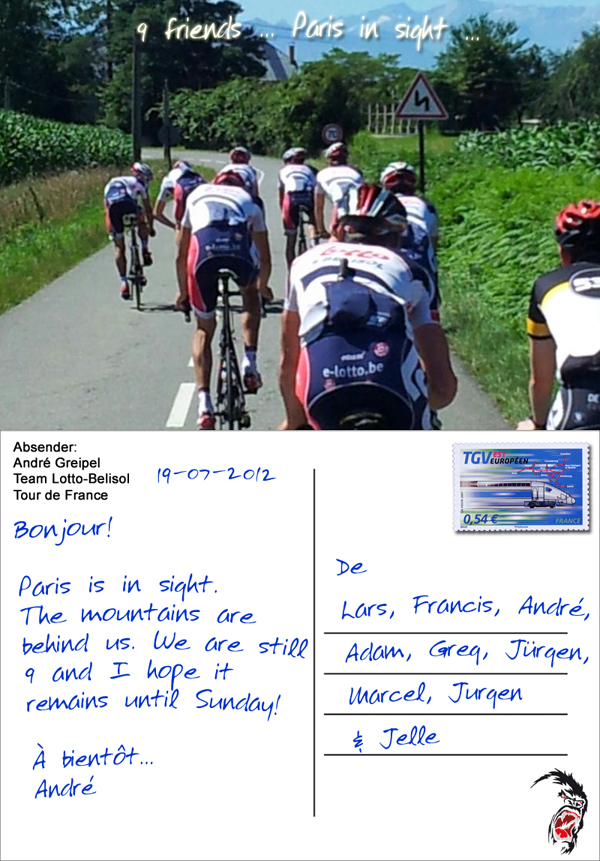 All nine gents on this team conducted themselves with class, gave access to the media throughout the race, and had good spirits no matter the situation. Andre Greipel's Tour blog was a daily post-stage tribute to his incredible teammates, with poignant snapshots of their journey. Greg Henderson, in his maiden Tour voyage, suffered through illness for a week and had to be quarantined from his partner in crime and best roomie, Adam Hansen. In spite of the fact he was sleeping in the Lotto Leg Bath during the ordeal, Greg still had a smile for the cameras and gave access to any member of the media. The team's positive attitude was rewarded with three stage wins, and a fourth overall finish by young stud Jurgen Van Den Broeck. Adam Hansen gave us one of the funnier moments of the Tour when he and Andre Greipel made a bet over a Peter Sagan victory, which, when lost by Greipel, meant he was supposed to grace the Champs d'Elysees with "board shorts and flip flops." Remains to be seen if that will happen…
Worst Team
Radioshack-Nissan (Trek)
The irony of them winning the team competition will stay with me for a lifetime. Horner and Klöden battling.Fränk Schleck throwing out bombs, stating he wasn't the team leader, then getting popped for a diuretic positive. Klöden being banned from Twitter by the team. Phil Maertens having to find the bright spots every day for media releases, and a disjointed management struggling to defend their team strategy in order to keep the best team award. If this group makes it to another race this year, I'll be mightily surprised. Word is Becca's already run for the hills.
Best website coverage
What a difference a year makes. Velonews consistently produced timely stories, timely results, and interesting commentary from Andrew Hood, Caley Fretz, Matthew Beaudin, and a few freelancers. Video interviews also augmented the strong coverage from the reporting team, and they weren't afraid to cover topics on Twitter and in print that some of the other outlets didn't want to acknowledge.  Glad to see Fretz scrubbed off the polka-dots with the assistance of Beaudin….
Best Journalist
Shane Stokes
Stokes is one of the most tireless journalists in the sport. Every day he's up until the wee hours, providing insightful commentary on Twitter in addition to filing surely a dozen stories a day. Shane manages to maintain an even keel when reporting the stories of the sport, all the while refusing to get wrapped up in subjective fanboy gushing over riders or team situations. His @SSbike Twitter feed has provided great information on the subjects currently clouding the sport, and he's instigated many important conversations with cycling people, including Jonathan Vaughters and Bradley Wiggins (until the latter blocked him). All this augmented by his brilliant work on velonation.com, updating the results, and still providing coverage of subjects related to cycling but outside of the realm of the Tour.
The Real Winner
Thomas Voeckler
He rides without a power meter. He doesn't fall prey to the whims and whispers of the peloton. He rides his race his way, much to the chagrin of the "in crowd" of the peloton. Voeckler won our hearts yet again with not one, but two legendary stage victories and wrapped up the King of the Mountains title with a gutsy duel against Frederik Kessiakoff. If it weren't for riders like Voeckler, our future would be nothing but accountants on bikes.
Best performance by a doctor
Geert Leinders
*chuckle*
Best roadside photo
Laura Meseguer with Blue Man Group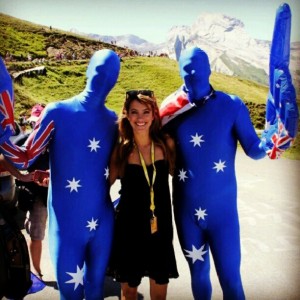 Meseguer is one of the hardest-working journalists in the biz, toiling without accolades to cover the sport, and has the uncanny knack to find some of the more interesting moments and people of the Tour. She's offered valuable insight into the race via her work for Festina. Meseguer missed her moment with Didi, as he was recovering from surgery, but these fans from Down Under filled in.
Worst doping defence
Johan Bruyneel on behalf of Frank Schleck
Hey Johan, Frank's in enough trouble already without a soon-to-be-banned-for-life coach and DS chiming in with his assertions that Frank is clean.
Worst doping excuse
Chris, no one has drunk anything from the roadside since the 70s. And even then, it was only Kool-Aid from a licenced bartender on the approved list.
Best post-workout beverage
Chocolate milk
During the Tour it was divulged that performance drinks were not beneficial to performance or recovery at all, and that chocolate milk was a better choice (bad news for Allen Lim). Next, Tim Kerrison's cool-down rides will be exposed as nothing but a marketing ploy for Tacx turbo trainers.
Best new twitter account
Liquigas had to come out and publicly state that this account was not the young Slovakian superstar. However, teammate Ivan Basso still thinks it's too eerily close to the kid's internal monologue. The jury is still deliberating on who is really behind this genius parody.
Best Tweet
Tie between @neilroad & @velocast
Neil offered this gem after Tejay Van Garderen blew by Cadel when Evans flatted during the notorious TackAttack day:
Tejay claims there wasa second teammate on the grassy knoll #TdF12

— Neil Browne (@neilroad) July 15, 2012
while @velocast chimed in with this sardonic summary of the Froome/Wiggins debate:
Just to be clear; the "problem" being discussed is whether Sky should win the Tour, or REALLY win the Tour, yes? OK, just checking."
Best Temper Tantrum
I had to give the lad something. Technically, his tantrum at the Team Argos-Shimano bus was fourth place behind two of Wiggo's rants, and Klöden's Twitter tirade, but he needs a win of some kind. Tyler, this victory is for you.
Best Invisible Man
Haimar Zubeldia
How did he get into the top 10? He was a better invisible man than Denis Menchov, who could only muster a 15th place this year.
Favourite Rider
Koen de Kort of Team Argos-Shimano
de Kort exposed himself unlike any other rider in the Tour. He wrote a daily diary for the Australian Financial Times, appeared as a guest on several podcasts, and shared snapshots and videos with his fans on Twitter. For three weeks, he rode tirelessly for a sick Marcel Kittel, and then for sprinter substitute Tom Veelers. The rider for Team Argos-Shimano rarely had a negative thing to say, and even spun whatever was negative into a positive message. We got a good glimpse into the life of a professional cyclist at the Tour during the action, and Koen should be commended for it, as well as for how he competed during the race. We'll be pulling for the deserving lad to win a stage at next year's Tour.
Worst Tour Moment(s)
Cavendish humping bottles for Wiggins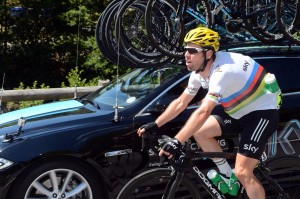 Being part of a team is one thing, but subjecting Cavendish – a cycling superstar and current world champion – to domestique duty is a grand waste of resources and was completely unnecessary. The good news for Cav is that he figured out how to be successful in his own right without a have the team time-trial him to wins, and maybe it will give him the confidence to walk away from Team Sky after the Olympics. This move had nothing to do with Cav giving back to the team, but to satisfy Brailsford's ego and to "dominate" the Tour de France. The World Champion deserved better, but garnered my respect through the process.