This week's episode marks six months of writing as the character known as the @UCI_Overlord on twitter. What started as a parody of Pat McQuaid, the current head of the UCI, turned into a commentary on the happenings in cycling, by using that voice to make overt and sometimes covert disclosures on what happens behind the scenes in cycling.
Somewhere along the way, some of the comments began to strike a chord with many behind the Swiss curtain that is professional cycling. Many of those who are professional riders, support staff, team owners, team managers, journalists, pundits, and avid fans began sending me important information about corruption at the UCI level, the federation level, and the team level to truly show what those in this sport are up against when all they want to do is ride their bike fast and have a good support group help them accomplish their goals.
My real life job affords me travel around various parts of the world, and sometimes allows me to interact with individuals within the sport, meeting face-to-face to truly understand what they are up against in order to get those bicycles on the road. I've had numerous phone calls, skype chats, facebook chats, DMs, with those who are considered to be influential in the sport. I am not paid to do this, and in spite of some organizations asking me to be paid to do this "commentary" I've resisted and will continue to resist as I feel it's important to maintain editorial neutrality when discussing what is occurring.
Some people over the past year have attempted to take pot shots as they feel that I have some sort of agenda that hasn't been revealed. Of course, many have discovered it is tough to take pot shots at someone who is after transparency in the sport from the governance level to the rider level. My "agenda" is one of inclusion for all in the conversation of cycling, rather than exclusion of some to the benefit of the very few. This agenda includes traditional journalists whom I have given information so they may fill in the gaps to many of their stories, as well as to bloggers, the twitterati, and hopefully to the general cycling community.
Many people have sent me emails or messages saying how the jokes or scenarios that I write about are very close to the reality in the sport, or somehow manage to end up being the truth that is uncovered weeks or months after the Dispatch has been written. That's because mostly everything that is written is based upon true events, relayed to me by insiders in the sport who wish to remain anonymous. I do have to change the circumstance in many cases to protect those who have provided the "leak." In some cases, the Dispatch contains the entire truth that is to be revealed at a later date publicly by those directly involved.
Our sport is a symptom of the greater malaise in our society. Our society is an overall reflection of those who disseminate their attitudes from the top that are filtered down through the layers of every corporation, sporting governance body, cycling team, or even the local retail store with which you do business.  When you have someone at the top of these organizations – be it the IOC, FIFA, UCI, SportAccord or the like –  who uses their influence for greater personal gain, or takes advantage of or perverts the rules, charters, or mission to benefit those of their choosing (or bend to their whims), it creates an empty feeling in our stomach, reminding us that we are insignificant and cannot make an impact.
There are reasons why the general population looks with satisfaction at companies that take care of their employees: those that are never in the news for massive layoffs during economic tough times; the ones that never look to "merge" to save their own skin while laying off "superfluous" support staff due to the contraction; the ones who do not give up on sponsor searches just because they want one golden sponsor instead of working harder to gain four or five that could do the same job; the ones who ask their staff what improvements can be made on behalf of their "customer" rather than care about the shareholder return only.
We see these examples in cycling – there are teams that we "cheer" for because you see the positive atmosphere from the top down. We see the athletes who show real enthusiasm when they win. These athletes make the effort to congratulate everyone who helped in the win. This same feeling goes to supporting those companies that provide the products for the sport that speak from a genuine enthusiasm as well, from folks like Campagnolo who still have their production in Italy, to Rapha, a firm affectionately parodied for their slick marketing efforts – but with beautiful and functional products from the heart, or to bicycle manufacturers like Look who refuse to succumb to mass-produced Asian carbon frames for the cycling masses.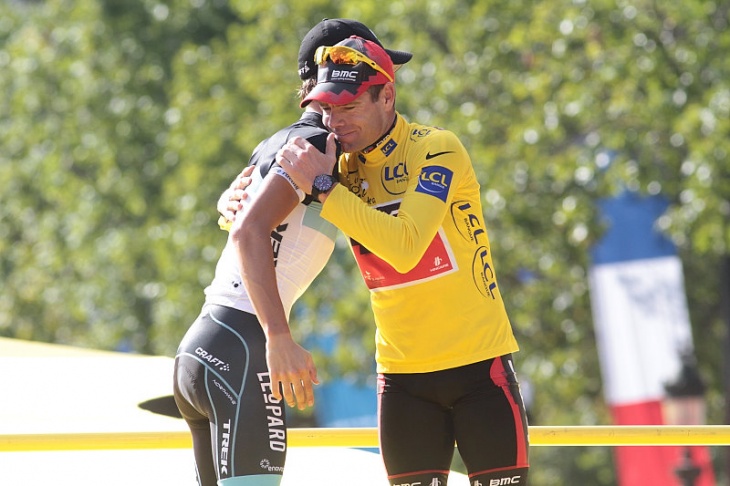 We see this at the races this year, where folks like Brad Wiggins go out of their way to congratulate gents like a beaming Cobo who slogged out a Sky two-punch for a Grand Tour win. We poke fun at the camaraderie that is Andy Schleck and Alberto Contador who duke it out on the bikes, and yet joke with each other like brothers off. We see it when an entire cycling community rallies around the tragic deaths that have occurred this year, or when one of our own (whom many of us have even never met) is diagnosed with cancer and we rally to give him support.
John Galloway, who is known as @sofaboy on twitter, is the reason why I'm here and doing what I'm doing. He's the one who inspired me to take the challenge beyond the twitter drivel and try to make a difference in 1000 words or fewer; this quickly ballooned to 1200 words, and then sometimes up to 1400 words. Thank Christ for editors like @cycletard who help me try to tame the madness. Galloway is also the reason why this Dispatch is a departure from the usual mucky muck to something a little more direct and stripped down.  He made some very interesting comments in his blog yesterday, that triggered this Dispatch.
You see, John's right. There has been a shift in cycling in spite of those attempting to control it from above. The sport is cleaner. The performances are more believable. This is not due to some edict from the UCI, but a shift in attitudes by those coming up in the ranks of the sport who watched their heroes die from doping complications, or deal with the emotional skeletons associated with doping.  Unless you are a total sociopath (naming zero names), there is a guilt trigger that kicks in once you begin "breaking the rules" that manifests itself either in behaviour, or addictions, or other coping mechanisms. No matter how much those in power wish to root out this response from the athlete, it's impossible, unless you turn them into – as Neil Browne joked last week – Zombies.
However, this movement towards a cleaner sport is in spite of the attempts by the UCI to wrest total control away from the various stakeholders throughout the world of cycling. This isn't some insiduous "Galactic Empire" plan by Hein Verbruggen and Pat McQuaid with designs on a "Death Star" to destroy all that oppose them. After all, in some bizarre fashion they truly do believe they are doing what is best for the sport – consolidation and control. Unfortunately, they have this attitude of "what's in it for me," which is the reason why we have some of these strange happenings that counter the aim, rules, and directives of the governing body. Read my past Dispatches here on Cyclismas for more specifics on that.
Consolidation and control means that they who make the rules feel that they are superior to those who are subjected to the rules. Therefore, less transparency means more control, fewer questions, and a "superior" sporting experience. It's this sort of attitude that has killed many teams in the sport, and many manufacturers in the sport, and many races. When you focus on the end result rather than the process that achieves the end result, you end up with the wrong end result.
It is time to focus the attention away from the athletes, and stop wondering if they're clean or dirty. Give them support instead scepticism. Instead, focus your questions on the governing body that seems to be at the centre of almost every controversy, not because they are the governing body, but because their fingerprints are all over whatever carcass happens to be offered up to the mainstream media.
The more we shine the light where it belongs, the more comfortable those who have suffered in silence will feel able to come forward and tell their stories. Lord knows they need to keep coming in an avalanche.
Question authority. It may be uncomfortable at first, but you'll be rewarded with the results.