Last week started the run-up season to two of my favourite events of every year and the two most important on cycling's calendar – The World Championships and WorldTour team assignment.
The Tour de France always provides us some entertainment value as the second most important event on the cycling calendar behind the aforementioned World Championships. It gives those of us within our realm of upper management the chance to work out the kinks in our execution of the championships by using the Tour de France as a shakedown mission.
These next three weeks also give me the indications and sensations of whom will be currying my favour from the realm of journalism. The ability to perform under pressure and bow to my media wishes is important as we approach September, and it also gives me the opportunity to find out if some of our new staff here at Aigle World Headquarters have the chops to perform their duties admirably, and there's one that I feel it's necessary to applaud.
In a stroll down memory lane, I remember the days when Alain was performing above and beyond the call of duty during some rocky waters. Alain, as many of you know, is a very effective voice within the UCI, and a gent that is able to get many, many things accomplished in short order. His latest victory was aiding in the establishment of the Tour of Beijing this year. He came to prominence in 2005 as the UCI ProTour Manager.
He's a phenomenal wingman, dealing with delicate issues such as the ProTour team status/challenges in 2010, which you may recall here. He's also great at toeing the party line, when he fired off this gem to the press in a delightful article:
"The credibility of all parties in cycling has been affected by the conflict that has market the sport in recent years," he said. "We must now all work to restore the image of our sport, which requires a strong government."
My favourite of his was the idea of  "relishing a climate of trust" which is our way of saying we have your fooking arse over a barrel, so you better just get onside or we'll squash you.  My other favourite was when he was instrumental in helping get the CPA off the ground in 2006 to give the pro peloton the impression that they had a voice (memory lane stroll is here).
Yes, Alain has served the UCI very well. While I've been the front man running across the globe faster than a hamster in the wheel, Alain has been behind the scenes as a consigliere to my godfather. If you truly want to see his curtained influence throughout our glorious sport, then look no further than this search courtesy of our friends at www.cyclingnews.com.
Needless to say, trying to find others who can perform this role just as well as my favoured Alain, and also my lovely PA Bhon Mhat, is very, very difficult. Hence some of the challenges that we've attempted to work out at this year's Tour. As I said earlier, we really want to ensure that our showcase of the year, the World Championships, comes off without any issues or challenges. Instead? I have to deal with this fooking bloody seat bollocks, literally.
I told Carpani not to make a big deal about the fines; I told him to take it easy, issue the fines, and take the high road. Sometimes the best confrontation is not confrontation, but unfortunately, like a pissed off head of lettuce that is using @GreyManrod to sue @fergs01 for being a fooking vegetarian (thanks for being follower number 2000, Feargal, and here's your payment *chuckle*), Carpani just had to go full retard and issue those ridiculous statements.
The worst part is that it was fooking McGee. It wasn't Vaughters. I mean, I can understand the confusion. After all we'd love to fine that ridiculous argyle-wearing, wine-drinking fashion disaster for pulling a Tony Dungy after only the second stage. I'm shocked that we didn't see a ridiculous jug of Gatorade being ceremoniously dumped on him followed by Vaughters thanking God, his uncle, his cousin twice removed and some distant relative suffering from some obscurely ridiculous disease for providing inspiration for some minor win. This is especially true after his interview channeling Prometheus as the peloton picks his poor liver on a daily basis. Such a burden, the Maillot Jaune.
As I alluded to on twitter, we had to give Carpani a crash course on support staff. I mean with Nygaard channeling Riis, and Bruyneel putting on enough weight to allow some Saiz confusion, it's important to get things right. However after last Monday's debacle, I felt that it also might have been pertinent to get Jim Ochowicz in on the action. After @inrng absolutely embarrassed him with his 5 seconds of research on the BMC website, how could Och possibly deny the fact that a particular soigneur was working for them? All I have to say about that is maybe BMC should have sent a different press officer to the Tour, because I know that @sweide would probably have saved Jim's arse in a big way. Live and learn. Live and learn.
However I'm digressing paragraphically. Back the the seat business.
It's getting tougher and tougher to come up with new and imaginative ways to drive the WorldTour as crazy as we continue forward into the year that is 2011.  Safety is our number one concern, especially the safety of the riders, which is why we felt it extremely important to disrupt their collective focus moments before the launch of the Team Time Trial with the horizontal seat business, thus ensuring they understand the overall implications of having an unsafe platform upon which to rest their delicate manhood. We did sufficiently warn them at the Dauphiné that we were very, very serious about this program. We even went so far as to say that even though we started programs in the past that were never folllowed through on again, THIS time we were fooking dead serious. Well, for at least this week.
The unfortunatel by-product of this, coupled with some very interesting choices by the ASO for this year's processional around French land, has been a recipe for carnage, as witnessed in the last few stages. One of the distressing consequences has been the terrible run of luck that has befallen my "best friend" sir Johan Bruyneel. Maybe the Karma gods have started to turn against the normally lucky Belgian-now-living-in-London. It truly breaks my heart to see him having to "manage" his team for a change, rather than focusing on witty Bruyneelisms. However, that aside, there is no excuse to leap for joy at seeing another human being slide across the tarmac in a perverse version of slip and slide. I'd like to see how you feel bumping across the tarmac at 60 km/hr and get back up to finish 200 km.
It doesn't, though, excuse this sort of behaviour from certain members of the team: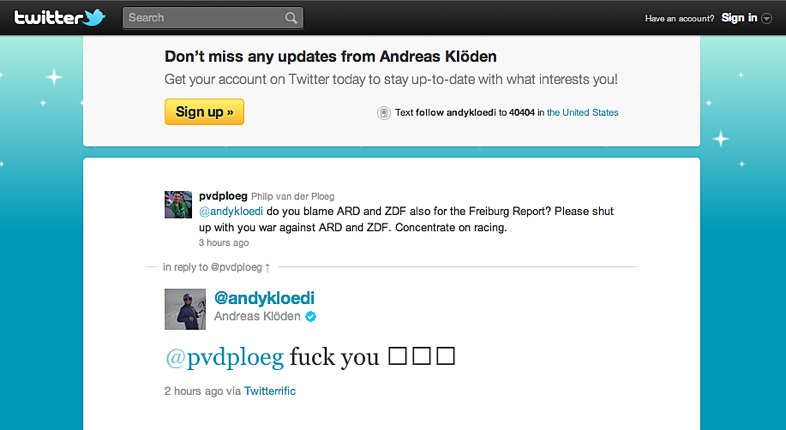 Of course the impending foolishness of the first rest day, arriving in a few scant days, means that we could see the return of our three-ring circus – between the potential first positive test, or a search of a team car, or a hotel room raid, or even the heavy feeling in the room that is "Armstrong the Intimidator." However, we aren't going to delve into that today, nor the exploits of Joe Lindsey's Bag, who has been very quiet on twitter, or the Cirque du Soleil of twitter commentary that is @MarkCavendish. Neither are we to discuss how freaklishly anemic the legs of @bradwiggins look when he has those ridiculously unstylish black socks pulled up to his eyeballs.
No, instead I'm going to focus on the positives here from the first week of le Tour:
The ASO has really outdone themselves in greasing up the press corps this year. Massages, daily buffet tables that @willfoth and @rbmoore73 seem to ingest before @miketomalaris and @spokesmen get a chance. Something about the written word being mightier than the airwaves…
Cadel Evans truly looks like he has the finish and panache to take the psychological war to Mr. Contador. Should be an interesting first weekend in the mountains.
Nice to see the sprinters settling down and conducting their business in a straight line, eliminating the punch pulls and other such business reserved for the futbol pitch.
Tom Boonen. Nothing would please me more than to see him recover and challenge for green.
Yes, these days are a great dry run towards the culmination of the cycling calendar in September. I know I'm looking forward to shaking out more interesting episodes as our caravan winds its way anti-clockwise around the second greatest event on the cycling calendar.
Wasabi, anyone?