The Internet is an amazing creation. In a scant few decades, the world has come to rely upon, and in fact expect, its never-ending flow of information, and the instantaneous access to news from around the globe. And with the advent of RSS feeds, Google alerts, and other customized notification services, a steady stream of news bits is available for journalists, news agencies, and websites seeking to provide up-to-the-minute breaking stories.
And in the short two months that cyclismas.com has been in existence, we have apparently become one of the sources to feed that insatiable hunger.
Yesterday, one of our parody news authors, Frank Mercer, crafted a hilariously tongue-in-cheek story about Pippo Pozzato boycotting his own participation in cycling until he was adored by fans again. We published it on Cyclismas under the parody news category "News or Not…?" and waited for the usual response to this type of piece. It didn't take long. The appreciative comments and retweets started happening.
And then something occurred that we never in our wildest imagination expected.
The venerable French news organization, l'Equipe, picked up the story in the wee Parisian hours, and ran it on the front page of their cycling sports section.
At a little after 7pm EDT, @cyclingfans tweeted to us that we had made the pages of l'Equipe. Surprised and pleased, we had an ad hoc editorial con-call to discuss this coup. How did this happen? Did they think our story was real? No, couldn't be. Surely someone at l'Equipe appreciated our snarky humor and that, combined with their somewhat notorious distaste for Pozzato's antics, had prompted them to run the piece. But it sort of looked like they believed it. Did they? Nah, we decided it was just a nice compliment in appreciation of our mission to poke fun at pro cycling and shine a light on its dark underbelly.
The thing about a story, though, is this. If it's in print, it must be true. Right? And if you're a major news agency and you run it, some people are going to believe it. And if it's in l'Equipe, other sites are going to pick it up, and run it. And then it turns into that Fabergé shampoo commercial, "… and they told two friends, and so on, and so on…"
Shortly thereafter, MSN news put it on their international feed: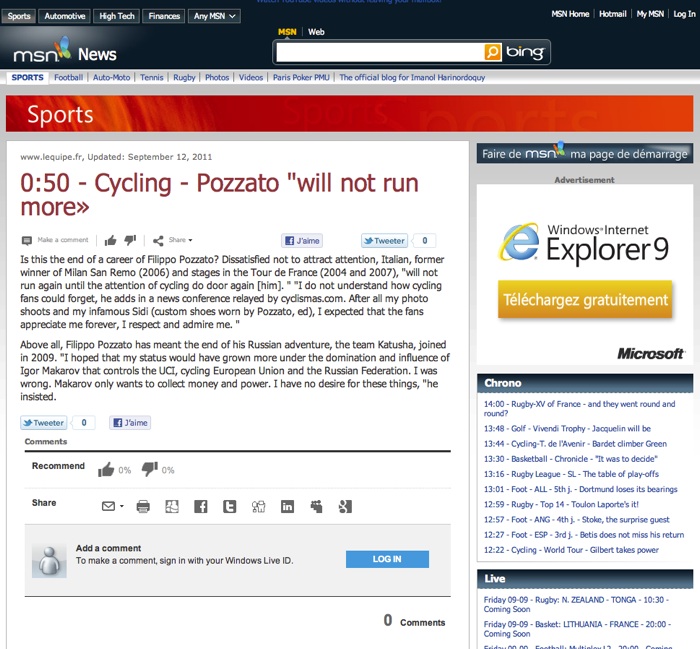 Yahoo.fr soon followed suit: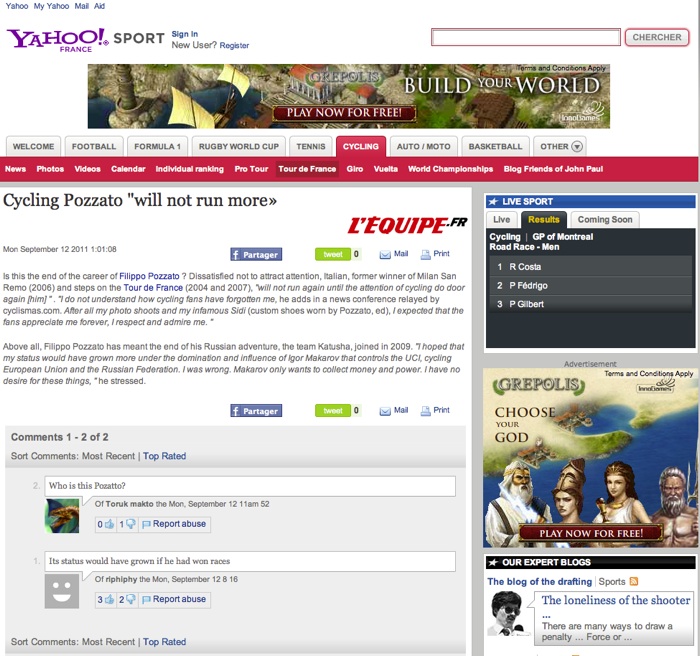 Then the financial news portal, Boursorama, jumped on the bandwagon, and was followed by the Senegalese news site, senego.com, which reported that not only was Pozzato unhappy with his "Russian adventure with Katusha, but that he had become dissatisfied with Makarov's desire to "collect money and power."
Now the interesting thing about all of this is that not only was there enough of a kernel of truth to our snarky parody that it was reported as actual news, but it actually appears to reinforce some real news about Pippo. The French news site ouest-france.fr had reported on Saturday that Pozzato was unhappy with Katusha and that he might be looking for a new team, and was in talks with Europcar's Jean-René Bernaudeau. So they quoted our fake interview in their breaking news of the transfer rumors: And if Italy's Filippo Pozzato rebounded with Europcar?  Apparently truth really is stranger than fiction.
This morning, it appears that l'Equipe (who had apparently published the piece as actual, real news) had pulled the story. No retraction, no explanation, just a simple 404 error –"Sorry, whatever you're looking for doesn't exist here anymore."
The French cycling discussion forum Velo-Club.net has a thread on this gaffe. One poster wryly observed that "Lequipe.fr relays a big fake, the cycling section is truly run by donkeys or specialists in petanque."
Now we won't go quite that far, since we've obviously enjoyed the publicity and all the extra hits our site has received in the last eleven hours, particularly from France…
But it does raise an important point, one which we've been trying to drive home for the past two months since we founded Cyclismas. You see it in the Overlord's dispatches, the commentary pieces by Velocast's Scott O'Raw, in Bikezilla's incisive interviews, Eric's wildly popular Tour de France cartoon series, and the fake News or Not…? section. Don't just take everything you read and hear in the world of cycling (or anywhere, for that matter) at face value. The sport is built on layers of obfuscation, secrets, and half-truths. And for heaven's sake, don't just automatically repeat and believe what you hear, because it's most likely not the whole story. In fact, it might not even be the real story.