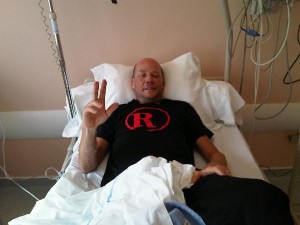 When do we draw the line on when a gladiator of the road is picked back up and returned to the arena? As you know the Tour's first week has been one of unexpected injuries that have knocked some potential general classification contenders out of the running. But the one incident that has become a lightening rod of controversy is Chris Horner's horrific crash in Stage 7.
In an accident that stopped the peloton on the narrow French road like water in a kinked hose, RadioShack's Horner crashed off to the side of the road and landed in a ditch. Team director Johan Bruyneel responded to his downed rider and gave this description:
When I got there, he was lying in a ditch and was very shaken. It was obvious he'd hit very hard. He finished the stage and I think basically he's OK physically, but we're taking him to the hospital to have a scan. He doesn't really know where he is right now or what happened. We'll see what the results are but I fear the worst.
If you had not seen the stage and only read Bruyneel's first hand account of Horner lying in a ditch you still begin to wonder why the RadioShack rider was allowed to ride in a state of confusion. Horner was given his bike and his instinct to continue racing kicked in. The race doctor pulled along side Horner and monitored him the entire way. He finished the stage – confused, bruised, broken, and bleeding. It was the video of Horner after the stage, totally confused and asking what happened, that leaves cycling fans stunned and wondering why he was not pulled from the race.
The internet lit up regarding Horner's ride to the finish. Studies have shown that having an elevated heart rate after a concussion can further do damage to the brain. Additionally, there's that voice of common sense saying a guy that's confused should not be controlling a vehicle that rolls on two skinny wheels. People lashed out at Bruyneel's decision to let Horner remount and carry on. People also pointed fingers at the Tour race doctor who was attending to him as they rolled along.
JoE Silva, cycling columnist for NBC Sports said, "Doesn't anyone remember what happened to actress Natasha Richardson after she fell off her skis and seemed to be okay?" Richardson fell while taking skiing lessons. She refused medical assistance and after complaining of a headache was taken to the hospital. She died two days later due to an epidural hematoma from the blunt impact to the head.
In response to the criticism Bruyneel fired off a curt reply via Twitter:
To all my haters: why don't you comment on facts instead of on rumors? Or even better: don't comment at all!"
He followed up later stating that Horner was in the hospital and was doing better.
However, Reuters is reporting that Horner's last memory is of Stage 2's team time trial. I guess Bruyneel has a different standard of what's considered "okay."
So who is to blame for letting Horner continue to race? Bruyneel is the first to the scene of Horner's crash and by his own words said he found him confused and bleeding – why hand him a bike? I don't expect Bruyneel to be able to make a medical evaluation, but common sense should come into play. If he was as confused as Bruyneel himself stated, Horner shouldn't have continued to ride. The other person to blame is the Tour doctor. They both let him continue while he was a danger to himself and others. It's common practice for doctors to make an evaluation of the rider following a crash. So why would these two different people, who have the authority to pull him from the race, let him continue?
Team directors are not riders' friends. A rider is an asset that needs to keep running until it just can't continue. If you had seen this happen to your child or loved one would you have given him their bike back with a push back into the peloton? Of course you wouldn't. Why? Because you care about them as a person and not as a paid asset. The Tour doctor knows how important it is to keep riders in the race, but the doctor should have looked further than the remaining 25 kilometers of the stage and pulled the plug. It borders on incompetence gambling with Horner's life like that.
I'm sure Bruyneel cares about Horner the person, but his perspective of the rider as a much needed member of the team appears to come first. Even if he is also looking out for a rider's personal goal of staying in the Tour, a director needs to be more detached and not let the pressures of the Tour cloud their judgement. Remember when Lance Armstrong crashed out of the Tour of California in 2010? His injuries were no way as severe, but just as gruesome-looking. Like Horner, Armstrong was bloodied and bruised about the face. As it was just the Tour of California, Armstrong abandoned to recover for his run at the Tour de France. When you're racing the Tour a rider is pushed to their utmost limit. However, that doesn't make it right to enable them to continue.
Bruyneel isn't the only one who continued to push his solider out of the trench and into battle. Tom Boonen crashed hard in Stage 5 and finished the stage. The next day he completed another stage. Finally he quit during Stage 7. After Boonen abandoned he revealed that he had thrown up in the night, couldn't tolerate colors or sound and had a huge headache.
"That's cycling," said Boonen with a sigh. "If you can put on your racing number you can race" is how CyclingNews.com reported it.
QuickStep director Wilfried Peeters is the one who allowed Boonen to continue in what is another case of staggering incompetence. You have a rider who is clearly suffering from a concussion and you don't make the executive decision to pull him from the race? But for Peeters, Boonen's 2011 season hasn't lived up to expectations. He wants his pound of flesh from the sprinter, probably hoping he would recover and can win a stage to redeem the QuickStep squad's Tour. They don't have a GC contender and Boonen was their one solid chance for a stage victory. As with all professional athletes it's about what have you done for the team/owner lately. If not much, well suck it up and get back out there! Cycling, football, baseball, hockey, you name the sport – they all have their own stories of athletes being treated like meat.
It was good to hear that Garmin-Cervelo's Dr. Prentice Steffen has a protocol in place for dealing with a rider who might be suffering from a concussion.
In an interview with CyclingNews.com he says, "I came up with it based on research and the Zurich conference on head injuries in sport."
The assessment is a step-by-step questionnaire that the rider must answer. Staff have been trained in this and it is team policy to pull the rider from the race if they show signs of impairment.
In a season that has seen the tragic death of one rider and the continuing rehabilitation of another, head injuries should be the foremost thought in a team director's mind. However, winning or at least still having the foot soldiers in place to continue the fight seems to be more important. Here's to Chris Horner and the other injured riders making a full recovery.
Follow Neil on Twitter @Neilroad and on his always amusing, yet informative, Tour de France Live Chats at NeilBrowne.com