Greetings, my name is Isambard Kingdom Bruyneel and I am the outright manager and leader of the RadioShack-Nissan Trek pro cycling team. I also created the Clifton suspension bridge. I think Cyclismas is very lucky to have me writing a blog for them because I won the Tour de France nine times, so you should read what I've written for you here! I'm about to unlock some of the secrets to the plan I have concocted to turn Andy Schleck's fortunes around in time for the upcoming Tour de France. It is true that I've had a little trouble motivating Andy in recent months, and so I'm throwing everything I can at the emotionally-fragile young climbing imp, sometimes literally! There is no need to worry about my methods though, I am Isambard Kingdom Bruyneel!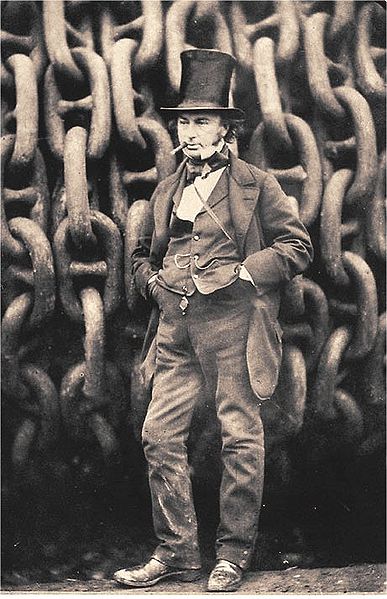 The key to Tour de France success is paying attention to the details. I invented that philosophy, Sky just took my invention and called it "marginal gains." It angers me sometimes that they didn't call them "Bruyneel gains" after me, but this is cycling and as Einstein says: there is no such thing as a free lunch. Einstein never won the Tour de France though, so I am better than him.
The other key to Tour de France success is to make a vast number of large, sweeping changes to an already successful rider's training and racing program. If anything, these are more important than mere marginal gains; I will call them "Bruyneel gains."
As previously stated, my scheme for Andy and the team is going perfectly to plan, but in order for me to ensure success I need to go even further. Luckily for you I am going to give you a little insight into the thinking behind what it takes to become a manager of great champions like me. Below is an assortment of just some of my Bruyneel™ (marginal) and Bruyneel™ (important) gains:
A helmet mirror for Abandy Schleck. Shortly after an attack the human beanpole can often be seen slowing down and looking around to make sure his brother Fränk (or "Serse" as I like to call him) is still OK. With the mirror (which we've now shaved down to weigh only 33g) Andy will be able to look at his brother without wasting precious energy. If by some cruel and totally unintentional twist of fate Serse doesn't ride the Tour we can always affix a tiny picture of him to the mirror instead.
Beetroot Juice. I have been making all of my riders drink it since before Team Sky ever did. I sourced mine from a special high-altitude organic farm in Sierra Nevada, Spain.
Sacking all of Andy's current coaches. The bandy-legged grasshopper has only won a single Tour de France, a host of young rider's jerseys, and the odd classic; it's clear he isn't achieving his potential as a rider. As a result I've sacked Kim Andersen from the Tour de France, he's just been holding Andy back this entire time.
Recruiting twice as many swimming coaches as Bradley Wiggins. After my ritual nightly Google search of myself and my book recently, I discovered an article about Wiggins hiring a swimming coach. This isn't a new idea; I invented it a long time ago and Bradley only got the notion after reading my book. This year I'm stepping it up for the little Peter Pan of cycling. Since the poor little elfin giraffe needs all the help he can get, he's being trained by twice as many swimming coaches as Bradley: two. He'll be able to swim twice as fast as a result.
A change from standard gauge to Bruyneel Gauge railway tracks for stage transfers by rail. Standard Gauge railways are too narrow and decrease passenger comfort; RadioShack will do their rail transfer at the Tour on my broad gauge track width of 7ft ¼ in, not a measly 4ft 8-½ in. I invented it so it is the best. Bruyneel has spoken.
Removal of the SchleckChute™. This measure will both save weight in the mountains and prevent his namby-pamby-Andyness from abandoning le Tour. It will, of course, compromise his bike handling on the descents but I have already thought of this in the next point.
Drinking bottles made from solid lead. These are to be handed up to the featherweight dandy of a man Andy Schleck before descents. Some people will think I stole this idea from 1947 Tour de France winner Jean Robic. This is not true; I invented the heavy bottle system before Jean was even born in 1921. They are called "Bruyneel-dons."
Remote control electronic shifting. To prevent the poor twiglet on wheels from having another Chaingate situation, I shall personally be in charge of all of his gear changes from the car with a remote control. We are also working on having remotely-operated pacemakers fitted to all RSNT riders for 2013 to increase my control over the race and the team, which is mine. I own it.
More coaches from other sports. The lanky stick-insect impersonator is getting tennis lessons from Paul Annacone (Federer's and Sampras' trainer), football coaching from Jose Mourinho, and acting coaching from Michael Caine (to practice the Lance "look" – my invention). They are lovely chaps, I met some of them through a mutual acquaintance in Spain. Andy Pandy may have lost nine minutes in the Dauphiné time trial and eventually crashed out, but his backhand is coming along tremendously.
Non selection of Chris Horner for the Tour de France team. Andy has a mentally weak and fragile nature, if he's to have the confidence to be team leader he must be the best GC rider on the team. The most effective way to achieve this is to deselect Horner.
That is all my wisdom for today, fans. Even though I'm a very busy and creative man, a leader and a champion maker, I've made the time to write this article for you. Please respect my opinions or I will sue. Thanks.
~ Isambard
n.b. My fee for writing this blog will go straight to the LiveStrong.com company.