Video: the EPO effect unburied
the video explainer (in language most of you will understand):
to go with this freeform and somewhat pithy post from Doc's veloclinic tumblog: 
how misguided science buried the EPO effect
This article from Outside, "The Power of EPO: Debunking the Flawed British Journal Study"
is a good start at pulling apart a recent article
that grabbed headlines fer attempting to discredit
the Armstrong truth
fer the link see the outside article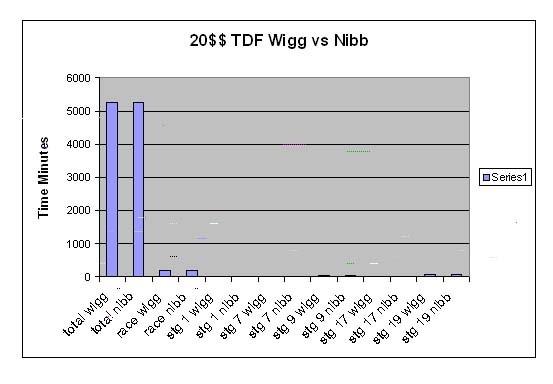 the main issue
(that a grand tour
is a series uv small races at functional threshhold power
(FTP)
buried in 21 multi hour days
uv GC grabass)
is ilustrated by the figure above
the first two columns are the total race time in minutes
(which look nearly identical
despite being the difference between a not even fuggin close 1st n 3rd)
completely dwarf
the second two columns which are the total FTP race time
n
any differnece they might reveal
the rest uv the columns
FTP
broken down by relevant stage
are completely obscured
this is how this mistake uv a paper
came to the conclusion
that EPO had no effect
by lookin at overall finish times
right then
in terms uv lookin fer an effect uv EPO
the place to look
is at portions uv the race
raced mostly at FTP
where the EPO effect
bout 2-12% depending on era
rises outta the grabass
namely
TTs
n
finishing climbs
consider the example uv TDF 20$$
where
theoretical doped rider
call him wigg
beats
a theoretical undoped rider
call him nibb
not because uv any natural ability
but just cuz uv dooping
(now the actual riders we got this data from were chosen fer an exmple because uv the difference in their performance not because we know anything bout one being cleaner than the other)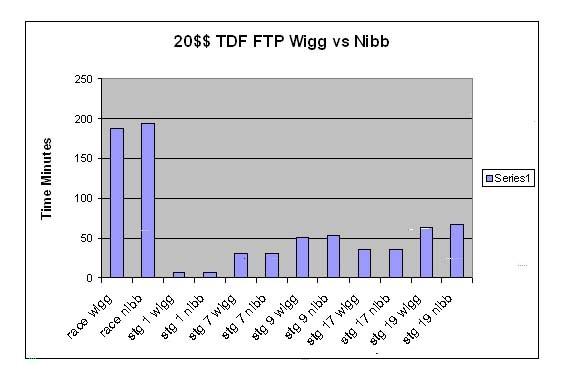 stg 1 Prologue
wigg 7.33 min nibb 7.66 min
stg 7 finishing climb
wigg 30 min nibb 30.12 min
stg 9 TT
wigg 51.4 min nibb 53.52 min
stg 17 finishing climb
wigg 35 min nibb 35.3 min
stg 19 TT
wigg 64 min nibb 67.63 min
total time FTP finish time
wigg 187.7 nibb 194
(yes this based onna true story TDF was realy that fuggin mindnumbingly devoid uv relevant mountain stages)
the cumulative effect
is that
the 3.4% difference from our theoretical EPO doping
(a real world 6 minute ass kicking)
during
portions uv the race
actually
raced at FTP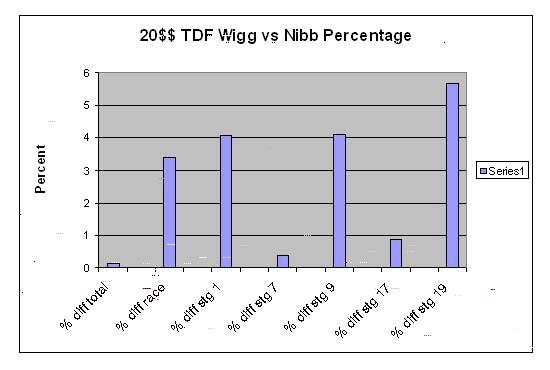 only results in
a
0.12% difference
on total finish time
an effect
when looked fer across years
becomes invisible
to even the most statistically sound methuds
note that fer absolute accuracy a 3% diff in FTP power does not translate directly into uh 3% diff in finish time but fer the same uv story telling that point was let tuh slide
 * * * * *
veloclinic is the reincarnation of one of our favorite Twitter friends, @captaintbag1, whose tumblr blog posts were a kind of blank verse, Tecate-soaked haiku of truthiness that cut through the slick bullshit and to the very core of what is gloriously fucked up about the sport of cycling. Although the Cap may be gone (sort of), his Doctor tbag/Captain Hyde alter ego lives on, and we're glad to share his pithy analysis here. Lest you think these are the idiot ramblings of a madman, we'd like you to know that the doc is a legitimate professional in the science of sports medicine, and a savant when it comes to doping analysis. You have been warned.