With a string of second places this season, Slovak sensation Peter Sagan is certainly getting a bum deal in the current spring classics campaign.
Renowned for his wacky victory celebrations, Sagan is discovering just how hard it is to do something quite as memorable when crossing the line as runner-up. And on Sunday he went into a bit of a meltdown on the Ronde van Vlaanderen podium in Oudenaarde with his now infamous pinch of podium girl Maja Leye.
Just as the tall, blonde, statuesque, tanned and scantily clad Belgian model in her early 20s – whose LinkedIn profile describes her role, perhaps somewhat liberally, as an 'Administration Production Assistant at Flanders Classics' – was assisting two-time Ronde victor Fabian Cancellara with an administrative and productive kiss on his chiselled cheeks, Sagan took it upon himself to give her hind quarters a quick pinch (or, as Emma Bamford of The Independent newspaper so graciously put it, "goosed the blonde").
Initial reaction saw Sagan's actions as more playful than lamentable. The person behind the official Twitter feed of the race (clearly a man or perhaps a women with a sense of perspective) tweeted a link to the incriminating photo catching the 23-year-old flagrante delecto with the caption "Naughty Sagan" while @TourdeJose simply offered a "CHEEKY" comment alongside the picture.
But many did not see the funny side. Sagan's actions were nothing short of sexual harassment and symptomatic of cycling's overall misogynistic attitude towards women and its lamentable development of the women's sport, they said.
Instead of broadcasting images of Marianne Vos – arguably the sport's most complete talent – winning her first ever Flanders crown earlier in the day, here we were concentrating on the childish, yet fiendish, action of one cocksure tyro eager to steal the limelight from the classy veteran rider who put him in his place with a blistering attack on the Paterberg.
I have to admit, my initial reaction to the picture of a smiling Sagan pinching the podium girl's bottom was one of mild amusement. Unknowing of the outrage it would cause, I posted – as my alter ego Blazin' Saddles (@Saddleblaze) – a tweet that was perhaps almost as crass as Sagan's actions in the first place.
Come on, chill out about the podium girl. It's just foreplay for Sagan. He'll do much more than pinching a bottom later…

— Blazin' Saddles (@saddleblaze) March 31, 2013
I'll put my hands up and say I was out of line – but the idea that Saddleblaze was actively encouraging (as one of his followers suggested) the "all out rape" of the girl in question was astoundingly stupid.
The throwaway comment about Sagan and foreplay was made very much in jest and in the light of the fabricated persona of Peter Sagan that we have all contributed to in some way of other on Twitter.
Last summer after Sagan's total domination in sprints at the Tours of Oman and Switzerland, a spoof Sagan account was made on Twitter – thought to be by a group of established cycling journos keen to have a bit of fun in the lead-up to and during the Tour de France.
The Sagan parody account joked about the Slovakian's supreme strength and made light of his virility and voracious appetite for bedding podium girls. It became a mini phenomenon with tens of thousands of followers until most of us realised that it was getting a bit tired and the whole thing petered out.
Some bored souls on Twitter missed these imaginary 140-character insights to one of the peloton's hottest new stars and another parody account was set up – but to significantly less fanfare. (It really wasn't funny in the slightest.)
But by now, the damage had been done. Sagan had a reputation for being a huge ladies man – something he actively encouraged in that bizarre scene in which he signed a woman's breasts before a stage of the Tour (apparently she never asked for him to do it – but didn't exactly complain either).
My point in bringing this all up is that pinching a podium girl's bottom is exactly what we would expect from someone like Sagan, in that it's entirely in sync with the manufactured persona behind a rider whose attacking style is winning over a whole new generation of cycling fans and whose oddball victory celebrations have brought both him – and the sport – hordes of new fans.
In short: Saddleblaze (and so many others) had anticipated this kind of behaviour from Sagan so much that it did not come as a surprise. But that doesn't in any way make what he did right.
Yes, the boundaries of fiction and reality had blurred so much that a bum pinch was seen by many as par for the course for Sagan – especially after missing out once again on a victory in one of cycling's monuments. But the whole thing takes on fresh layers of complexity when taking into account the motives behind the pinch and the real Sagan's track record.
Indeed, it has emerged that Sagan – very much like his Twitter parody persona – has form in such casual displays of sexism.
If you look back at the pictures from the podium of E3 Harelbeke (where Sagan again finished behind Cancellara) and you'll see the Slovakian making a 'bum patting' gesture towards one of the podium girls giving Spartacus a hug on the top rung of the podium. Rumour has it he tried something similar at Milan-San Remo when finishing second to Gerald Ciolek.
Then there's the old photo of Sagan, probably just 18, filling up his car at a petrol station while wearing a blue t-shirt emblazoned with the (vulgar and highly presumptuous) words: "My c*** + your p**** = good times".
It's worth being fair at this point – for this is not a Sagan witch hunt: Tom Boonen, who, behind the unfortunate Maja Leye, was seen as the big victim on Sunday after crashing out of the race, was once pictured with a big grin on his face while sporting a black t-shirt with the words: "Will f*** on first date".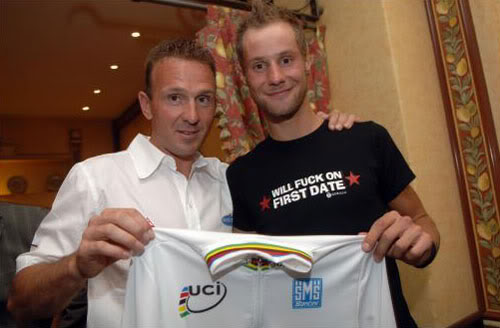 So, yes, boys will be boys, even – Shock! Horror! – in the world of cycling.
In a sport where his contemporaries are being busted for blood transfusions, performance-enhancing drugs, and race fixing, it seems a bit rich to crucify Sagan on Easter Sunday for a bit of cheek that he will no doubt regret even more than missing out on yet another classics victory.
After all, cycling does seem to condone the casual objectification of women by having podium girls in the first place – an antiquated tradition which arguably encourages the kind of lechery seen in Sagan's (clearly un-isolated) moment of madness.
Can you blame Sagan? He's pretty much spent most working days of his life since the age of 18 on podiums surrounded by dolled-up girls handing out kisses and bunches of flowers while offering their faces as a alternative receptacle for sparkling wine. On top of that, he has people on Twitter making him out to be the biggest Casanova since that chap with the equally big eyebrows signed on the dotted line to appear in the Twilight franchise.
As the ever-erudite Matt Rendell tweeted:
Sagan's carefully thought-out piece of theatrical satire brilliantly focused attention on the absurdity of stlll having podium girls in 2013

— Matt Rendell (@mrendell) March 31, 2013
This is precisely why, when Cyclingnews reporter Jane Aubrey can rightfully flag up Sagan for harassment in the workplace, the highly-regarded Inner Ring is also correct in stressing that this is "a workplace where women are hired to wear short skirts whilst men spray champagne with obvious symbolism."
Sagan himself took to Twitter to apologies for his actions, claiming it was not "my intention to disrespect women today on the podium" – carefully forgetting all the other moments he had pushed the limits of decency a bit too far. "Just a joke, sorry if someone was disturbed about it," he added, underestimating the amount of people offended by his actions (it wasn't just Jane Aubrey).
The upshot of the whole thing is that Sagan will no doubt learn from his colossal faux pas – just like he'll learn that it's not exactly wise to drag someone like Fabian Cancellara up the Oude Kwaremont in the business end of a race. As for the role of podium girls in cycling – the Sagan storm will definitely put it back on the agenda and encourage healthy debate.
Interestingly, in last year's E3 Harelbeke, the organisers replaced the usual pretty podium girls with a 66-year-old granny after being criticized for using a naked girl on the front of their race promo poster the year before.
You'd think if Sagan had pinched the generous posterior of Paulette Van Neste instead of that of Maja Leye then he would have got more than an awkward brushing off on the Flanders podium.
Of course, there's always the cases of George Hincapie and Gert Steegmans – both of whom met their future wives while celebrating wins on the podium. We should perhaps withhold our judgement until we hear the reaction of the podium girl herself – for it's not up to us to decide is she felt violated, outraged, humiliated, and harassed.