Quote by @L_arriviste
"We are a self-supporting cottage industry of knowledge, forums, Twitter thinkers and doers.

We all have a certain amount of responsibility. This collective mind has created something and it must be nurtured and sustained because it seems pretty clear to me that most of the established truth-pimps are happy with the status quo."
A little over a year ago I did a piece on the myth surrounding Armstrong's "500" tests. With help from others, I sat down and calculated what the true number was, and then released it. But I didn't just present a number, I presented a breakdown with full details of how the figure was reached, and explanations of any possible variance, so that the reader – while presented with the final conclusion – also had the information to check for themselves, correlate that information, make an informed judgment with all the information in front of them.
When L'Equipe announced in 2004 that Armstrong had tested positive for EPO, they didn't just say he tested positive and produce some dates, they provided full details, the methodology, the sample numbers, the correlation, the places, the names, so that it couldn't be questioned, misinterpreted, or opposed.
When Gazetta dello Sport published their findings on Cipollini they did the same, with race schedules and calendars all playing a part in the work they presented so that the reader had the fullest possible information on which to make their judgement.
Dopeology.org is another great example, nothing is added without sources, sometimes multiple sources. If something finds its way onto the site it is checked, double-checked and verified to ensure its total accuracy.
Twitter has lent itself to 140-character journalism, sound-bites, and snippets of truth that don't tell the full story. A single tweet – Armstrong 23:08, Froome 23.11, Pantani 23.15 – suddenly becomes a piece of work that people rapidly tweet and re-tweet, and use to make their own judgments from the most minimal of information. Sometimes it's accompanied by a blog link that lists the top ten times for a climb, but lacking any explanation of race tactics, weather condition, parcours notes, or other information that is key to the final outcome (and the reader making an informed decision).
Sometimes, either many hours later, or even a day later, @veloclinic or the excellent Ross at The Science of Sport do more detailed articles, but by then most people have just read the headline and made their own decisions based on the smallest amount of information. Speed has become more valuable that accuracy, being first more important than being correct/most in-depth.
The Kimmage Fund débâcle is a great example. Many sites tried to be first, breaking the news in either an inaccurate, slapdash, or tabloid manner. It took three days for Velonation to put out their article, but when Shane did finally break it it was in-depth, accurate, with a full view of the story. Of course by then it was too late, the tabloid headlines and 140-character summaries had already got the attention and a well-thought-out article was lost amongst the general hubbub.
Social media has given some relatively normal people great power, but as a friend of mine reminded me recently, with great power comes great responsibility. I am fully aware that if I come forward and tweet an allegation, within minutes it is re-tweeted multiple times, people who don't follow me end up reading it, they re-tweet it, and in a very short time it becomes accepted as fact. Those 140 characters – without the benefit of the full context of maybe a series of five tweets – eventually become the most minimal of information as people add comments to the RT, abridge it, condense it, until it becomes no more than a couple of words floating around the Internet. Television interviews given by riders, journalists, or team staff are abridged from 5 minutes to 140 characters, context is changed, details are lost, perception becomes quoted as fact, and people believe it.
Some are excellent; @veloclinic says nothing without backing it up with huge amounts of (largely confusing) data. @inrng, makes no statements without a lengthy blog post covering all aspects, with the most information possible. And that is the responsibility we all must have, when we put out data, when we reach conclusions, we must provide the reader with the fullest amount of information possible, so that they may make the most informed decision they possibly can.
The recent issue of climbing times is frustrating me endlessly. A list of climb times is not information, it is just base figures that ignore so many other factors. It gives people the bare minimum of information from which to make their decision, and we have to be more responsible than this.
For instance, if you are to present climb times for four Tours – 2000, 2002, 2006, and 2013 – for each of those four sets of data at minimum we should present:
Stage length
Stage details (How many other climbs, etc.)
Position of stage within the race
Weather details if available
And a brief summary of the stage, e.g., what was the standing of the GC at start of day, when were the attacks made, who made the attacks, how long did the attacks continue, was the rider riding for the stage or for GC position?
Information that, while it may not prove relevant, gives the reader the maximum possible information from which to make a then much more informed decision on how they interpret the data in front of them.
Within forty eight hours of writing this I logged onto Twitter to the news that Geert Leinders, former doctor with Sky and Rabobank had been involved in clinical trials of Gas6 at Leuven University.
"It seems Dr Leinders was involved in clinical trials of Gas6 at the Catholic University in Leuven"

"Geert Leinders was involved in clinical trials of Gas6"

"Geert Leinders, Gas6, Interesting?"
This story slowly gained ground, tweeted by many well respected names in cycling. Eventually a piece appeared by notable French blogger Guillaume Prebois which made brief mention of rumours circulating regarding Leinders, this time at University of Louvain. (There is considerable confusion over the two universities.)
By now the story was true. Thomas Frei had tweeted regarding Gas 6,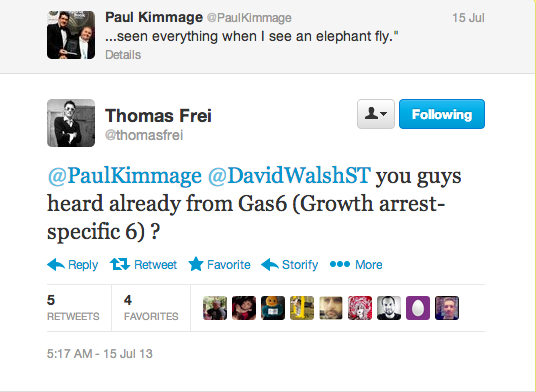 Leinders had been linked, Sky were using Gas6 – people believed it.
Respected science blog, Scienceblogs.de, then wrote on the matter. First drawing climb times from another blog: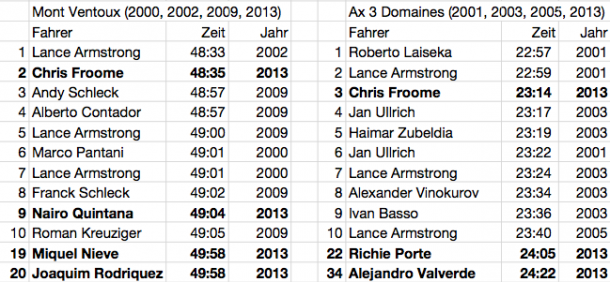 that failed to mention faster times by Marco Pantani in an earlier Tour de France (and again failed to account for tactics, parcours), before moving on to explicitly state that Leinders was involved in the clinical trials of Gas6.
"Dopingmittel eingestuft werden. Kandidaten dafür wären beispielsweise Telmisartan oder GAS6, das  Gerüchten zur Folge beim Giro d'Italia dieses Jahr eingesetzt wurde, und bei dessen klinischen Tests Geert Leinders, ehemals in Diensten des Teams Sky, beteiligt gewesen sein soll."
So where did it start? A single powerpoint slide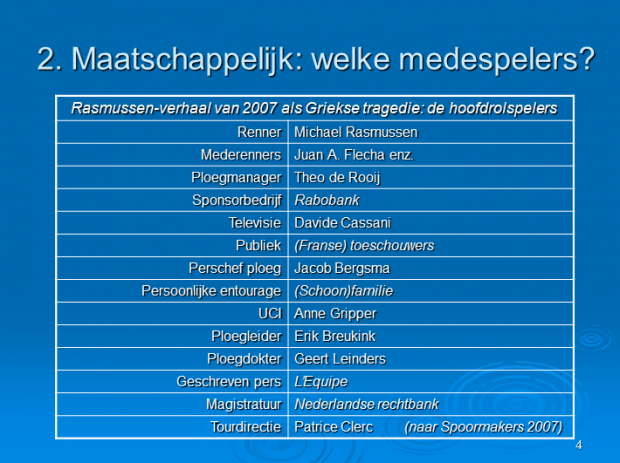 on the CyclingNews forum listed Leinders name. The Universite Catholique de Louvain became the Katholieke Universiteit Leuven. Within three pages Leinders involvement was accepted, Sky had become linked. A few pages later the mistake was recognised, but by then it was too late, the story had already become fact.
Is the original forum poster at fault? No. Because while we have  a responsibility to question, a responsibility to investigate, we also have a responsibility to verify, to validate, to ensure the information we then pass on is sourceable.
We have a responsibility, and just as a journalist would never print allegations, or rumours without fully sourcing their information, we too – whether we have a hundred followers on twitter, or ten thousand – have a responsibility to be confident of our assertions. People do listen, and some have gained unprecedented power over the last two years, unforeseeable influence, but with that power, as was so rightly pointed out, comes great responsibility.