After such a brutal and eventful race there's no way you can pick out just the one talking point. So, in his weekly column for Cyclismas, Saddleblaze has gone for a healthy ten – just to keep the magic going all the way until the Ardennes.
As we all know, Fabian Cancellara started the 111th edition of Paris-Roubaix as overwhelming favourite. That he won the race did not make it a predictable affair – for Spartacus had to do something he'd never done before in his career: win a sprint on the famous Roubaix velodrome.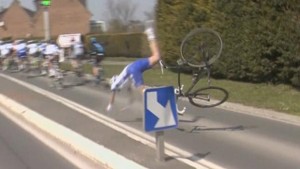 Offredo follows the signs to the exit: FDJ's main hope, Yoann Offredo's race was over before the first five-star cobbled section when the Frenchman collided with a road sign on a traffic island. Riding at the back of the bunch which was just beginning to part, Offredo was looking behind him in a bid to locate his team car when, turning back around, he came face to face with the blue sign with next to no time to avoid a collision. He veered to the right, but clipped the offending object with his left knee before being sent hurtling over his handlebars to land chin-first on the tarmac. Game over for Off-road-o.
Moments later, a similar incident happened when Blanco's Rick Flens mounted a pavement only to collide with a traffic cone. The cobbles may be the race's weapon of choice but sometimes the damage is done elsewhere.
Size matters: Most of the guys who played an active role in proceedings out there were big units with a lot of staying power. So spare a thought for the pint-sized Clement Kortesky of Pro Conti outfit Bretagne Seche: not only does the guy not have a Wikipedia page, he also looked like one of the Paris-Roubaix Juniors who had started the wrong race.
Part of an initial break, Kortesky was well and truly dwarfed by fellow escapee Gert Steegmans who, rather ominously, was not even Omega Pharma's largest rider. That accolade went to man mountain Stijn Vandenbergh, who looked like a complete monster until he was spread-eagled by a spectator on the Carrefour de l'Arbre (more on that later).
Flower bed becomes vegetable patch: Making teams like Euskaltel and Movistar ride Paris-Roubaix is a bit like asking Europcar to do a team time trial. You get the impression that their contractual obligations only require the riders to make it as far as, say, the Arenberg forest before allowing them to hobble off the cobbles and into the safety of the team car.
Spare a thought for one of the Basque boys in orange who was involved in a pile-up as the race passed through a town 60km from the finish. It looked like the Euskaltel rider landed heavily on the low stone wall of a flower bed beside the road – instantly making it a vegetable patch for discarded carrots.
Thomas going for a clean-sweep: You can safely bet that Team Sky won't be returning to Tenerife for their classics preparations next year after their performance in Roubaix yet again underlined the importance of having a decent Internet connection ahead of key races.
After suffering falls on the Cipressa (Milan-San Remo) and the Kwaremont (Flanders), Geraint Thomas kept up his unfortunate knack of stacking at key moments in each monument this season by coming a-cropper on the Trouee d'Arenberg following a ditch tangle with Yauheni Hutarovich of Belarus. What odds of a Thomas spill on the Cauberg in next Sunday's Amstel Gold?
Meanwhile, poor Edvald Boasson Hagen – the only marginal gains he's experienced this season seem to be around his waistline.
Keep your eye's peeled for Stybar on YouTube: As long as the incriminating iPhone wasn't run over by a race motorbike then someone has a great close-up video of Zdenek Stybar's crash in the Carrefour de l'Arbre. More precisely, the plonker who leant out and knocked the Czech cyclo-cross star in the face with his phone, forcing him to veer across the road and take drastic evasive action.
Talk about gutter journalism – especially given what happened just seconds earlier to Stybar's towering team-mate Vandenbergh. In fact, you'd think someone has a great snap of Vandenbergh grimacing as his rump hits the cobbles while his arms and legs are splayed like the world's biggest spider. If you watch the Carrefour cobbled section again you'll see Sep Vanmarcke also coming close to being floored by a lady spectator. You have to remember that the riders chose the gutter line in the first place. If you sleep close to a fire, you'll probably get singed.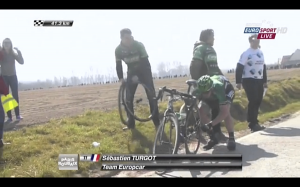 Bernaudeau's a manager not a mechanic: It was an agonising sight watching last year's runner-up Sebastien Turgot wait for an eternity while first his own team manager, Jean-Rene Bernaudeau, grappled unsuccessfully with his back wheel and then the rider himself was forced to take over after the Frenchman punctured 41km from the finish. The hold-up meant the alluringly ungainly Damien Gaudin became Europcar's principal hope – and the young Frenchman didn't disappoint.
Built with swimmers' shoulders, Gaudin is a complete oddity on wheels. Hunched over his cyclo-cross handlebars and with a head swaying like a metronome, Gaudin was "pedalling like a bag of spanners" according to Eurosport's David Harmon. Compare his jagged style to another big guy like Vandenbergh and it defies everything you read in the training manuals. You could balance a glass of water on Vandenbergh's flat back even over the most treacherous of cobbled sections – with Gaudin, you wouldn't have enough glasses even if you were hosting the UCI's annual Christmas party. Gaudin is a cycling monstrosity – but a curiously captivating one.
Omega Pharma deserve a pat on the back – just not by fans during crucial moments during the race: With Tom Boonen KO'ed by his Ronde crash, the Belgian team had to change their tactics. Steegmans rode excellently in two leading groups before handing the reins over to Vandenbergh, Stybar, Nicki Terpstra, and Sylvain Chavanel.
While Cancellara was completely devoid of RadioShack team-mates as the race entered the business end, Omega still had an abundance of talent – and Stybar, riding his first ever Roubaix, would have been a shoo-in had he not lapsed on the Carrefour and rode too close to the fans. It was scant consolation that Terpstra took third place to secure Omega's first podium place in a monument this season.
Cancellara's poker skills are exemplary: Before the race, Taylor Phinney said, "Cycling is a very unpredictable sport although Fabian tries to make it relatively predictable by riding off the front." But on Sunday Spartacus proved he was no one-trick pony by winning a very different way – and doing so after many had written him off.
Having been left isolated and seemingly on the ropes, Spartacus dropped back to his team car with 35km remaining, prompting Eurosport's Harmon to say his race was over. And yet he fought back, using all his experience, strength, and determination to do so. When alone with Vanmarcke he did try to ride off with 4km remaining, but was reeled in. So he had to do it the hard way and beat the Belgian in a track-style sprint.
The stats don't lie, and Spartacus' last nine finishes in San Remo/Flanders/Roubaix are as follows: 1st, 1st, 2nd, 3rd, 2nd, 2nd, 3rd, 1st, 1st.
Van marked by the occasion: A great picture shows the 24-year-old Belgian with his head in his hands and a dusty tear rolling down one cheek. He may never get such an occasion to win Roubaix – and had anyone told him before the race he'd finish second to Cancellara he'd probably have accepted that. But he admitted that he would lose sleep for many nights replaying over in his head that final sprint.
Even before the race reached the velodrome, Cancellara's experience was coming into play. On numerous occasions the Swiss flicked his elbow. Vanmarcke resisted but then eventually came through to take the pace-setting at a time when there was no chance they would be caught by the pursuers. It's almost like watching a scene in James Bond where the baddies insist on giving Bond a lifeline by taking the time to explain their devilish deeds before pulling the trigger.
It takes a rider of Simon Gerrans-style canniness to resist Cancellara's clout and race dirty. In the sprint, Vanmarcke showed one moment of indecision and suddenly conceded his stronger place high up on the banking and in the wheels of his rival, who admitted after the race that he "went over my limits like never before to cross the line first today."
Pinch yourself as decency returns to the podium: There was little chance that this monument's runner-up would have followed in the footsteps of Peter Sagan and tried to steal the limelight from Cancellara by harassing a podium girl. After riding over so many cobbles, the physical act of pinching even the most pert of bottoms would probably be nigh-on impossible.
Still, the Roubaix officials made sure by having their ceremonial hostess clad in jeans and a jacket – although they couldn't resist in giving her a Barbie-style tiara. As Cancellara gingerly raised the heavy-looking cobbled trophy aloft on the podium, it looked as if the podium girl didn't have to worry so much about having her derriere pinched as having her skull crushed by a falling stone.