This article first appeared on Eurosport.Yahoo.com on Saddleblaze's weekly Blazin' Saddles blog page.
"We would have wanted to invite Tyler Hamilton for other reasons. But he has done a lot of wonderful things for a very wonderful sport and he has to be applauded for his courage to act."
It wasn't perhaps the most unanimously positive endorsement of his career but Tyler Hamilton could hardly have born any ill will towards the lady wwaho introduced the shamed former cyclist to the stage at the American School in London last week.
After all, this was a prestigious school whose mission is to encourage "students [to] develop integrity and strength of character by learning to make good choices and by taking responsibility for their actions".
The teacher controlling the Q&A session alongside the school's head boy was also wary of slipping on any potential banana skins. "It is controversial for us to have you up on this stage and we're putting ourselves on the line," he said. "Can you see how your cheating invalidates the message of our school and what we stand for?"
Hamilton – looking tanned and rather boyish with his ragged boscage of wavy hair in stark contrast to the slick, almost shiny, grey suit and smart blue shirt covering his still slender frame – was entirely understanding of the concerns outlined.
"I respect people who can't forgive me and won't listen to what I have to say. You guys can ask any tough questions you like and I deserve them," he said in front of an auditorium of roughly 200 high school pupils, parents, teachers, members of the public and one cycling reporter.
"I feel like it was just yesterday that I was in high school. These kids can learn from me. If I can change one kid's life then I'm pleased I came."
Well, he certainly did change one grown kid's life when approaching Saddles in the foyer ahead of the talk and complimenting him on his Ragpicker vintage cycling cap.
"Nice hat. How you doing? You coming to the talk?" he asked before hands were shaken and names exchanged. It broke the ice nicely – and meant Saddles had a way in after the session to pose a question or two of his own.
To be honest, most of the questioning was rather soft and made Oprah Winfrey look like the Spanish Inquisition – but this wasn't exactly an audience of specialists and only some of them had read Hamilton's book, The Secret Race, co-edited with Daniel Coyle.
Early on during the Q&A the school's head boy asked Hamilton what had been the most difficult aspect about coming out with the truth surrounding what he described as the "dark days".
"The hardest part was telling my parents the truth in 2010 having lied to them ever since 1997."
It was a poignant answer, but one which made this blogger think of something doing the viral rounds at the time: a note left from a father for his son on the fridge door.
"Nate," the note-cum-internet-hit said, "I overheard your phone conversation with Mike last night about your plans to come out to me. The only thing I need you to plan is to bring home OJ and bread after class. We are out, like you now. I've known you were gay since you were six, I've loved you since you were born. Dad. p.s. your mom and I think you and Mike make a cute couple."
Something tells Saddles that Hamilton's parents knew a long time before 2010 about his training methods. If the syringes, fridges full of blood and shirts stained red weren't enough, then they may have had a hunch around about the time the whole 'false twin' theory came into play.
(Although had they left him a note on the fridge it probably wouldn't have requested extra OJ – for obvious reasons.)
"I wish I'd stood up in '97 and said no when the first red testosterone pill was held out to me by a doctor wearing a fly fishing jacket filled with pharmaceuticals," said Hamilton, like an LA screen-writer effortlessly seaming the plot of The Matrix to an episode of Deadliest Catch.
"If I had known what would have happened I would have been on the first plane back to Boston," he added.
Although blessed (or perhaps hindered?) with a constant grin bordering on a childish smirk, Hamilton came across as genuinely contrite. The critics will say that he's had enough practice – after all, he's rivalling Tony Blair on the lecture circuit right now in the wake of his no-holds-barred confessional – but Hamilton nevertheless came over as an honest, humble and decent guy keen to put things right.
"I have two bits of advice for the young people in the crowd," he said. "First: take time with the decisions you make. Second: If you make the wrong choice then right it as quickly as possible."
When pressed on whether or not he would have come clean had he not been forced, Hamilton, to his credit, did not reply wholly in the affirmative.
"I hope so. I would like to think that as I got older and more mature I would have," he said before adding: "But I couldn't say for sure. I had many opportunities to tell the truth. I waited until the last minute when I was fully backed up in the corner."
Now 42 and working as a private cycling trainer back home in Colorado, Hamilton said he was happy to be away from the pressures of the professional peloton and the general rat race that can affect students as much as Wall Street execs.
"I'm kind of enjoying just being mediocre," he said, prompting laughs from the crowd. "I'm 30 pounds heavier now than when I was a cyclist," he added, prompting gasps (he is still a slight guy). "I'm a jogger, not a runner. I'm enjoying being average."
Being average is certainly something you wouldn't hear his former boss Lance Armstrong boasting about – and certainly something Hamilton in his capo days wouldn't have admitted to. Back then, he was all about pushing things further and never being content with the status quo.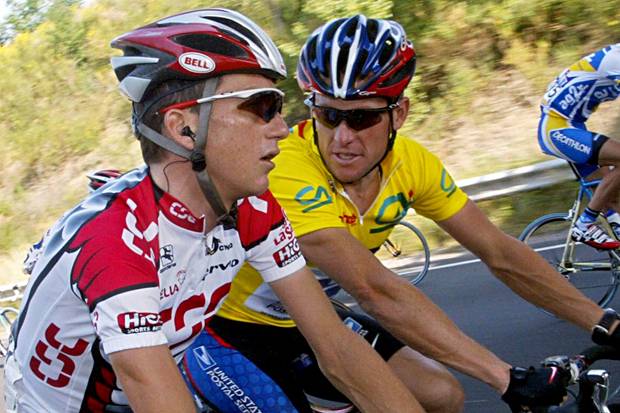 "At CSC one of Danish guys coined the term 'positive dissatisfaction'. I used that term so many times but it was the root of all the problems."
Hamilton said it had been painful to go over all his mistakes while writing his book and admitted that the fallout from The Secret Race had been rather testing.
"The president of cycling's world body called me a scumbag. His name is Pat McQuaid," Tyler told the audience (many of whom were non-cycling types who couldn't tell their UCIs from their IOUs (answer: they're often the same thing). "I understand his frustrations. I know why he would do that. But there are many who continue to deny that they had any knowledge that bad things were happening in the sport."
Hamilton stressed that there were "still bad apples" in cycling and that "there's still dome digging to be done."
Sounding more and more like a character from Goodfellas, he added ominously: "It's definitely a lot better than back in the dark days but there are many buried bodies and many of us know where those bodies are. We must do some digging or there will be another big situation in the future [like the US Postal scandal]."
With the hour almost up, Hamilton just had enough time to praise former US Postal team-mate Floyd Landis for "getting the ball rolling," admitting that "we wouldn't be here today if it wasn't for him. He's suffering a lot still."
Hamilton confirmed that he didn't have much to do with any of the other Posties now give or take a few texts. "It's sad because we were a really cohesive group. Things have changed. It's sad that doping ripped us apart."
Of course, the Devil's advocate would say it was sad doping threw them together in the first place.
As the star of the night signed books on the stage at the end, your faithful blogger went up to the former 1994 Olympic time trial gold medallist and asked him if he thought it was fair that there was so much scrutiny surrounding the highest performing team of the current era, Sky, who had seemingly been tainted by the same brush as US Postal.
"It's not fair, no," he said, fixing Saddles with his piercing blue eyes. "It's unfortunate that's happening but due to the past it's the way it is because of what we did and because of the culture that we went through.
"I feel bad because of it. I feel bad that Bradley Wiggins cannot enjoy winning the Tour like he should enjoy it, that he has had to endure all this skepticism."
At this point, the master of ceremonies tugged Tyler on the sleeve and urged him to return to his signings – but Hamilton was in no rush and was eager to finishing giving his answer.
"The problem is not necessarily Wiggins but the people around the sport. We still have some bad apples in the sport including some – but not all – of the individuals in the UCI.
"I'm sure Bradley Wiggins is not happy with me and I understand that. But if he's going to be really angry with somebody then it's still those bad apples that are continuing to rot the sport. He should be pushing those people to be telling the truth.
"Zero tolerance? I don't believe in that. I've got to commend Sky for trying and being proactive – some teams are not even being proactive – but I don't necessarily agree with that philosophy.
"To clean up the sport truth and reconciliation is the only answer. I'd love to see them maybe invite back some of the guys they forced out like Bobby Julich. And I'm not the biggest fan of Bobby Julich – trust me – but if people are telling the truth they shouldn't be penalised for it."
On that note, Saddles and Tyler parted. There hadn't been a chance to ask him who the most promising crop of apples in the orchard were; or if he sincerely would have indeed traded in the glory years at US Postal and beyond, and the smart grey suit and blue shirt on the lecture circuit, for years of what he described as "hanging on for dear life and surviving at the back" that would have been synonymous with not doping at a time when "ninety to ninety-five percent were on drugs during the Tour".
Neither had there been a time to ask him who he thought should play him alongside Bradley Cooper's Lance in a movie version of the "dark days"; whether he preferred the film Twins to Marley & Me; whether, given his background in downhill skiing, he would have insisted on La Manie being kept in the previous weekend's Milan-San Remo; or if he could give Saddles a tailored Tyler Hamilton Training plan ahead of this reporter's own big ride in September (2,300 kilometres in the footsteps of Hannibal from Barcelona to Rome).
Perhaps for another time. Tyler, over to you…