In his second column for Cyclismas, Saddleblaze – aka Eurosport's Blazin' Saddles – weighs up the reponse of both Jan Ullrich and Johan Bruyneel in the wake of Lance Armstrong's ever-so-slightly lame interview with Oprah Winfrey.
* * * * *
You can be pretty sure that one of the people who stayed up in his London home until 2am GMT to watch Lance Armstrong's back-to-back interviews with Oprah at the back end of last week was his old directeur sportif, Johan Bruyneel.
Remember Johan? The guy who in August tweeted: "When has "seven" been "seven" and then not anymore? NEVER…".
The guy whose reaction to Tyler Hamilton appearing on 60 Minutes with flowing, wavy locks to discuss his doping expose 'The Secret Race' was once again summed up in a succinct tweet back in September: "Thinking about writing a book. Apparently, it makes your hair grow…".
The guy who recently had a pop at Jonathan Vaughters for blocking him on Twitter – although it is thought that Bruyneel has given the same treatment to around 80% of his own 101,250 followers.
The guy who described the recent Change Cycling Now summit in London as a meeting between "a bunch of douches."
The guy who in November told his followers that "this ain't over yet, people."
The same guy who, a month earlier, stressed that "there's always two sides to a story. Coming soon!" and who – according to Dutch newspaper De Telegraaf – is working on a book that will give his version of events of the U.S. Postal years.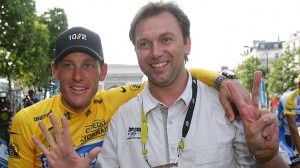 Given that the 48-year-old Belgian is thought to be still planning to go forward with his arbitration with the US Anti-Doping Agency, this promises to be quite a read (although book shops the world over will have their work cut out in deciding whether to place the product on their 'fiction' or 'non-fiction' shelf).
Anyway, it's hard to know exactly what's going through Bruyneel's head because he's kept a low profile since being dismissed by RadioShack-Nissan-Trek in the wake of the damning USADA documents being made public.
Bruyneel makes a point at not talking to the press or his critics, preferring to communicate his steely defiance through the odd wine-fuelled tweet.
But while Armstrong himself swiftly took down a reference to his seven Tour de France victories in his Twitter profile, Bruyneel simply updated his to: "7 plus TWO = 13″ (the 7 refers to his Tour wins with Armstrong, the TWO his victories with Alberto Contador, and the 13 his total Grand Tour scalps as DS, including overall wins in the Vuelta and Giro for Roberto Heras and Paolo Savoldelli).
Well, never one to disappoint, Johan could not resist posting a subliminal message the day after the second part of Armstrong's interview with Oprah elicited such a frosty reception that five inches of snow fell over most of western Europe.
Johan's Twitter feed contains no reference to the interview but on Sunday he posted a picture of the breakfast table spread for his daughter's ninth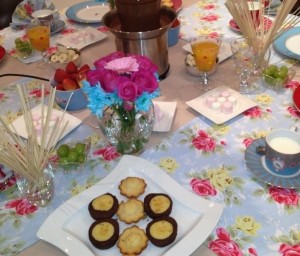 birthday party. And sitting on a plate in the middle of the picture are – at least for those blocked followers like Saddleblaze who can only view a thumbnail of Johan's pictures – seven yellow cupcakes.
Elsewhere in the cycling world, the fallout from "Doprah" continues with Jan Ullrich – the German juggernaut considered by Armstrong to be his biggest rival both on two wheels and in the doping laboratories – promising not to follow in the footsteps of the American "and speak before an audience of millions – although some have asked me again and again, and perhaps expect it".
Speaking to the German magazine Focus, the 39-year-old stressed that he was no longer interested in the past, adding: "I live in the here and now – very happily."
But sources close to Saddleblaze have revealed that these denials are a mere smokescreen, with Ullrich in advanced talks with German TV channel ZDF for a two-hour one-on-one live interview with the eccentric talk show host Thomas Gottschalk.
Ullrich is said to have finally caved in to pressure to lift the lid on his past after watching his old foe's enhanced performance alongside Oprah.
"When he heard Armstrong talk so disparagingly about the East German doping programme of the 70s and 80s, Jan flipped. How do you say in English – it was the stick that whipped the camel's hump," said the unnamed Bavarian source (not to be confused with Bavarian Sauce, a curry-based gravy very much enjoyed by Jan Ullrich as a condiment for his daily bratwurst snack at elevenses).
Jan was also said to be "apoplectic" that Armstrong was once overheard bragging that Ullrich was "his bitch," that he wasn't as good as cheating and that he was overweight.
"Jan didn't mind being called a bitch and a cheat and all that other stuff, but – how do you say? – being called fat really pushed him over the ledge," confided the Munich-based source.
Initially it was thought that David Hasselhoff would conduct the interview in a bid to not alienate audiences in the US – but Ullrich reportedly thought this was too gimmicky. Instead, producers have their hearts set on household favourite Gottschalk, a dapper TV veteran who is the record-breaking face of Haribo and also starred alongside Whoopi Goldberg as a sausage-obsessed German cook in Sister Act 2.
"Jan is a big fan of Gottschalk – not only of his TV work but also his filmography," said the source.
Ullrich, who won the Tour de France in 1997 and retired in 2007, is currently serving a two-year ban after being implicated in the Operacion Puerto doping ring. Last year, 'Ulle' was stripped of his results from 2005 onwards, losing his third place in the 2005.
"Jan's biggest concern about doing a TV interview is being stripped of his 1997 Tour de France title. It's easy to see why: for seven years he was bullied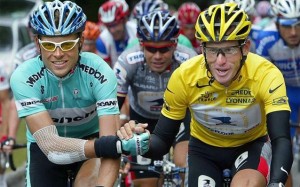 by Armstrong and notched more second-places than Raymond Poulidor. But now Armstrong has lost his seven Tours, Jan is set to go down in history as a more successful rider than the Texan. Such a turnaround is life-changing."
Part of the deal that sees Ullrich open up to Gottschalk would also include a special one-off appearance in the popular gameshow Wetten, dass..?, the most successful Saturday evening television show in Europe.
Following the same format as the British show You Bet! And the American show Wanna Bet?, the Wetten, dass..? Ullrich special is likely to see the Rostock road racer partake in a number of eating challenges as well as some disco dancing.
"Jan is keen to – how do you say? – strike the iron while he is hot. He is also aware that Johan Bruyneel is probably, as we speak, recording a duet with Belgian crooner Johnny Halliday, so his next move must be bold – and this fits the bill," confirmed the source.