It's December. It's the end of the year, but fortunately not the end of the world (fooking Zombie apocalypsers). That can only mean one thing – it's time for my year-end awards! The cycling world has had its share of ups and downs on its journey of self-awareness through the wilderness, so it's time to recognize all those involved for their efforts, dubious or grand!
Last December saw my awards of Mass Distinction, but this year I've decided to be different as 2012 was a very special year indeed. A few categories have been deleted, and a few new categories have taken their place. Onward we go!
Best Revisionist History Attempt
Rick Crawford for his "I only doped certain people and forgot about the others."
John Wilcockson, "We all screwed up during the Lance era so, bygones?"
Michael Barry, "It was just so HARD. I HAD to dope. It wasn't my fault. Forget what I said in 2010."
And the winner is… Rick Crawford. Crawford's partial admission, his comments surrounding the partial admission, and his excuses for his partial admission were weak attempts to hang onto his position coaching college athletes in Colorado. You were a coach. You were a mentor. Yes, you should have come forward back in 2001. You could have helped prevent an entire decade of corruption, doping, and fraud. And in the end you still got fired.
Best Dramatic Performance
Pat McQuaid for the October 22nd press conference announcing Lance Armstrong didn't exist
Brad Wiggins for his drinky-drinky smoke-filled holiday in Mallorca
Team Katusha for World Tour licence denial
And the winner is… Team Katusha! Like there was any doubt.
Biggest Whiner in a Grand Tour
Brad Wiggins for the Tour de France
And the winner is… Brad Wiggins! I mean, really, the rest of the whiners paled in comparison to Wiggo. I'm sending you a giant inflatable violin to play. I'm sure you can pick out a tune.
Most Likely to Hit the Tarmac
Andy Schleck
Mark Cavendish
Pippo Pozzato
And the winner is … Andy Schleck! Tough year for crashes for all three of these gents, but Andy, who deployed the SchleckChute™ pretty much all year, had the worst luck. Best wishes for 2013!
Best Podium Performance by a Person, Duo, Trio, or Group
Simon Clarke, "Call Me Maybe" at the Vuelta
Ryder Hesjedal "Hockey Stick Flag" at the Giro
Andreas Kloden, "Team Award Presentation" Tour de France
And the winner is … Simon Clarke! We adored the team's "Call Me Maybe" viral video from the Vuelta, and his ballsy work on the podium was one of the highlights of the year for me!
Best Exit from a Race
Johan Bruyneel "Tour de France"
Frank Schleck "Tour de France"
Lance Armstrong "Tour de France"
And the winner is … Johan Bruyneel! Yes, we enjoyed the fact the Tour folks basically told Flavio Becca his managerial secret weapon was "not desirable" for the Tour's image. I loved how Johan attempted to spin it by saying it was his decision and what was best for the team. Right. He always has the team's best interests at heart. Right.
Best Tow
Mark Cavendish "Tour de France"
Team GB "Men's Olympic Road Race"
Chris Froome "Tour de France"
And the winner is … Chris Froome! Yes Froomey towed Brad Wiggins all over France in July, for three weeks. Well, save one day where he got the flat and lost a minute twenty five and where the team left him to his own devices. But besides that one day, Froome did a brilliant job of ensuring Wiggo ended in yellow. I hope his midsection has recovered from the rope burns.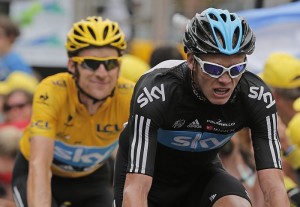 Best Example of Debauchery Following a Victory
Brad Wiggins "Champs-Élysées After Party"
Brad Wiggins "Post Olympic TT Victory Party"
Brad Wiggins "Post SPOTY Award Win Party"
This was a tough one, but we have to go with… the SPOTY performance. Only because Wiggo looked the most retro disheveled after that particular drinking fest.
Best Fashion Performance
Jonathan Vaughters for "Britney Spears in drag"
Lance Armstrong for "Triathlon Speedo"
Brad Wiggins for "Tour de France Route Presentation"
And the winner is… Jonathan Vaughters! It's all about the fishnets.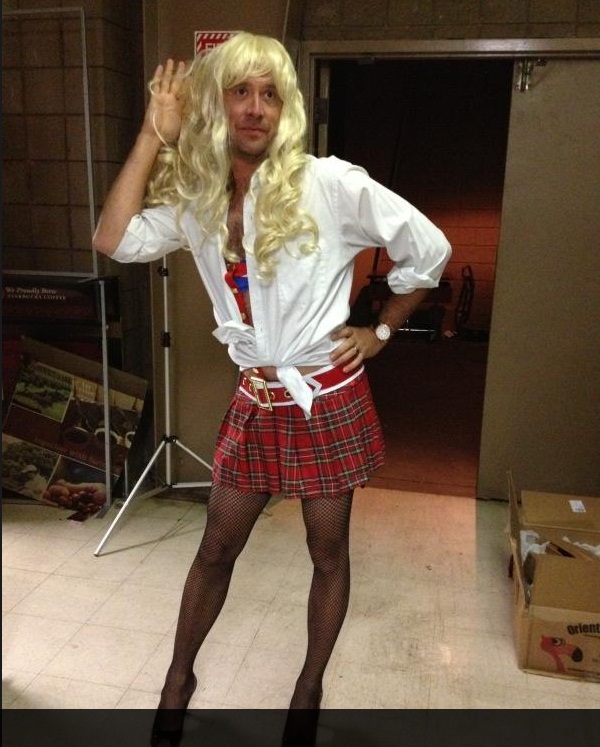 Best Twitter Zingerers
@dwuori
@saddleblaze
@neilroad
And the winner is … @dwuori! Consistently the best producer of Twitter one-liners, and always with a humorous edge. 'Twas a close vote!
Cycling Anti-Establishment Award
@paulkimmage
@neilroad
@nyvelocity
And the winner is … @paulkimmage! Paul took no shite from anyone, filed a criminal complaint against the UCI, Verbruggen, and McQuaid, and expertly employed the phrase "Fuck off you fucking toe rag."  He has stood for what's right no matter the circumstances.
Tool of the Year
Lance Armstrong
Johan Bruyneel
Hein Verbruggen
And the winner is … Johan Bruyneel! At least Lance backed away from douchebaggery after losing sponsors and pretty much almost every revenue stream, and Verbruggen has gone underground. Johan? He just doesn't get it. Completely delusional. He belongs in "Tool of the Year" Hall of Fame!
Best Quote
Hein Verbruggen "My reaction was strictly limited to the fact that Lance Armstrong was never found positive by the anti-doping laboratories, that there was no positive test and that there was nothing to be covered up."
Johan Bruyneel "A bunch of douches r gonna meet in London 2 change cycling. But why is @vaughters not on the list? He should be leading that group…" via Twitter.
Miguel Indurain " "Even now I believe in his innocence. He has always respected all the regulations… He has won all the cases he's had."
And the winner is … Miguel Indurain! Yes, we've come to expect ridiculous and contradictory quotes from Bruyneel and Verbruggen; however, Indurain was just a step above insanity with his appraisal of the Armstrong situation.
Best meeting for undisclosed purposes
Phil Maertens, Cathy Mehl, and Johan Bruyneel at the Amgen Tour of California. The three were photographed hours after Johan was served "mysterious paperwork" by some government agency. After the serving, he disappeared to Europe, missing several important meetings.  I'm sure there was relief from Mehl and Maertens upon his departure.
Pat McQuaid and Lance Armstrong via phone October 18th. Yes, our president actually took a phone call on his cellular phone from Lance Armstrong the Friday before the USADA decision. Oh to be a fly on that wall.
Travis Tygart with (insert your name here).
And the winner is … Travis Tygart! His meetings single-handledly re-sculpted cycling. Whether or not the pile of steaming dog shite that is pro cycling right now will be sculpted into an Eiffel Tower or Guantanamo prison remains to be seen.
Best Alternative Live Cycling Feed Sites, Free to the Public!
Cyclingfans.com
Steephill.tv
sportlemon.tv
It's a three-way tie. Thanks to all three for providing decreased cubicle productivity across the globe! Slainte!
Best Mainstream Pundit
David Harmon
Rupert Guinness
Andrea Berton
And the winner is … Rupert Guinness! Guinness was man enough to admit he made mistakes during the Armstrong era, and has continued to cover the sport with renewed vigour, bringing to the public key interviews with the key players in an Australian cycling, including new Oceania president Tracey Gaudry.
Horrorawful Mainstream Pundit
Anthony Tan
William Fotheringham
Phil Liggett
And the winner is … Phil Liggett for the second year in a row. Liggett had tougher competition this year, especially with Fotheringham's blatant Team Sky fanboy status and Anthony Tan's bizarre escapades in punditry. But the winner, Phil Liggett, managed to distinguish himself as the Lance Armstrong sock puppet he truly is, especially with his latest attempts to excuse the disgraced former age group swimmer's actions.
Dedication to Cycling Award
David Walsh
Mike Ashenden
Betsy Andreu
And the winner is … Betsy Andreu! The woman was unswerving in her campaign to expose the truth about what has been occurring in cycling, a decade-plus-long process that finally finished in 2012. In typical Betsy fashion, she gave interviews, told her side of the story, and then went back to making lunch for her boys and daughter. No book deal. No TV series. Andreu did this for cycling (and some loving abuse from certain friends) and not for her own financial gain.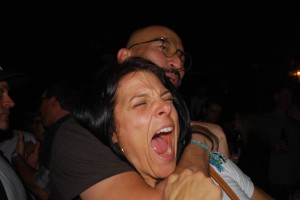 Charles Talleyrand Diplomacy Award
Jonathan Vaughters
George Hincapie
Klaus Mueller
And the winner is … Jonathan Vaughters. Vaughters embodies all the ideals exuded by Talleyrand. He is an influential member of every cycling organisation that has a shot of wrestling some power away from the UCI. He's got both sides of the fence covered with both the AIGCP and the breakaway cycling league people led by the Gifted Group. For good measure, he's also part of the MPCC, and makes policy with the PCC under the auspices of the UCI. Hedge betting and shifting allegiances? Vaughters is the king. He has a career as a diplomat in his future. He would be one of the best in the world.
Best Cycling Clothing Company
And the winner is … Vulpine! Not only does the company produce quality clothing products at affordable prices, but their dedication to the grassroots of cycling is impeccable. Vulpine's founder Nick Hussey is assisting in a fan-backed women's cycling initiative, as well as being extremely active in engaging the public on Twitter and his blog. The company has also pioneered a cycling fête, bringing a wide variety of cycling-related ventures together under one roof to showcase their wares, and they may turn the event into a travelling show. With a dog performing tricks for good measure.
Twitter Armchair Pundit Award
@fmk_RoI
@digger_forum
@captaintbag1
And the winner is … @fmk_RoI. The opinionated Mr. M has been a consistent agitator on Twitter, challenging anyone of any stripe (including yours truly), any loyalty, or any level of the sport on a variety of subjects from the breakaway league to anti-doping efforts to pro-team finances. Fmk has had some memorable interactions on Twitter, most notably with Jonathan Vaughters, is a regular contributor of peerless book reviews to podiumcafe.com, and also graces our pages at cyclismas.com with unparalleled historical narratives and interviews.
Mr. World Tour Award
Purito Rodriguez
Adam Hansen
Philippe Gilbert
And the winner is… Adam Hansen! Hansen finished ALL THREE grand tours this year, one of only 31 cyclists who have ever completed this feat. Hansen also makes himself very accessible to the fans and to journalist alike. A frequent tweeter, funnyman Hansen has earned the well-deserved title of top comedic talent in the peloton. We hope next year that Adam can break his Grand Tour stage victory goose egg, for as Greg Henderson noted on a broadcast of CCNN-TV earlier this year, that perennial bridesmaid Hansen failed to win any of the 63 stages he completed in 2012.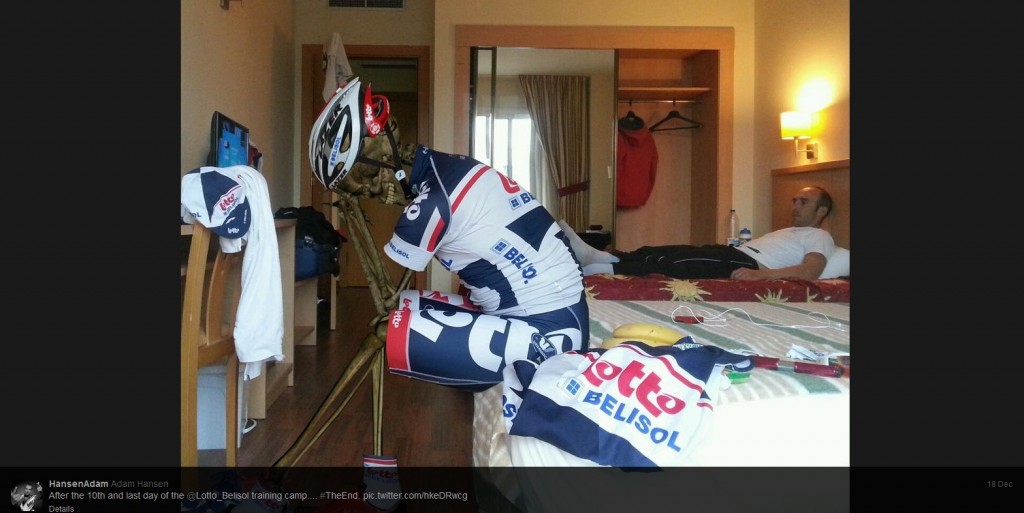 Ms. World Tour Award
Marianne Vos
Evelyn Stevens
Liz Armitstead
And winner is … Marianne Vos. Like there was any doubt.
Best Mainstream News Website 
Velonews
Velonation
Cyclingnews
And the winner is … Velonation! Uncompromising stories, dedicated coverage from a smaller team than either of its fellow finalists, but consistently punching above its weight, led by the never-sleeping, ever-tireless, Shane Stokes.
Best Alternative Cycling Site (other than Cyclismas)
inrng.com
tourchats.com
nyvelocity.com
And the winner is … nyvelocity.com! Yeah, we may be a bit biased, but these gentlemen have been most key in exposing important information to the general cycling public, as well as crafting the legendary Toto comic strip.
Favourite UCI Overlord minion for 2012
@asteinkamp
@Bridie_OD
@marijnfietst
@kittyfondue
It's tough picking my favourite person to interact with on Twitter (besides @cycletard, of course) BUT I did have to make a selection. Based upon a careful cross-comparison of retweets, interactions, favourites, and general great times on Twitter, the winner is…. @marijnfietst! Brilliant writer. Brilliant professional cyclist. An absolute gem on Twitter and in real life. The deserving champion of the social media jersey competition (she was robbed, methinks). Marijn de Vries is a great voice for cycling. Period.
Best commentating moment
Andrea Berton for the Giro d'Italia Stage 15, Rabottini victory
David Harmon, London Olympics Chris Hoy Keirin Final
David Bond, UCI Lance Armstrong Geneva Press Conference
This was a close call. And the winner … Andrea Berton. His call of the Rabottini victory goes down as one of the most passionate displays of coverage cycling has seen in the past decade.
Best Doping Confessor
Levi Leipheimer
Tom Danielson
George Hincapie
And the winner is … Levi Leipheimer. Levi has taken his punishment, endured a firing, and has gone about his business. Danielson could learn a thing or a hundred from Leipheimer.
Worst Doping Confessor
Michele Ferrari
Lance Armstrong
Johan Bruyneel
And the winner is … Michele Ferrari. This competition was neck and neck until Ferrari came out with his incredible Al Jazeera interview. Just wow.
Best Future Publishing Pundit
Daniel Friebe
Daniel Benson
Jane Aubrey
Since they are the cycling media juggernaut, it's only fair they get their own category. I mean, Future gets something like a million hits a day on their collective properties. After a tough decision, the award goes to … Daniel Friebe! Not only because Friebe was "rumoured" to be behind some influential pseudonymous Twitter handles which may have disappeared over the course of 2012, more importantly, he wins the hair competition.
Cyclismas Best Grand Tour Award
Tour de France
Vuelta
Giro d' Italia
And the winner is … Giro d'Italia! Great television coverage, great Internet video coverage, the best post-race variety show, outstanding social media interactions led by Giro boss Michele Acquarone, and an amazing three-week spectacle that came down to the final stage in Milan. It produced the most panachey moment of 2012, according to Rapha's Simon Mottram.
Thank you to all for an outstanding 2012. We'll see you in 2013. Best wishes for a very Merry Christmas and Happy New Year!