Professional road cycling is at another one of those crossroads. We've been here before for a variety of reasons, and we'll go there again in the future as it is the nature of humanity to engage in alternating phases of cooperation, growth, conflict, selfishness, destruction, and rebirth. Cycling has died a thousand little deaths, but has somehow managed to avoid the catastrophic implosion that would relegate it to the dustbin of sporting history.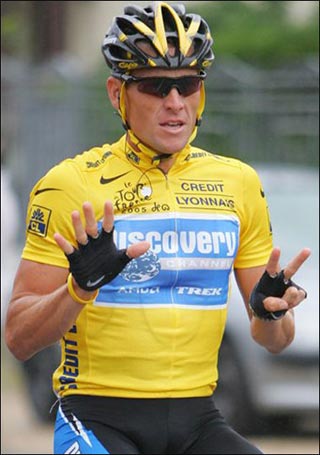 The current junction has been varyingly identified as being about "the jerseys," about the American justice system, about the use/abuse of public taxpayer funds, about an anti-doping agenda, and last, but not least, about a whole set of long-ago circumstances surrounding one Lance Armstrong.
General history has shown us larger-than-life individuals who've either united or divided groups along moral, social, political, ethnic or geographical lines. Such names include Mahatma Ghandi, Adolf Hitler, Abraham Lincoln, Martin Luther King, and Otto von Bismarck. In sporting history, the names of Marvin Miller, Alan Eagleson, Ed Garvey, Charlie Roberts, and Billy Meredith are synonymous with unification. I won't delve into naming those who have caused divisiveness, as the list is overly long. I could say that our last two presidents of the UCI are both individuals who have governed the sport through division rather than unification, but I would be digressing from my original point.
Pundits, scribes, commentators, and trolls alike have, through the various mediums of communication, done their best to try to quantify what this Armstrong situation means to our sport. In fact just recently I attempted to do so during a special "Dope Show" episode of the Bicycle Radio Show on Tuesday, August 22nd.
The strong undercurrent of discontent roiling the waters of our sport is evidenced by an ever-increasingly public conversation decrying the lack of cohesion, the overwhelming greed, and the favouritism shown to a select few by the governing body. This is compounded by the polarity of opinion regarding the man from Texas who wanted to be the king of the sport. We're thirsting for a united sport. A common cause. An ideal around which we can rally. We sense that something needs to be changed in spite of the fact that the sport has recently become part of a mainstream narrative. I believe it's because we're just slightly unsettled by how this exposure has been achieved.
If we think about it, Lance was a reflection of his time. Capitalism had become sophisticated and bloodthirsty. Wall Street took over the White House during the excess of the '80s as deregulation of the financial sector meant the inmates were running the prison. Sport mirrored this (as Jonathan Vaughters recently noted), because no one was regulating what professional cyclists were practicing either.  This movement toward "deregulation" or "self-oversight" was punctuated by a lack of philosophical direction for the United States, as they lost their Cold War nemesis when the Berlin Wall came down. Where would they place their patriotic fervour? What are they fighting for? Who are their foes?
Then Lance came riding in on his Trek like some kind of sporting knight to make sense of the confusion. He had the desire to vanquish his foes with the same fervour that the United States had "dispatched" its Iron Curtain enemies. He had that American swagger. That American arrogance. That cocky American attitude of "Fuck yeah, we killed Communism, and I'm going to crush my rivals with that same brand of ferocity."
Lance was fighting the "good fight." And like anyone who feels they are engaged in a righteous battle, they'll do it by any means necessary, using any tools at their disposal.
"It's for my children."
"It's for my wife."
"It's for the cancer community."
"It's for my country."
Lance wasn't alone. Across all sectors, the same mantra was being repeated to suit the scenario. Halliburton. Blackwater. Citigroup. In a rather historical bit of irony, in 1999 – the same year Lance won his first Tour de France – President Bill Clinton signed the Gramm-Leach-Bliley Act, repealing the six-decade old Glass-Steagall Act and effectively removing the barrier separating commercial banks and investment banks. Thomas Weisel, Lance's benefactor and mentor, was just one of the many investment bankers who benefited greatly from this landmark shift in government oversight. It was also a sign of the times.
It was all about the Benjamins.
As in all things, with every action comes an opposite and equal reaction. We're feeling the pain of rampant and unregulated capitalism, and we're suffering the fallout of this vampiresque maniacal money-sucking march as Europe lies in the catatonic haze of massive government debt while its lifeblood is being methodically drained.
Complex financial instruments used by the banking sector to extract dollars out of national and local governments in order to grow a massive bureaucracy in the name of job creation or unjustifiable infrastructure projects are a simile for the complex medical instruments used by managers, doctors, and other to extract performances from the athletes.
The trillions sitting in private offshore accounts of those banking sector corporations mirror the untold millions or billions sitting in similar offshore accounts of those who profited from the professional peloton's thirst for faster, thinner, and stronger.
Governments and sport governing bodies are in denial. They are still trying to perpetuate the system that created this overall illness in society. They are still focusing on "the Benjamins." They have forgotten that societal unity isn't created by monetary gain, actually it's quite the opposite. Unity is found in commonality of concrete ideals. Unity is found in a commonality of purpose.
You can't have unity in money and this is the problem with our sport. We're so focused on the money that we've lost the philosophy. We've lost the reason. We've heard for so long that "it's not about the bike" that we started to believe the mantra. Pat McQuaid believes the mantra, which is why he's chasing money all over the globe. Jonathan Vaughters even believes this mantra, as he continues to attempt to grow, grow, grow because he feels if he stops he'll lose it all. Many race organisers believe this mantra as they try to keep adding more and more races to their calendars at their own peril.
However, there is one small shining light. For once, we are beginning to see a return to values and philosophy in cycling. We're seeing two agencies that are following through with their mission, no matter how uncomfortable it may be temporarily, to protect the integrity of sport for all. It just happens that cycling provided the medium for us to be reminded that it's about more than money. It's about more than jerseys. It's about more than fancy Porsches. It's about more than houses on every continent.
It's about what is right.
The process is going to suck, because we're all going to be forced to look in the mirror and question our own motives. It's forcing the myriad of folks who sacrificed their ethics, their morals, and their personal philosophies for a paycheque to evaluate their own actions. Some of those folks will continue to live in denial, and others will ignore, while others will reflect.
This situation is giving us a golden opportunity to make a philosophical change to how the sport is administered and ultimately run. Cycling has the opportunity to show the mainstream world where it went wrong during the past 32 years. Cycling has an opportunity to give cheaters pause, because if USADA will pursue Lance, who are they going to pursue when they're done with him? And if cycling is willing to go after and penalise its most-decorated hero who violated the rules, maybe other elements of society will do the same.
There are hundreds, if not thousands of lives that have been affected negatively by the Armstrong era – those who were harmed by the maniacal pursuit of cycling monetary gain at any cost or by any means.  I can think of vast swaths of people – the ones who actually performed the jobs and did the volunteer work to give the sport its backbone at the grassroots level all over the world – who, over the past twenty years, have walked away with a sour taste because of what happened in that era. This is the reason why McQuaid has had to force his globalisation efforts around the world, as he stated in interviews this year, complaining of a lack of volunteers at European races. The sour taste of a tainted Armstrong era turned them off the sport they loved. Maybe through USADA's actions, we'll begin to bring them back.
As you can see, the circumstances aren't about Armstrong, in spite of what he wants you to believe, and they certainly are not about the jerseys. Armstrong is merely a symptom of the era, and a necessary exercise in order for us to finally begin to close a chapter of excess and a lack of regulation. We need the regulation. We need the oversight. We need checks and balances. Without these circumstances, we couldn't return the sport to its central theme. We need someone to stand up and say it's time we unite to bring all the elements of cycling together equally to continue to promote our sport in a healthy and sustainable manner.
After all, it is about racing and riding your bike, no matter your gender or what type of bike you may choose to ride.