(Reuters) – Factbox on the major doping scandals to hit cycling's Tour de France since 1998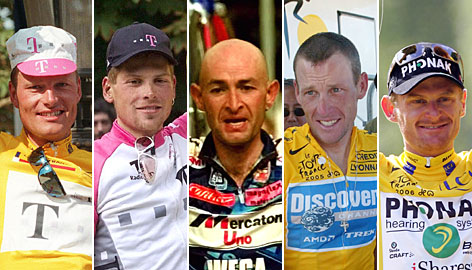 * 1998: Festina are kicked out of the Tour when medical team member Willy Voet is arrested at the French border after customs officers seize banned substances, including the blood-boosting drug erythropoietin (EPO).
— The team's riders later admit taking performance-enhancing drugs. Top rider Richard Virenque is banned for nine months, while team director Bruno Roussel and Voet are fined and given suspended jail sentences.
* 2006: American Floyd Landis becomes the first Tour winner to fail a drugs test during the race after testing positive for excessive levels of the male sex hormone testosterone. Landis, who denies using performance-enhancing drugs, is stripped of the title and given a two-year ban which ended on January 30, 2009. He finally admits to doping in May 2010 and accuses former team mates, including compatriot Lance Armstrong of also cheating, charges that Armstrong denies.
— Germany's 1997 Tour winner Jan Ullrich and Giro d'Italia champion Ivan Basso are among nine competitors withdrawn on the eve of the prologue after being implicated in a Spanish doping investigation, Operation Puerto.
— Spain launched Operation Puerto in 2006 after raids at addresses in Madrid and Zaragoza uncovered anabolic steroids, blood transfusion equipment and more than 200 code-named blood bags, some of which were linked to leading cyclists.
— Ullrich, who denies taking banned substances, is subsequently sacked by his T-Mobile team and retires from competition in February 2007.
— Basso admits his involvement in the scandal to the Italian Olympic Committee in May 2007 and is banned for two years. Basso returns to competition in 2009 and recovers his flair, winning his second Giro d'Italia in May 2010.
* 2007 – Pre-race favorite Alexandre Vinokourov tests positive for blood doping after winning a time trial on July 21. A one-year ban is later increased to two years by the Court of Arbitration for Sport (CAS).
* 2008 – Italian Riccardo Ricco is kicked out of the race after failing a test for the new generation of EPO called CERA (Continuous Erythropoiesis Receptor Activator). Saunier Duval announce they are withdrawing their sponsorship of the team.
— Austrian Bernhard Kohl, third overall and the race's top climber, as well as Italian Leonardo Piepoli and German Stefan Schumacher, are also found guilty of using CERA following retroactive tests.
* 2010 – Alberto Contador, winner of the 2010 tour, tests positive for the banned anabolic agent clenbuterol during the race. He is cleared by the Spanish cycling federation (RFEC), but the International Cycling Union (UCI) and the World Anti-Doping Agency (WADA) appeal. Contador's CAS June hearing is postponed, allowing him to enter this year's race.
— If found guilty, Contador, who has denied any wrongdoing, would face a possible two-year ban and be stripped of his 2010 Tour title.
2011 – Seven-time Tour de France winner Armstrong is again accused of taking banned substances. His former team mate Tyler Hamilton tells the U.S. television program "60 Minutes" he witnessed Armstrong inject himself with a blood-booster during the 1999 Tour de France won by Armstrong. Armstrong has always denied taking banned substances and has repeatedly had to fend off accusations despite having never failed a drugs test.
(Compiled by David Cutler, London Editorial Reference Unit, Editing by Clare Fallon)