Spray yourself with GT85 and stick some mistletoe down your bibshorts, the second annual Domestique Bliss Xmas gift guide is here!
Making a broad, sweeping generalisation (because who doesn't love those?), cyclists come in two types. Type I cyclists just love bikes.  They love anything with a bike on, made for bikes, for people going on bikes and are easy to buy for – they'll be delighted with anything with a bike on.  You don't need a gift guide for them.  Then there are the others.
Ah, the others.  My Cyclist is, of course, another.  The others get little enjoyment from cycling – cycling is far too important for that.  It's all about pain.  Pain and money.  Pain and money and carbon bits that weigh less than a paperclip.  The others are of course the Type II cyclists.  And buying for a Type II cyclist can be an absolute nightmare.
Big Presents
Clothing
A straw poll of Twitter cycling types revealed strong desires for swanky threads.  A tip here for anyone attempting to buy cycling clothing as a gift for a cyclist – now is not the time to be using your initiative.  Your cyclist will have a specific wish list detailing the garments they want, which will have been meticulously researched, cross-referenced, and ranked in order of preference.  Web pages will be marked, catalogues and magazines will be left open with a particular garment circled and annotated with such helpful hints as "THIS ONE," "THIS ONE RIGHT HERE," 'I'M A SIZE L," "IN BLACK PLEASE," "DON'T BUY ANYTHING ELSE COS I'LL ONLY CHANGE IT FOR THIS AND SULK."  Seriously, do not go off-piste on this one.  Buying Rapha for an Assos aficionado, or vice versa, could genuinely be a matter of life and death. Like Mods and Rockers. Raphas and Assoses regularly meet up on Brighton Beach on Bank Holidays for massive fights.  Best thing to do is order online while they helpfully watch with eagle eyes over your shoulder, making sure you get it right.
Components and Upgrades
Another extremely popular answer when cyclists were polled about what they wanted for Christmas was bling-y bike bits.  Interestingly, only one person actually wanted a new bike – all the others wanted a flashy or shiny or carbon bits for an existing bike, which almost certainly proves something about something about cyclists.  Odds on, if you are seriously considering buying your cyclist a flashy and expensive bit for their bike, you've just handed over your card and tried not to cry while they ordered it for themselves.
Little Presents
The problem with standing there while your control freak cyclist orders their own 'surprise' gift, is one Kuku Penthouse / Rapha Softshell / Vulpine Harrington (delete as applicable) does not a Christmas make, and you're going to have to find plenty of other 'bits', because somehow that has become the law of the season.  Temper that with the desperate Mid-December phone call from your/their mother and you have yourself a whole host of adorably thoughtful cycling-related merchandise to purchase.  I have compiled a little list of cycling-related things I (and my tame Type II Cyclist) absolutely love, or stuff we've seen that we genuinely think might make an interesting and thoughtful gift, so stop crying and step away from the "Testers Do It With Aero Helmets" T-Shirt, we're here to help.
Books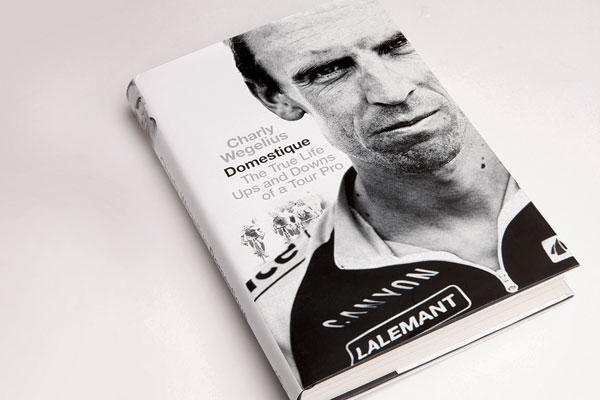 I'm generally disinterested in biographies, particularly of sports people – whom I find universally dull – even the interesting ones (Eat, Sleep, Ride, Repeat?), so imagine my surprise when (seriously) one of the best books of the year turned out to be Domestique by Charly Wegelius and Tom Southam.  Thankfully, neither really a sports book nor a biography, this story of one man's life as a top professional cyclist, and the dream that crumbles to a mundane reality is told with candour, humour, and humility.  Testament to Wegelius' skill as a raconteur and in no small part to Southam's as a writer, Domestique reads like a conversation with an old friend over a couple bottles of wine.  If by about four pages in you don't want to buy them both the multi-coloured suggestively-named drink of their choice, then you're dead wrong.  And put a sparkler and a plastic monkey in it.
Widely available from Amazon – Google from your location for other buying options.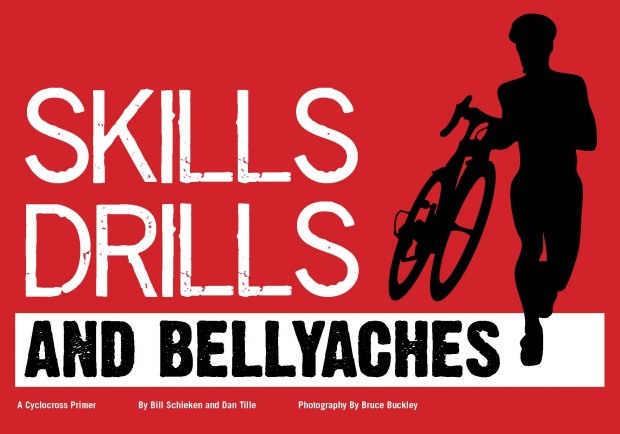 The Cyclist has just casually dropped into conversation that he would like a copy of Skills, Drills and Bellyaches, the Cyclocross primer – I suspect motivated by the desire to stop me yelling embarrassingly weak "Remount" puns in a cold field just outside of Derby.
Available from the CrosshairsCycling.com shop here.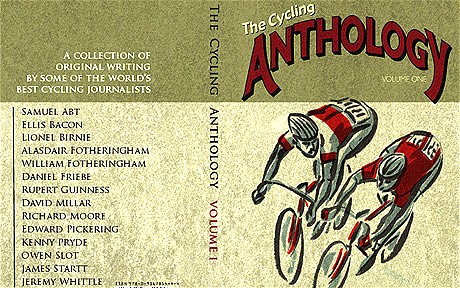 I have enjoyed the Cycling Anthology series; collections of some of the best cycling writing broken into bite-sized chunks that appeal to my terrible attention span (Look! A shiny thing!)
Available from Prendas, amongst others:
If none of these tickle your fancy (or you've got 'em already), the Independent has some more ideas for cycling books.
See reviews for some of these titles and other books here.
P.S. While we're on a book tip, the upcoming Road Rash and Ramen Noodles, True Tales of Pro Cycling on $10 a Day by Phil Gaimon looks like another must-read – sadly you'll have to wait 'til April though.  Thanks to the Mike Creed's Open Mic Tuesday podcast for the heads up.
Socks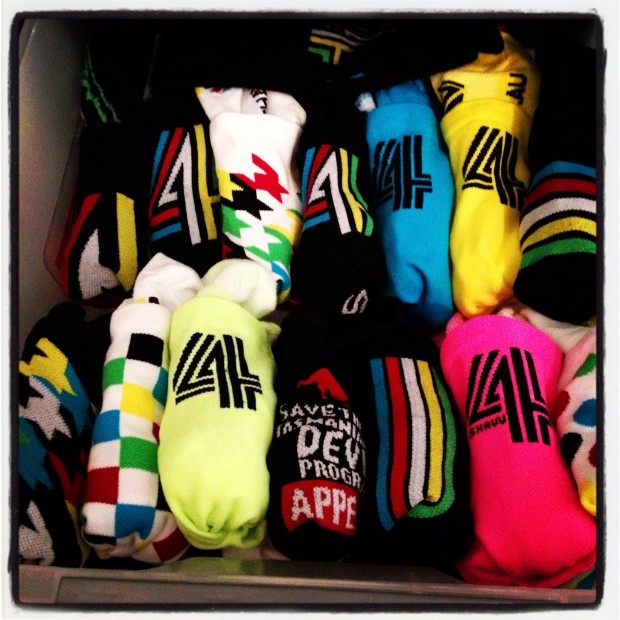 Some timeless conflicts that resonate through the ages: Good Vs. Evil.  Dark Vs. Light.  Bloods Vs. Crips, Cyclist Vs. Cold Feet.  Necessity being the mother of invention, increasingly innovative weapons in the battle against the elements are constantly being produced, and a cyclist can (genuinely) never have too many socks, if for no other reason than if needs be they can put every single pair on.  Some you might not have seen yet are brought to you by badass Aussies 4SHAW.  All the accessories are bitching, and love that they're rocking a women's range, but for me it's all about the socks.
While we're on the subject of badass Aussies, I'd cheerfully point you in the direction of Fiasco Ciclismo, but they're pretty much all sold out currently, so I'm not sure I'd be doing you any favours.  Cool kit though.
Also on the front line on the war between cyclist's extremities and the elements:
De Feet  (with special honourable mention to the sugar skull style)
Accessories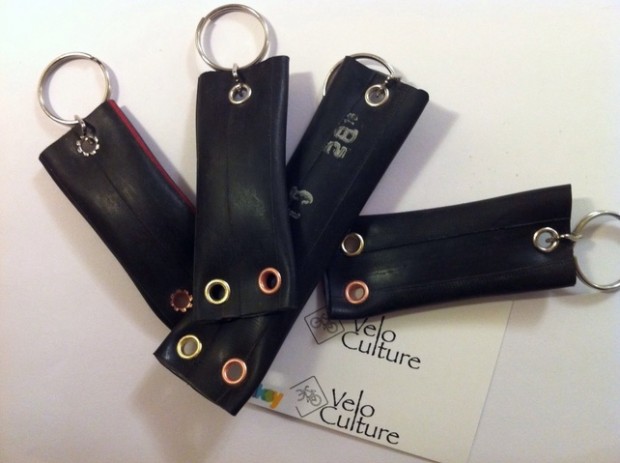 A new discovery for me is VeloCulture, making cute accessories from recycled bike bits – cufflinks, belts and jewellery.  Loving these brake cable earrings: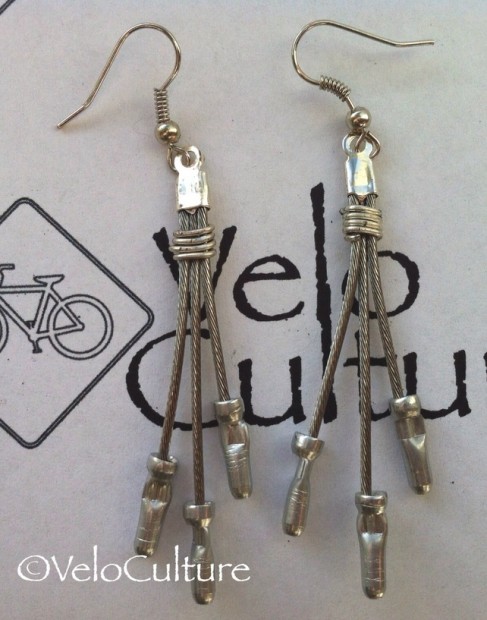 Available from:
https://beta.folksy.com/shops/VeloCulture
Layers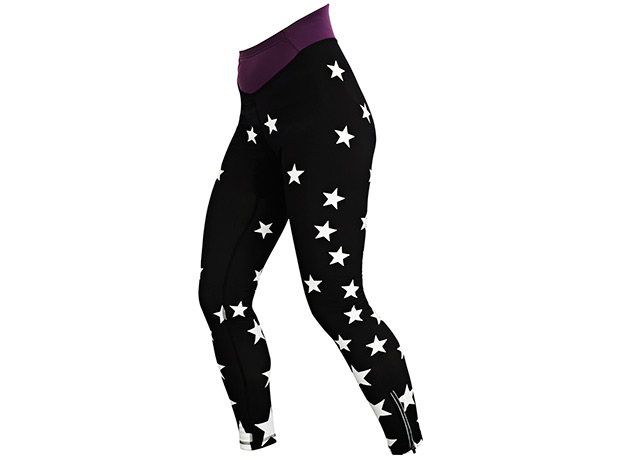 AnaNichoola, absolutely stonking stylish kit for women, the complete opposite of the shrink and pink mentality.  Seriously, I can't think of anyone who wouldn't appreciate a little bit of this in their lives.   Two words (if you can get them).  Star Tights. Star Tights Mother****ers! 
Gadgets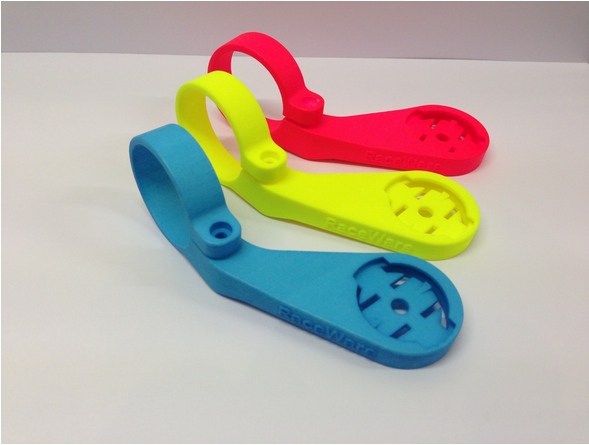 Quick question, if not carbon, then what?  3D printed, that's what.  Guaranteed to make your Cyclist geek out quicker than a full replay of the 1986 Tour de France, a 3D printed fluoro Garmin mount from RaceWare Direct is pretty damn cool. 
Il Dolore hand-blended massage oils for cyclists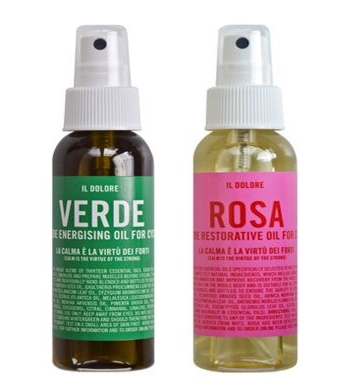 The range consists of Verde – a pre-ride energising oil, and Rosa – a post-ride restorative oil.  Available from Velobici.
In the mid-90's, the Cyclist raced a few seasons as a junior in Belgium and Northern France.  A couple of times he has mentioned a weapons-grade embrocation called Sixtus, with a particular smell reminiscent of that time, and his desire to get his grubby paws on a bottle.  Over the years I have conducted no fewer than two half-arsed Google searches for the product in question, only to come up empty handed – I suspect it's been placed on the WADA banned list – but one whiff of Verde, and the Cyclist was back in that Belgian changing room, about to get his skinny and terrified British ass handed to him by several dozen enormous Belgians, who despite their Race Licenses claiming them to be teenagers had to shave twice a day. Their knuckles.
Rouleur Mugs by Richard Mitchelson
Available (with some other fab products) from http://rouleur.cc/shop
I'm a huge fan of these – they made last year's blog too, and on Christmas day my mum presented me with the Sky 2012 box set with "I can take a hint you know."  The Cyclist and I have basically spent the last year fighting over who gets the Cav one (I do).  This is the year of the Classics, leaving plenty of opportunity for double-entendre based hilarity* as you slink off to the kitchen to put something hot 'n wet in the cyclist of your choice!
(*could wear thin pretty quickly)
Cycling Souvenirs Mugs
It's not just cycling that unites cyclists.  The vast majority are also completely obsessed with coffee and cake.  These are a beautiful collection of mugs, uniting the twin passions of coffee and iconic cycling images.  A wider range of cycling gifts is available, and Cycling Souvenirs is currently offering free delivery to the UK and Europe, with worldwide shipping.
Hope this curated list helps you solve a few vexing holiday shopping dilemmas, and maybe you'll spy something for yourself as well!