It is a damp Friday evening, and we are sitting at the Dam Diner — so named because of the Moss Bluff Dam on the Ocklawaha River that is the immediate neighbor to the east. There's a long history about the dam system, and a long history to this building, and a long history to the four of us having dinner; however,  you are just walking in from the Floridian August (that has given up the years'-long drought and it is finally damp and warm the way it should be) and smelling the fryer and thick carbohydrate odors, and you get to eavesdrop on the doings of the dozen or so people who are obviously locals, obviously regulars, because greetings include names.
What may be interesting to you eavesdropping on the four of us is how these two men — who appear to be comfortable in what others have called Redneck Central — soon begin discussing cycling.  First, they have to recount the previous evening's ride of some thirty miles. The larger man, C, has just come off a long cycling hiatus prompted by a sideways speed-over-wet spill that re-cracked an old broken bone site. In the hiatus, he regained the sixty or so pounds he  had lost the previous six months in cycling: he's a good sized fellow. The previous night's ride apparently required a few good-natured cyclists to hang back with C for him to grind it out to the end. The other man, M, used to own a cycle shop. His is a life long interaction: there would not be a local mountain bike trail through this part of the Cross Florida Greenway system if not for M out there on weekends with his bike and a machete, and he literally has the scars as proof.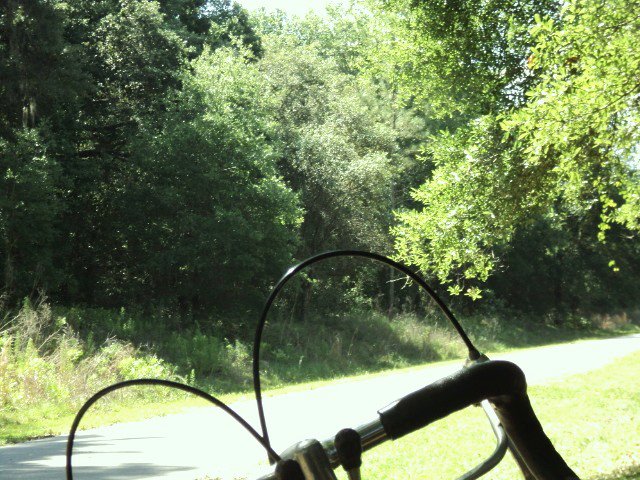 About eight months ago, there was another dinner conversation between these two men about cycling. Then, we were a party of six, with the three men sharing full lifetimes of various forms of construction experience between them, as all are easily capable of long discussions of engines for every type of vehicle, have all owned a plethora of boats, and generally appear to be the kind of Redneck Royalty you always want on your buddy list if you can't turn a wrench. This time the conversation involved the luridly-colored cycling apparel ubiquitous to road cyclists. C had mentioned that in his neophyte cycling period, he shied away from  such flashy apparel — he is fond of earth tones, darks, and neutrals for all other forms of being not naked. C recounted a tale of cycling through an area that is part of the Silver River preserve, when a motorist came upon him in a prosaically distracted state and, apparently seeing the sudden color block, swerved just in time.
C had said something  to the effect of "I never got into the color gear" and M completed the thought with "Until it saved your life."
Obviously, among men's men, whether or not cycling may have the kind of monster credibility that a teardown and rebuild of a 1977 F100 has to most of the swinging world, almost getting your life turned into road goo by a random moron raises cycling kit cred from men in weird package-showing trunks to  something entirely else.
Now, both these guys are over forty. M is going to find himself as a new grampa around the winter solstice. He has been married to the same woman for just short of thirty years. He once had red hair, but now it is short and gray. C is slowly returning to  the bicycle — two wheels meant loud pipes most of his life —and his hair is both receding and graying. Neither of these men are represented in modern media, but they can go to any hardware store and know the function of every item. Bicycling for them will probably never involve high-profile competition, nor will it ever be a viable transportation alternative. Cycling is cycling: an endeavor for its own sake, for the motion through air across the surface of the earth and using one's body to travel not to a destination but for pure mileage.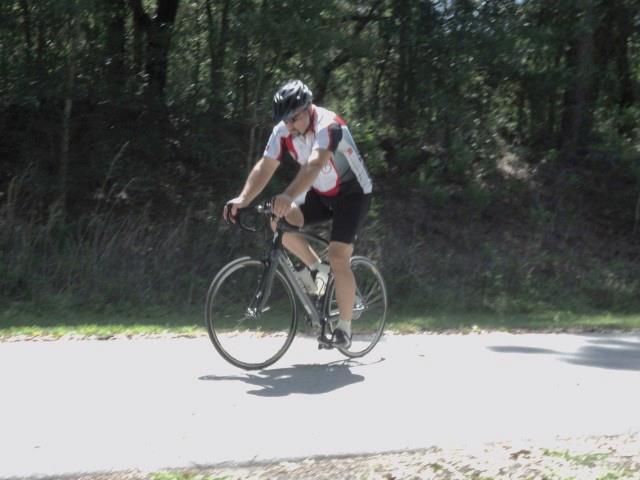 If you are listening to these two men talk — men who met at a cell phone tower construction company (the most dangerous job in the country, currently) — you hear about the  recent excursions on paved trails through other sections of Florida's landscape: Stories of bent or sprung spokes, riding into the headwinds of an oncoming hurricane, maybe some near-miss moments. There is no competition to the conversation, it is merely an exchange of shared interest. M's posture will be almost lolling in his part of the booth, an arm flung out into the crowded space between tables; he is clearly pleasantly entertained.  C will find the conversation quietly motivating — he will ride a few more thirty-mile tears in the next fortnight — despite long, stressful days for wages.
The food will come – platters and platters of it – and everyone guts up at much as they can, as is their habit. The precipitation of earlier has ceased and the twilight is cool, damp, filled with the chorus of frogs and skeeters. It will turn out that these two men will see each other on a ride in later days, will see each other in a hail-fellow well-met way.  For them, it seems, cycling is not a sport as much as it is a private pleasure that can also be shared. If cycling has a mythic bruise from the misbehavior of those for whom cycling is a high-performance sport, then maybe these quiet men can give to it again some deserved elegance.
 About the author:
Wordsmith. Writer of essays, poetry, and fiction since forever. Artist working in a multitude of media. Tattooed person. Carriage driver. Publisher of Red Mare Press. One of the happier memories of my childhood was riding my child's single speed Raleigh. I graduated to a three-speed Raleigh Hercules, which I took through the now-disappeared farmlands of my youth. As an adult I had two bikes – an ancient Raleigh camel-hump that is the sole inheritance (other than my genes) from my father, and a Mixte touring bike. I rode the Raleigh all over New Orleans to get to work as as an antique restorer and housepainter. The Mixte was my salvation from the pressures of graduate school. Then, as now, the bicycle is freedom.