25 Sept 2013 – The Elite Men Individual Time Trial. La Gazetta dello Sport had Tony Martin, Fabian Cancellara, Bradley Wiggins, and Taylor Phinney as the ones to watch. Richie Porte was considered an outsider. Are they sure about this?
"Cancellara, Cancellara, Cancellara", that was what I hear an Italian gentlemen saying into his mobile phone that morning. Although I did not plan to watch out for any particular rider, I think that set the motivation (purpose?) for the day – to find out what happens to Cancellara.
I saw a group, with a little Swiss flag sticking out of their backpack, another holding a copy of La Gazetta dello Sport.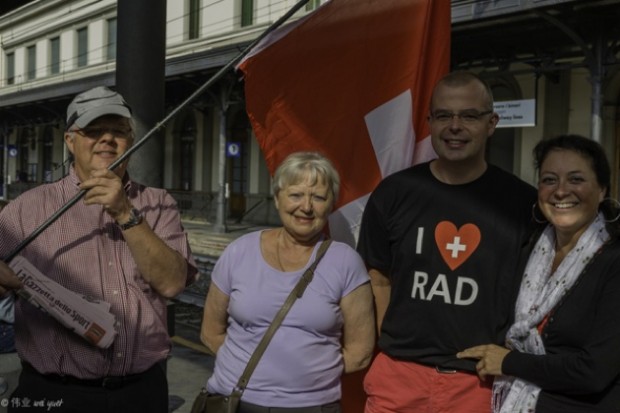 "Who are you here for?"
Turns out they are a family from the Flanders region in Belgium.
"Cancellara." "We hope for Cancellara. If not, Tony Martin."
The Tour of Flanders (the new parcours) passes in front of their house.
"Do you like the new parcours or the old?"
"Ah, the new, for sure, it passes in front of the house. See you in Flanders next year. In the final 5-6 km, look for the house with the big Swiss flag."
"Where will you be watching today?"
"At the finish. The Cancellara Fan Club will also be at the finish."
"Ok. See you there."
I decided to walk the course near the finish, and then go to the finish line. I wanted pictures of riders as they come to the line, and also the podium. I had never done the podium before. I checked the startlist, and made a mental note of how much time I can spend walking – I wanted to catch certain riders as they start coming in.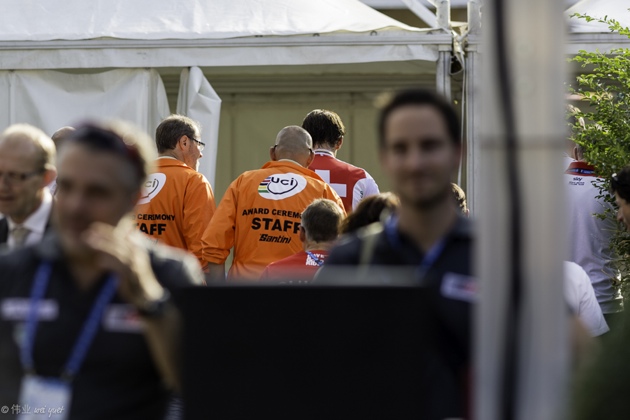 I did catch some people from the Cancellara Fan Club out on course. However, the Polish fans were the ones whom were memorable for me. They were visible, and they made their mark – road signs, flags, people.
I was almost a little too late to the finish line because I got too caught up with crowd-watching. I also got a little lost and confused by the barricades. It's a bit annoying, to be able to see where I want to get to, but not be able to walk to it directly.
I just got to the finish in time to see Bert Grabsch coming in. So, I would get the top 20 finishers. Not too bad. For me, it was interesting to finally see the guys in the timing "hot seat." It was Kanstantsin Siutsou, Dennis Rohan, and Nicolas Roche in the three provisional places. Their times were good, and held for some time – the top men would be around that level.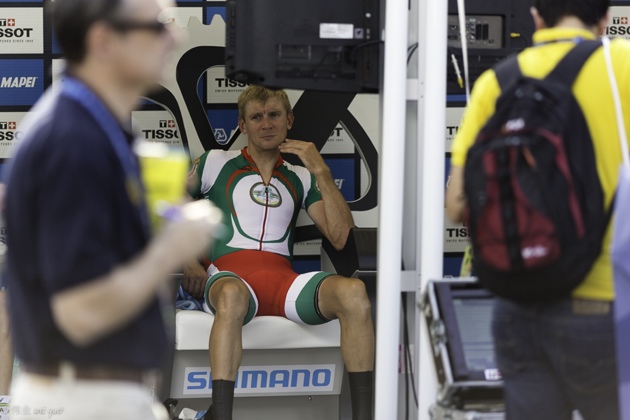 I've always wondered how training professionally shapes the bodies of cyclists; I was quite fascinated by the size and tone of Roche's leg muscles. The price for doing their job. Cycling really takes its toll on the riders' bodies.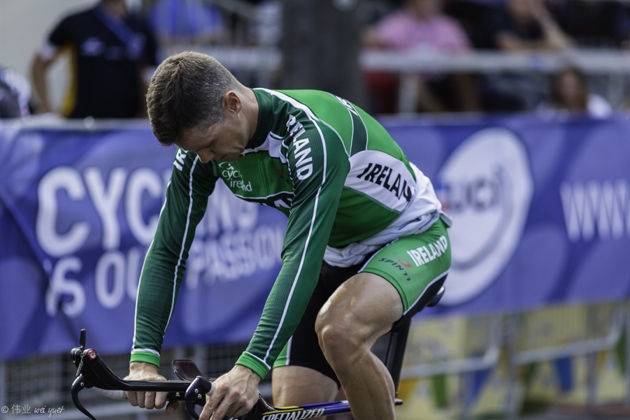 Once I started photographing, I switched into working mode and not sightseeing anymore. The riders came in, the times fell, and the tension and excitement rose. Cancellara? Martin? Wiggins? Will he? Won't he? I also had a moment, when Rasmus Christian Quuade finished and collapsed in front of me. He really gave it all, and timed it just right.
As the tension was building, I was also starting to be nervous about catching the top 3 riders. I got most of who I wanted – Roy, Chavanel, Sergeant, Dowsett, Phinney, Wiggins. So far so good. But, then my shot of Cancellara coming in got blocked! Should I be more aggressive? Should I elbow for a better position? I don't know, but I keep shooting, waiting for Martin.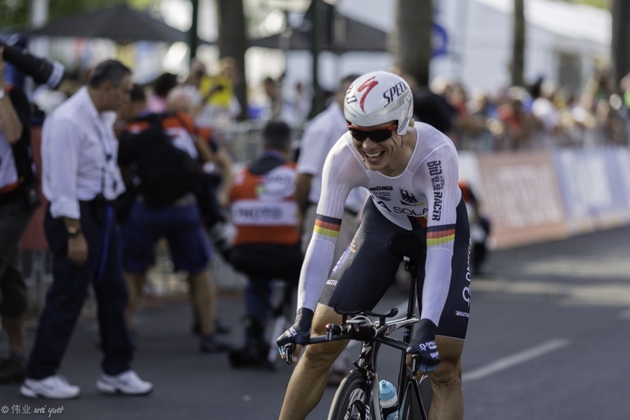 The result was already settled well before the line, so I was looking at the other riders instead, and also turned to the crowds again. Tony Martin was having a little private moment, surrounded by photographers and cameramen. Again, should I also fight for the shot? Or just left him have this private moment?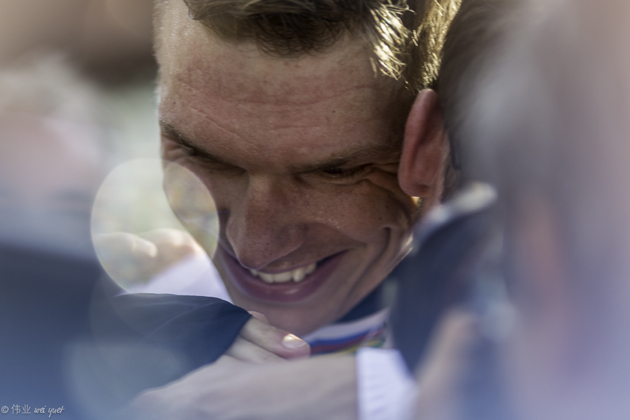 As the riders were being prepared for the podium, I could see that Cancellara was not happy. Body language, facial expressions – not happy at all. It started to get emotional when some of the crowd was shouting "Bye bye, Cancellara." He responds with a smile, and a wave.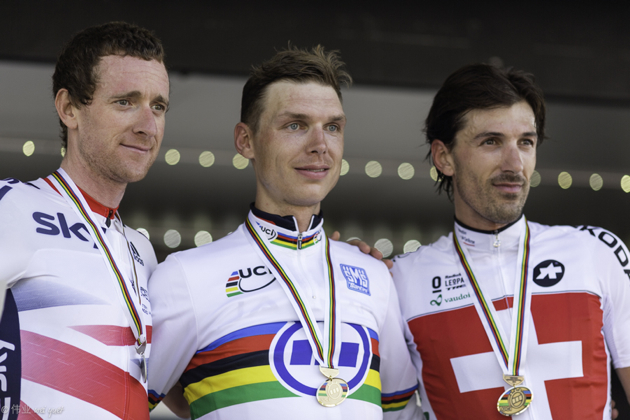 That seemed to make the crowd a little happier. This is the last we will see of Cancellara in a worlds individual time trial. The emotion was strong, and I allowed myself some tears. Being on the ground is so much more intense than watching on the TV. I continue to take photos.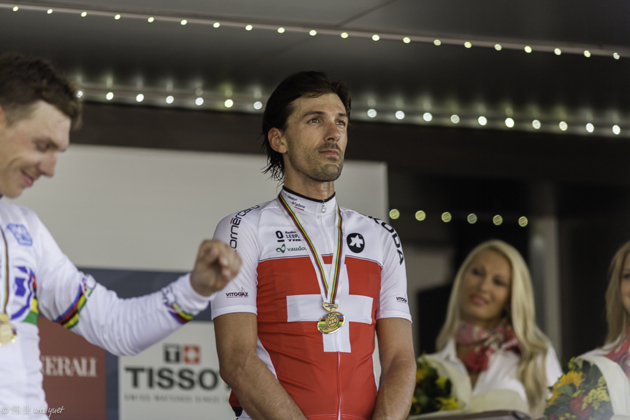 When the riders left the podium, I got a final photo of Cancellara leaving the podium for the press conference, with a minder putting a hand on his back. A small consolation. A poignant moment. Maybe we will get to see Cancellara at his best during road-racing, and the classics? The classics are what he loves the most, aren't they? "I'll watch out for you on the road," I say.
It was Tony Martin's day. His mom was there, and she looked proud.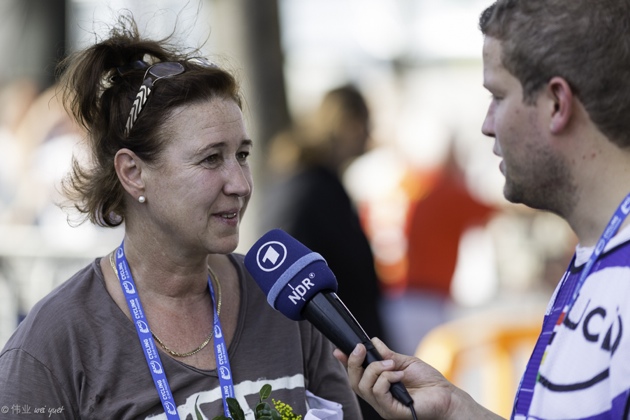 Bradley Wiggins got some redemption for his season. But, not sure about this choice of tattoos though. However, it was 'bye bye' to a classy Cancellara. Thanks for the memories, Spartacus.