By cyclodocus
UCI officials say they are unsure what to make of a rambling message left by former U.S. Postal boss Johan Bruyneel on the organisation's new anti-doping hotline.
The message reportedly runs for almost 45 minutes and covers a broad range of topics.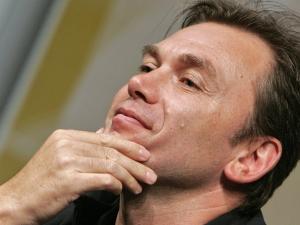 Bruyneel, who masterminded Lance Armstrong's seven Tour de France victories, begans by delivering Christmas greetings on behalf of his wife Eva and children, Victoria and Christian.
He then provided a recap of the 2012 calendar year, paying personal tribute to diva Whitney Houston and victims of Hurricane Sandy, before spending a full two minutes castigating pop music fans for the popularity of Gangnam Style.
Appearing to become agitated while discussing the poor weather experienced during his family's summer holiday, Bruyneel at one point launched into a semi-coherent diatribe against climate change scientists.
He criticized scientists for relying on "flimsy evidence" before appearing to drift into another topic, making references to "cowboy justice" and "basic principles such as an individual's right to be heard."
"If I could get back the hours I spent with Bill fucking Strickland," Bruyneel lamented at one point. However, he did not complete the sentence, interrupting the call to answer a knock on the door.
UCI spokesperson Enrico Carpani said the UCI had transcribed the entire call but remained in the dark about what, if any, message Bruyneel had intended to convey.
"After the part where Johan and the family perform The First Noël, sung in harmonic rounds, there's a long pause," Carpani said. "You can just hear shuffling and the rustling of wrapping paper. But listen very closely and then you can make out breathing, as though Johan might have put down the phone but he isn't far away. It's almost as if he wants to tell us something. But what?"
Charged by USADA at the same time as Armstrong, Bruyneel is expected to appear before an arbitration panel later this month. As of this writing, he has also agreed to cooperate with Belgian anti-doping authorities, and is rumoured to be penning his own version of the U.S. Postal saga to tell his story the right way and "set the record straight."
Before Armstrong's televised confession with Oprah Winfrey, Bruyneel had sworn that his own fight against USADA was "not over yet … not by a long shot." And the UCI confirmed that the Belgian made reference to Winfrey during his call to the hotline.
"He goes on for at least five minutes about Oprah and how she never returns his calls," Carpani said. "That's right before the part of the call where you hear CBS on in the background and Johan muttering things like 'crazed with power' and 'justice gone mad'."
Bruyneel's message will be forwarded on for further scrutiny by the UCI's specialists in legal, anti-doping and medical fields, Carpani said
"Our experts' initial take was that Johan's call may have been a cry for help," Carpani said. "But our anti-doping team quickly ruled this out because the hotline specifically states, 'If this is a cry for help, press 2′."
The UCI said it was encouraged by the early response to the recently-launched hotline and confident the initiative would begin to contribute to the fight against anti-doping.
Besides Bruyneel's call, Carpani said the hotline had already received a prank call by Floyd Landis and five messages from Riccardo Riccò attempting to hail a taxi.