VFNS, Paris, France – 7 July 2011
A joint special Task Force formed by ASO & UCI officials undertook a massive overnight operation to find and rectify the cause of the problem that resulted in so many big-name riders being involved in unscheduled tarmac interface events during Wednesday's Stage 5 of the Tour de France.
A source close to the operation, speaking on the condition of anonymity, said that an extensive search had been conducted to locate the problem and that the task force had located and isolated the cause shortly before breakfast time this morning.
"We realised that the only explanation for so many unscheduled tarmac interface events was if gravity was somehow being interfered with" said our source, "…obviously, it would take something incredibly powerful to disrupt gravity in such a manner and for a few hours there, we were at a complete loss to explain it."
The operation originally centred around the possibility that an outside agent was interfering with the riders and at one point a number of Task Force operatives supported the theory that Ricardo Ricco was behind the crashes. However, extensive review of video footage ultimately discredited this idea leaving investigators no closer to finding the cause.
It was shortly after 6am this morning that the Task Force operatives finally got the break they needed, when a French scientist attached to the investigation picked up intense local fluctuations in the gravity field which were eventually traced to a small hotel near Dinan, the Grand Depart of today's stage.
Using highly sensitive and expensive UCI-accredited equipment, the Task Force Operatives closed in on the source of the disruption and were shocked to discover it was emanating from the LeOpard-Trek restaurant on wheels, parked in the grounds of the Hotel.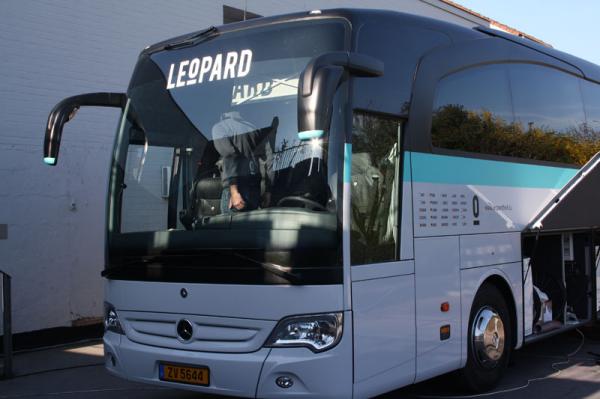 "It was a complete surprise," said our source, "not once had we considered that a team would be responsible for the disturbance. We entered the trailer to find them all sitting down to breakfast surrounded by life-sized hero shots of each rider watching over them from the walls." Pausing for a moment to compose himself before continuing, he said "It was the creepiest thing I've ever seen."
Task Force operatives quietly took Kim Andersen, Leopard-Trek DS, aside to explain the situation to him and were shocked by his response. Said our source, "He explained to us that Leopard-Trek had been experimenting with various techniques to give the Schlecks a mental advantage over the rest of the peloton but that none of the regular methods had worked. In the end, faced with repeated failures and a pair of despondent Schlecks, Andersen felt they had no option but to turn to experimental science."
The 2011 edition of the Tour de France has seen a number of teams embracing 'controversial' science to give their riders any advantage they can. AG2R la Mondiale, for example, are experimenting with cryotherapy, placing each rider in a super-chilled chamber for 3 minutes to purge waste material from the muscles and naturally stimulate the production of testosterone. Andersen, it seems, was willing to experiment even further.
"It turns out that Leopard-Trek have invested heavily in an experimental Reality Distortion Field Generator, the goal of which is to isolate the Schlecks from the crushing reality that neither of them are going to win the Tour de France without a disqualification / promotion scenario."
According to information from Task Force scientists, the amount of Reality Distortion required to convince the Schlecks they had a chance of overall victory was so immense and required so much power that it was "almost inevitable" that we would experience and see gravitational disturbances such as we did yesterday.
Thankfully, Kim Andersen was willing to negotiate with the Task Force to ensure the safety of the peloton. Our source didn't want to go into specifics about the nature of the negotiations but did confirm that a 'pretty pony' was to be provided for Andy Schleck; Fabian Cancellara will receive a handlebar mounted mirror to allow him to check his hair while racing; and Jens Voigt, who frequently complains about the quality of hotel beds, has been given a roll-out bed of nails to prevent him having to endure too-soft mattresses in the future.
Shortly before the start of today's stage from Dinan to Lisieux, a Task Force spokesperson released this brief statement: "After extensive investigation and research the joint ASO / UCI Task Force has isolated the cause of yesterday's unscheduled tarmac interface events. As a result of this we are fully satisfied that the situation has been dealt with and that any further crashes will be solely the fault of the rider involved."
Kim Andersen was unavailable for comment as we went to press.