His trademark method acting has brought us the likes of Patrick Bateman, Dicky Eklund and Bruce Wayne. Now Christian Bale has hit gold again with his uncanny portrayal of cyclist Roman Kreuziger.
Last seen on the silver screen dressed in a black PVC outfit while frolicking with a feline Anne Hathaway in The Dark Knight Rises, Bale inadvertently revealed to the world the nature of his current work project on Sunday when he let one of Hollywood's biggest secrets out of the bag after being recognised in Saxo Bank-Tinkoff colours powering up the Cauberg.
Minutes later he was then spotted downing a pint of Amstel while standing next to an equally emaciated Spaniard and a grinning barrel-chested Australian.
In a worldwide exclusive, Cyclismas now can reveal that Bale has been working on a Terrence Malick-directed film entitled Roman Revolutions – a study of the class struggle of the Czech Republic told through the the prism of a local cycling club in the small town of Moravská Třebová and its star rider.

The young Kreuziger is indeed that star rider. Born with a silver spoon in his mouth to members of the Czech aristocracy, Kreuziger has access to so many top-of-the-range bikes at a young age that he is able to provide the equipment for his entire club team, whereby uniting a motley crew of riders from all walks of life.
When Kreuziger is spotted by an Italian scout at the annual Udánky Cyclo-Cross Championships, the young hero is prised away from his hometown and embedded with the Liquigas squad over the mountains in Italy. But his memory and example lingers, its harmonising effect bringing generations together and making Moravská Třebová one of the biggest success stories of the Schönhengstgau region.
During holidays, Kreuziger returns home to regale his old club friends with stories of communal saunas, trips to the local Ferrari factory, the 'Oss' body art movement, and a messiah known only as 'Sagan'.
Roman Revolutions was due for limited release in France this July but is now expected not to be seen until a three-week run starting in late August over the border in Spain.
Although shooting has almost come to an end, Bale has become so engrossed in his role that he reportedly stays in character 24-7 and has even undergone a vigorous training programme to keep his weight down to borderline skeletal.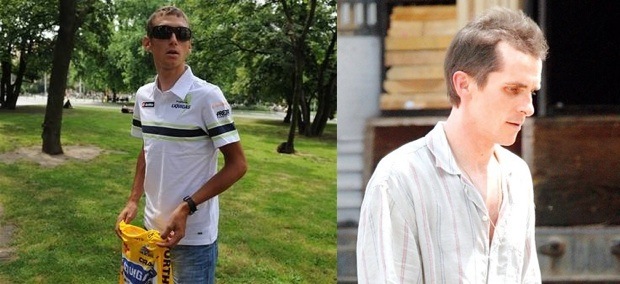 Bale initially underwent a phase of gruelling training in Kazakhstan before being offered an escape route by a Danish personal trainer on the Canary Islands.
The Welsh-born actor is no stranger to the kind of drastic weight less required to convincingly portray a professional cyclist of Kreuziger's slight stature.
Back in 2000, Bale spent months tanning and exercising in order to achieve the Olympian physique of the crazed Patrick Bateman character in American Psycho – only to shed 27kg to play the role of an emaciated insomniac in The Machinist months later.
By the time Bale had finished shooting The Machinist, he weighed just 55kg – putting him in good stead for a future role as a pro bike racer.
Having signed on the dotted line to be the face (and biceps) of the rebooted Batman franchise, Bale then put back 45kg in six months – indirectly mimicking Jan Ullrich's much-publicised off-season weight fluctuations. Bale's role of Bruce Wayne in Christopher Nolan's Batman Begins essentially saw the actor pick up where Patrick Bateman left off – just minus the axes and gold-rimmed business cards.
In between filming the second and third installment in the franchise, Bale entered the ring alongside "Marky" Mark Wahlberg in the award-winning boxing biopic The Fighter. His portrayal of Dicky Eklund – a doped-up former boxer – required his forearms and collarbones to look less like those belonging to a gothic Hulk Hogan and more to resemble an array of wooden coat hangers.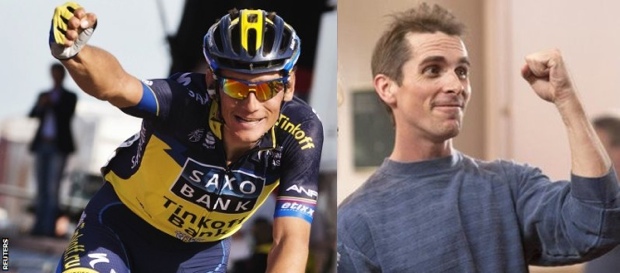 Bale's ability to convey Eklund's constant fight with drug addiction and chronic weight loss are said to have convinced the makers of Roman Revolutions that the 39-year-old was ideal candidate to portray a modern day professional cyclist.
In a bid to "get into the role" more, Bale is said to have joined Saxo Bank on their winter training camp on Gran Canaria, where he not only impressed manager Bjarne Riis with his cycling ability but also with his uncanny resemblance to the real Roman Kreuziger.
So impressed was Riis that he actually asked Bale to step in as Kreuziger during Sunday's Amstel Gold Race, expected to be a two-way battle between world champion Philippe Gilbert and podium felon Peter Sagan.
But Bale – channelling his inner Kreuziger (or not, perhaps) – went on to win the race after an opportunistic solo attack on the penultimate ascent of the Bemelerberg 7km from the finish.
After the race, Bale/Kreuziger had a run in with a photographer who had veered into the picture while he was celebrating on the podium.
"Am I going to ride around and knock your f***ing camera down in the middle of a race? Then why the f*** are you walking right through? Ah-da-da-dah, like this in the background," raged the Terminator Salvation actor. "What the f*** is it with you? What don't you f***ing understand? Give me a f***ing answer!"
When the photographer – thought to be called Graham – told whom he thought was the stage 19 winner from last year's Giro that he had managed to take a nice snap of his pint-downing prowess on the podium, Bale/Kreuziger replied: "Ohhhh, goooood for you. And how was it? I hope it was f***ing good, because it's useless now, isn't it?".
It was one sour moment in an otherwise memorable day.
Bale's portrayal of Kreuziger has got the movie world in raptures of delight, with rumour spreading like wildfire that Roman Revolutions will win a cluster of awards at the forthcoming Cannes Film Festival in May.

But Bale's performance has left Riis in a bit of a quandary. It is thought that the big Dane would like to ask Bale to fill in once again as Kreuziger in the Giro d'Italia, which starts on 5th May. Such a tactic would mean the real Kreuziger would be required to moonlight as Bale at the swanky film festival on the French Riviera.
The Czech rider is thought to be considering the swap as long as he can ride an undetected Ferrari to and from the ceremony. He is also currently undergoing elocution lessons to sound more like a Englishman who has watched too many American sitcoms.