Last night's Oprah Winfrey couch confessional for Lance Armstrong raised some questions; of particularly concern was his assertion that he stopped doping after his final Tour de France win in 2005. Lance claims his 2009 comeback and third-place podium finish was clean.
Oprah Winfrey: When you placed third in 2009, you did not dope?

Lance Armstrong: "The last time I crossed that line was 2005."

OW: Does that include blood transfusions? No doping or blood transfusions in 2009… 2010?

LA: "Absolutely not."
Let's just think about that, shall we?
Doc has done some homework for us.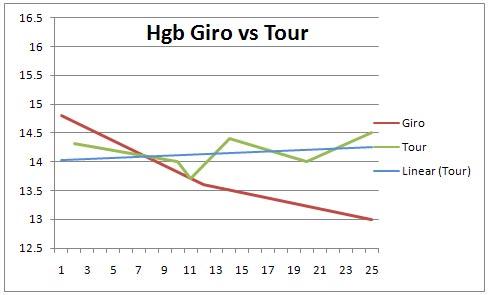 Armstrong's 2009 comeback blood
don't tell no clean comeback story
first
take uh look at his giro blood
starts at hgb 14.8
drops to hgb 13
uh 12 percent volume expansion
consistent with what's expected
uv GT guys
the Tour ?
volume expansion
?
fugg no
starts hgb 14.3
after initial volume expansion
hgb 13.7
then it climbs
n finishes
hgb 14.5
or up 2 gm/dL
from expected
at uh conservative 0.25 w/kg
per
gm/dL
good for a bump
uv
0.5 watts/kg
ie there's no fuggin way
lance finishes top 10
let uh lone
beets 90 days uv SuperBrad
more importantly
lookit the retic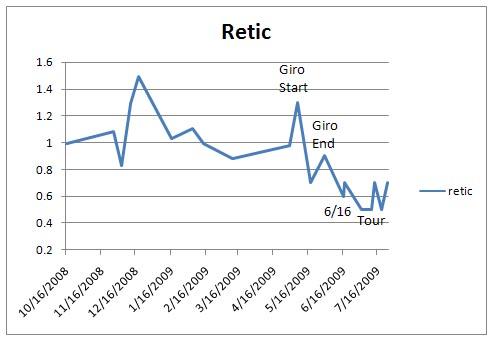 in the fuggin gutter
consistently suppressed for the entire TDF
consistently acting
like there is too much blood in this body
n
we sure the fugg know
it's not just his natural response
cuz it's not what happened in the giro
lance
yer
blood
says 2 things
1. yuh sure is fugg weren't clean
n
2. yuh just weren't that good neither
(the 2010 blood telss the same blood doped story)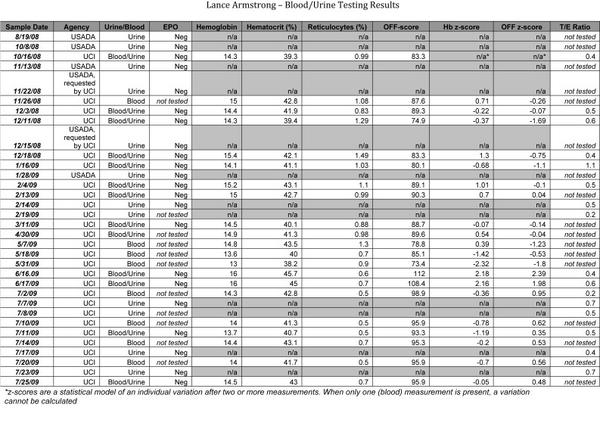 * * * * *
veloclinic is the reincarnation of one of our favorite Twitter friends, @captaintbag1, whose tumblr blog posts were a kind of blank verse, Tecate-soaked haiku of truthiness that cut through the slick bullshit and to the very core of what is gloriously fucked up about the sport of cycling. Although the Cap may be gone (sort of), his Doctor tbag/Captain Hyde alter ego lives on, and we're glad to share his pithy analysis here. Lest you think these are the idiot ramblings of a madman, we'd like you to know that the doc is a legitimate professional in the science of sports medicine, and a savant when it comes to doping analysis. You have been warned.