now that the uci has gone on record that armstrongs 2009 tdf biopassport
never made it to expert review:
Armstrong's blood profile was never submitted to bio-passport experts after May 2009
the question becomes was it incompetence or something far worse?
while its believable that the biopassport software never flagged armstrong:
Why the biopassport software didn't flag armstrong
the software was about the only thing that didn't flag armstrong
the suspicious values were first raised in danish media
and picked up stateside by nyvelocity:
Armstrong Tour blood values suspicious
the no-longer-working-must-read link would have taken you to a blog with these figures: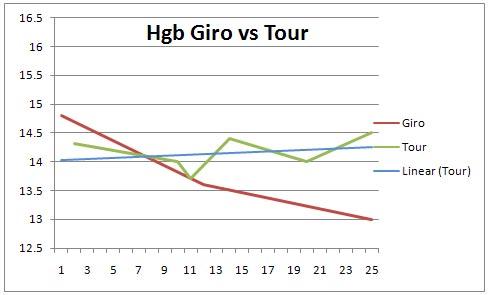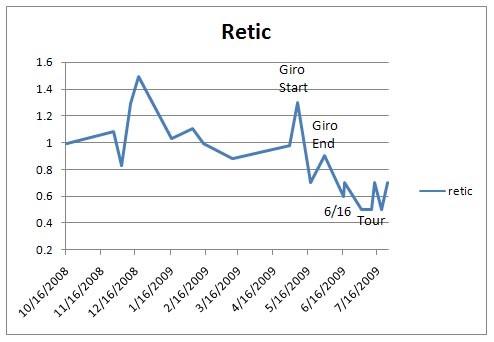 at the same time discussion picked up quickly on cycling forumns:
Lance Armstrong's blood values from the Tour de France looks suspicious and indicate doping
and also by mainstream media:
Damsgaard responds to speculation about Lance Armstrong's Tour blood samples
and
Analysis – Armstrong's Tour blood levels debated
from the cycling news article it is clear that UCI was aware of the suspicious values.
The UCI took the same approach when contacted by Cyclingnews, the governing body stating that it will not speak about athletes unless it wrongdoing has been proven.
Lance Armstrong is part of our Biological Passport," UCI spokesman Enrico Carpani said. "As for all profiles generated within this programme which are submitted on regular basis for reviewing to the independent experts, the UCI doesn't and won't make any comment."
And even armstrong defender Damsgaard is in agreement that
"I definitely think it should go all the way to the expert panel and they should reach a consensus," he said. "We need to establish it beyond any reasonable doubt if something was wrong.
At some point from within the biopassport committe itself Ashenden raised concerns:
"It was obvious to an expert eye that his published values during the 2009 Tour were not typical, but until and unless the file was sent to the experts it was completely outside our control," he told VeloNation. "All that I could do was raise my concern at what I had seen published as Armstrong's values at one of our passport meetings.

They listened, but I never heard anything more about it. Whether the UCI made a decision to proceed or not proceed is something only they could answer. To this day, I don't know whether Armstrong's passport file was ever sent to any of us experts."
Read more:
Ashenden: I don't know whether Armstrong's passport file was ever sent to any of us experts
similarly Armstrong was identified on the UCI suspicion index as suspicious:
4: Lance Armstrong, Janez Brajkovic, Bernhard Eisel, Cadel Evans, Pierrick Fédrigo, Juan Manuel Garate, Andriy Grivko, Jesus Hernandez, Ignatas Konovalovas, Sebastian Lang, Levi Leipheimer, David Millar, Daniel Moreno, Serge Pauwels, Manuel Quinziato, Luke Roberts, Samuel Sanchez, Christian Vande Velde, Nicolas Vogondy
yet the profile never goes to expert review
in fact
if armstrong had never published his values
they would never have made it in front of expert eyes.
Which makes UCI's statements regarding publication
I've probably modified my views on that – if riders want to do it, then they put themselves at the mercy of anyone who wants to interpret whatever they interpret from that. You can look at the profile, but unless you're a Michael Ashenden, who's building it, you can really put whatever protection you like on it.

Because I think it undermines what we've engaged the experts to do, and what they spend hours of their own time analysing and agonising over. It really undermines their expertise, particularly when you have the media picking up on some scientist from the University of Lyons or something that says 'I think this' because it's controversial.

So I would still caution riders doing that unless everybody does it and it's a level field. People can sit back and think they can interpret these things, but it's very technical to do it. I know, just from dealing with the nine scientific experts we had, how specialised this concept of interpreting a profile is, and to be honest, to get the full picture you actually need different types of experts."
a bit ironic.
ashenden sums up the situation well:
it is simply untenable to believe that the UCI did not examine the passport profile of the podium finishers from the 2009 Tour de France.
but as mcquaid and the UCI are far from "biologically illiterate"
"In the past we've seen situations where the level has gone down then back up again, which can be evidence of blood transfusions. But the tests from the Giro look normal and that's very encouraging."
the only remaining conclusion
is that armstrongs passport data
was knowingly withheld from expert review.
* * * * *
veloclinic is the reincarnation of one of our favorite Twitter friends, @captaintbag1, whose tumblr blog posts were a kind of blank verse, Tecate-soaked haiku of truthiness that cut through the slick bullshit and to the very core of what is gloriously fucked up about the sport of cycling. Although the Cap may be gone (sort of), his Doctor tbag/Captain Hyde alter ego lives on, and we're glad to share his pithy analysis here. Lest you think these are the idiot ramblings of a madman, we'd like you to know that the doc is a legitimate professional in the science of sports medicine, and a savant when it comes to doping analysis. You have been warned.