Andy Schleck, speaking in an interview with Jens Voigt from April of this year which appeared in Bicycling Magazine recently, declared that he learned he has to be an "asshole" sometimes when it comes to racing.
To delve deeper into this, we were granted a casual Q & A session over lunch with Schleck and his new team manager, Johan Bruyneel.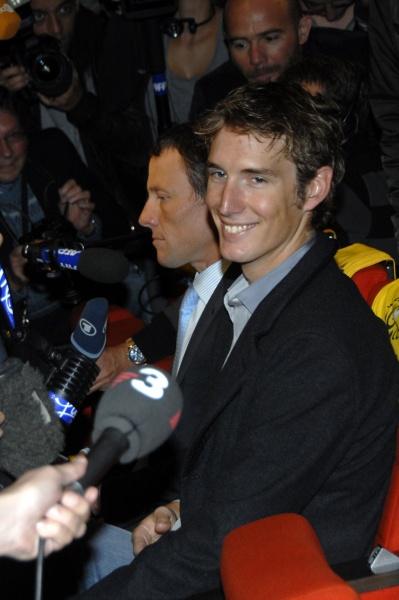 Cyclismas: So Andy, you have vowed to be an asshole sometimes. Was this year's Tour de France an example of your start to assholeness? Is this why you kept turning your head after every attack this year?
AS: Um, hang on a minute… I think Johan should answer that for me.
JB: Yes.
Cyclismas: What additional steps are you taking to demonstrate your ability to be an asshole?
JB: Andy, you have the script for that.
AS: Yes, actually I plan on refusing to acknowledge support staff anymore, encouraging bickering amongst teammates by telling everyone a different story, and making Johan take care of any problems that may arise during the season. I'm also refusing to say thank you or apologize for any wrongdoing. Johan has also had the sweatshop manufacturing his website line of clothing produce accessories for My Little Pony™ featuring leather jackets and faux tattoos.
Cyclismas: Do you have any confirmation what the tattoo will say on the pony?
JB: I cannot speculate or answer that at this time. Andy has had many challenges, especially with his wisdom tooth. We will issue a press release with that information in ten days, so be sure to stay tuned for that.
Cyclismas: I was asking Andy.
AS: Johan said what I was going to say.
Cyclismas: Let's turn to the subject of the wisdom tooth. Many have implied that you're using the wisdom tooth as an excuse to "load up" for next year, as this is the first year you're not racing in the fall. Do you have an answer for your critics?
AS: Those [Andy does air quotes here] "critics" need to apologize. Just like Carlos [Sastre] needs to apologize.
JB: Look, Andy is a very, very special young boy. I plan on grooming him in the same mold that I groomed other greats. After all, I am a stage winner of a Grand Tour, and a 12-time Tour de France champion.
Cyclismas: Wouldn't you say it's rather presumptious to claim that you've won 12 Tours? Do you feel that coaching qualifies you as an equal partner in a Grand Tour win?
AS: Is that a question for me? Because if so, I don't quite understand. Has anyone seen Fränk?
JB: Shuttup, child. This is not about you.
AS: What do you mean Johan? You said that it's all about me, and that you would say yes to my every whim. Right now, you're just going to make me cry.
JB: Not in front of the hired help, for Christ's sake!
AS: Hired help? Did you pay for this interview? I thought you said you stopped buying off journalists. That you were a changed man. That I was "dripping with talent" and the first rider you felt could win without doping. And that those needles were just vitamins. Where's Fränk? I think you're a liar.
JB: Shuttup! Shuttup! Shuttup! SHUTTUP! This interview is over.
Cyclismas: Thank you for your time… Johan? Johan? Aren't you picking up the lunch tab? Johan?