In this installment of our on-going series examining some of the key issues in the revenue sharing debate we continue our look at one of the key players: the Amaury family. Having looked at Marie-Odile Amaury's influence over the sporting part of the Amaury Empire, we consider now her influence on other parts of the family business, and introduce the third generation of the Amaurys.
Finding a solution to cycling's ProTour Wars was – compared to some of the other challenges besetting the Amaury Group – child's play for Marie-Odile Amaury. Elsewhere in the Amaurys' media to sports empire, things are decidedly sticky.
Le Groupe Amaury
Éditions Philippe Amaury
75% Amaury family
25% Lagardère Active
Media Interests
Internet: ParisJob.com, Sajoo.fr (55% stake). Magazines: France Football, France Football Weekend, Journal de l'Équitation, Journal du Golf, Journal du Tennis, Journal du Nautisme, L'Équipe Magazine, Rugby Hebdo, Vélo Magazine. Newspapers: Aujourd'hui en France, Aujourd'hui en France Dimanche, Aujourd'hui Sport, L'Écho Républicain, L'Équipe, L'Équipe Dimanche, Le Parisien, Le Parisien Dimanche. TV: L'Équipe 24/24. Other: Presse Sports.
Sport Interests
Athletics: 10km de L'Équipe, Marathon de Paris, Marato Bercelona,  Mitja Barcelona, Semi-Marathon de Paris. Cycling: Bordeaux-Paris, Classique des Alpes, Classic Haribo, Critérium du Dauphiné, Critérium International, Doha International Grand Prix, Flèche Wallonne, Flèche Wallonne Femmes, Grand Prix des Nations, Liège-Bastogne-Liège, Paris-Nice, Paris-Roubaix, Paris-Tours, Paris-Tours Espoirs, Tour de France, Tour de l'Avenir, Tour du Languedoc-Roussillon, Tour de Picardie, Tour du Faso, Tour of Beijing (technical assistance), Tour of California (technical assistance), Tour of Oman (technical assistance), Tour of Qatar (technical assistance), Tour of Qatar – Ladies (technical assistance), World Ports Cycling Classic. Cyclo-sportives: Etapa Argentina, Étape du Tour, Étape du Tour Mondovélo, Liège-Bastogne-Liège Cyclo, Paris-Roubaix Challenge, Roc d'Azur. Equestrian: RIDE. Golf: Ladies Open de France, Open de France, Open des Volcans, Grand Prix Schweppes. Rallying: Central Europe Rally, Dakar Rally, L'Enduro du Touquet, Pax Rally, Silk Way Rally. Other: Galaxy Foot, L'Iron Tour, Le Kids Iron Tour, L'Oxygen Challenge, Triathlon de Paris.
Subsidiary Companies (partial list)
Event management: Amaury Sport International (80% stake), Amaury Sport Organisation, Athletisme Organisation, Sportys, Unipublic (49% stake), Voyages Sport Organisation. Marketing: Manchette Publicité, SINGAM. Media production: Sipas Productions. Venues: Palais des Sports (25% stake), Palais Omnisports Paris-Bercy (25% stake)
The Tour de France may be the keystone of the Amaury empire, but its cornerstone is still the newspaper Émillien Amaury created in August 1944 on the eve of the liberation of Paris: Le Parisien (née Libéré). The combined sales of Le Parisien and its national edition, Aujourd'hui en France, give the Amaurys France's top-selling daily newspaper (with L'Équipe in third and Serge Dassault's Le Figaro slotting in between the Amaury titles to claim second place). But sales aren't what they used to be and, across its principle titles, the Amaury Group is experiencing contracting circulation.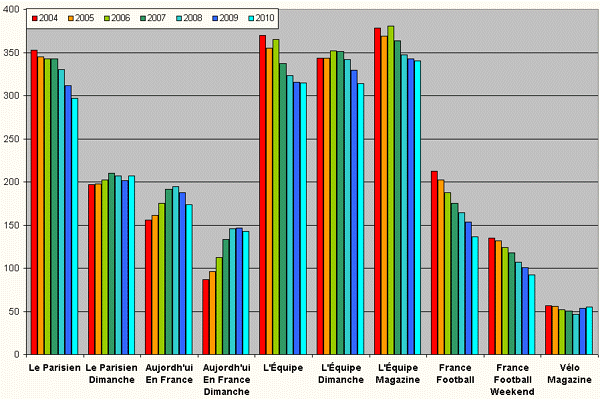 Figue 1: Circulation of EPA titles (in thousands, intl + bulk inc)
Source: OJD
Making the periodicals that the Group owns return a profit is the greatest concern facing the Amaurys today. And in the current media market, that is no easy task. Le Parisien's future is in doubt. Redundancies were considered but protests from the journalists' union saw management backtrack. Today, the title – along with its sister title, Aujourd'hui en France – may (or may not) have a For Sale sign affixed to its masthead.
The manner in which Marie-Odile Amaury has dealt with problems on the media side of the family empire has led some media commentators to question her suitability for the role she inherited from her husband.
In the five years since Marie-Odile Amaury assumed control of the Amaury empire, various senior executives have been shown the door as its new chief executive tries to come to terms with the changed media landscape and the losses being made at Le Parisien and Aujourd'hui en France. Men like Christophe Chenut. Men like Claude Droussent. Men like Noël Couëdel. Men steeped in the heritage and traditions of the press. Men whose veins bleed ink. Media men.
Media men whose careers have been cut short – worse, cut short by a woman whose veins do not flow with ink – know how to settle old scores. And so the general portrayal of Marie-Odile Amaury in the French media seems to be somewhat coloured by the views of former executives who've been shown the door by her. This is not to suggest that those who criticise Marie-Odile Amaury are incorrect in their analysis and that she is a wronged woman: she may actually have the "sparrow's brain in a spiked helmet" that one anonymous critic has attributed to her.
Rather it is to point out that some of the reporting of the affairs of the Amaury family is coloured by an agenda that you need to be conscious of. Many in the French media fear that Marie-Odile Amaury is less than sympathetic to the heritage and traditions of the press. Stories are told, comparing Marie-Odile Amaury unfavourably with her husband and calling into question her leadership of the Amaury Group.
Consider this story, told by Christian de Villeneuve, a former managing editor at Le Parisien, a man whose career was brought to an abrupt halt by Marie-Odile Amaury. Philippe Amaury was having breakfast one morning – this was back in 1999 – with Dominique Strauss-Kahn. DSK was, at this stage in his career, finance minister in Lionel Jospin's government and looked likely to stand in the forthcoming Paris mayoral elections, from which stepping stone he would likely go on to succeed Jospin once the latter's ascension to the Elysée Palace was assured. That's what DSK's future looked like anyway. Until that fateful breakfast.
The pair nearly choked on their croissants as they read Le Parisien: Amaury's paper was breaking a story linking DSK to a financial scandal involving the student insurance company MNEF. No one at Le Parisien had bothered to inform the boss of the story they were about to break. And when Amaury read that story, he simply accepted it, in silence. No tears, no tantrums and no telephone calls to his editors. Even after DSK was forced to step down as finance minister. The moral of this story? Philippe Amaury was a hands-off media baron, even when it hurt his own interests.
Just about everything Marie-Odile Amaury has done since assuming leadership of the Amaury empire in 2006 has been questioned by former executives, from the way she changed L'Équipe's editorial line on doping through to the manner in which she has shown her critics the door. For her critics, that Philippe Amaury was as big a bastard as you'll find in the media – more attuned to the diktats of marketing than reporting – is neither here nor there. He had earned the right to be a bastard. Marie-Odile Amaury? What right, they ask, has she earned?
The answer to that, though, may actually be quite simple: Marie-Odile Amaury has successfully demonstrated that she can be as cold and as calculating as her husband was before her. When rival publishers have launched or attempted to launch competing titles, the Group has responded with moves straight from Philippe Amaury's playbook.
Back in 1994, to counter the launch of InfoMatin, he sought to pull the rug from underneath their feet by launching a national edition of Le Parisien – Aujourd'hui en France. When, in 2007, the German Springer group proposed the launch of a French Bild the Amaurys prepared a new title of their own – codenamed 'Kill Bild' – to counter the German incursion into their market. The Germans retreated. The following year, when faced with a new sports daily, Le 10 Sport, the Amaurys launched a low-cost, low-budget sports daily of their own: Aujourd'hui Sport. Both titles ended as failures, but Le 10 Sport failed first, meaning the Amaurys won.
Elsewhere in the Group, the Amaurys have extended their interests in the online world. Sajoo.fr is an expansion into online gaming, in association with Bwin. And, on the sports side of the family business, they have created Amaury Sport International: ASO has grown to be France's leading sports promotion business; now they are taking on the world. As part of that expansion, the new company – in which Alain Krzentowski, ASO's éminence grise, is said to own a 20% stake – acquired a US company, Helios, which works with the IOC when it comes to assessing rival bids to host the Games.
Earlier this year the Amaurys acquired Sportys, a French events management and marketing agency, further extending the Group's interests in the lucrative cyclo-sportif market. The Paris-Dakar rally has been renamed – the Dakar – and successfully relocated to South America, which has also afforded the Amaurys the opportunity to expand their cyclo-sportif footprint further, with the launch of the Etapa Argentina.
In these moves Marie-Odile Amaury has been aided not just by Alain Krzentowski, but also by the next generation of the family dynasty: her daughter, Aurore (on the media side of the Group), and her son, Jean-Étienne (on the sporting side). Both were recalled to the family business when their father was diagnosed with cancer. The third generation of the Amaurys are no longer in the wings, waiting to inherit the future. The future is what they – and, until she hands over the reins to them, their mother – make of it.
Whether that future will involve the Tour de France may be dependent upon the actions of the man at the head of another French family empire: Arnaud Lagardère.
Next: The man who would be king: Arnaud Lagardère's plans for a global sporting empire
Previously: The Tour's Wicked Step-Mother?