Saddleblaze – aka Eurosport blogger Blazin' Saddles – is honoured to start his Cyclismas columnist career with a Bradley Wiggins exclusive regarding the Sky Knightrider's participation in the 2013 Giro d'Italia.
Sources close to Saddles have revealed that affable Giro general dictator Michele Acquarone is "moving heaven and earth" to ensure the presence of last year's Tour de France winner in this year's Giro.
It has already been widely reported that the inclusion of more than 90 time trial kilometres in the 2013 Giro route was brought about with the primary function of attracting Wiggo's gaze. Now it emerges that this profligacy of against-the-clock machismo marked the symbolic first incidence of long-time Wiggins suitor Acquarone – known by his friends as 'The Peacock' – fanning his feathers.
In short, it was the first of many coquettish advances performed in a bid to wantonly woo Wiggins.
"It all started during the Tour last year. We were watching the second time trial in Giro HQ and Michele was entranced by Bradley's pedal strokes," said Saddles' source (not to be confused with Saddle Sauce™ – a brand of bespoke chamois cream).
"At first there was serious consideration given into hosting the opening stage of the Giro in Wiggo's birth town of Ghent but when that became impossible Michele was quick to suggest Naples."
The Mediterranean seaside city was selected primarily because it is hoped that the volcanic peak of Vesuvius will remind Wiggins of his training rides in the shadow of Mount Tiede on Tenerife.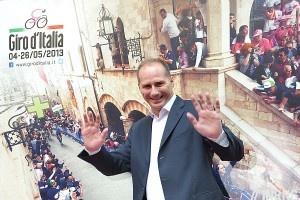 Naples is also said to be the favourite Italian city of the singer Paul Weller, with whom Wiggins often jams on his guitar. The pair are currently recording a song set for release in spring.
"When Michele heard about Wiggins and Weller, he went all weak at the knees. 'We must get them to record the Giro's official song – now that's entertainment,' he told us all in a dream-like stupor."
Soon after the 2013 route was disclosed, Acquarone and his team announced that Wiggins' close friend, the British designer Sir Paul Smith, would be designing the Giro's fabled pink jersey.
The prospect of Sir Bradley Wiggins mounting a podium to put on a special maglia rosa designed by Sir Paul Smith is mouthwatering. Riding the crest of a wave, Acquarone is said to be in favour of approaching British comedians Paul Whitehouse and Mark Williams to record a one-off version of their "Suits you, Sir" sketch from The Fast Show.
"If that wasn't enough, Michele has even put in a request with Johnny Depp's publicist for the actor to reprise his guest role from the last ever episode of the series," said the source. "Apparently Depp is a bigger cycling fan than both Robin Williams and Ben Stiller combined."
While details of the 2013 Giro opening ceremony are still under wraps, it has leaked that Wiggins has been approached to ring a bell to sound the start of the three-week festival of cycling. This is but one of many movements being carried out to make sure Wiggins feels he is being accommodated, nay groomed, as the official face of the race.
Following her electric on-screen chemistry with Wiggins at the BBC Sports Personality of the Year award in London late last year, veteran reporter Susan Barker has reportedly been given a gig as one of the race's podium girls. A video of Wiggins and Barker eating Italian spaghetti in the style of the hit Disney cartoon Lady And The Tramp is also in the offing, as is a limited edition t-shirt made out of purple velours, designed by Fred Perry and adorned with the catchphrase 'Look, Susan'.
All male race staff – including the Carabinieri – are being encouraged to grow their sideburns in a bid to pay their respects to the man Acquarone is hoping will succeed Ryder Hesjedal as the maglia rosa in Brescia on 26th May. Meanwhile, Team Sky will be given special dispensation to fill their musettes with McDonald's burgers to stave off any bonking in the mountains.
It doesn't stop at making Wiggins simply feel at home. In fact, the latest raft of rumours seem to indicate that Acquarone and his team are also bent on giving Wiggins a sporting advantage during the race.
As such, Fabian Cancellara is likely to be banned from the race, while steps are being taken to ensure that Tony Martin suffers a nasty fall in the opening week, whereby eliminating Wiggins' principal threats for the all-important time trials.
Acquarone was also the driving force behind Katusha not receiving a wild-card invite for the race. "He thought that the last thing the race needed was Joaquim Rodriguez pushing for the pink jersey," said Saddles' source.
Complicated measures have been taken to ensure that the route never passes nearby petrol station forecourts for fear of Wiggins colliding with rogue drivers.
It is also thought that an online "Froome Fund" has been set up by Acquarone to make sure that Wiggins' favoured right-hand man is on hand to guide him up the Galibier. Only once this job has been done will Froome be allowed to retire from the race and concentrate on his preparations for the Tour de France.
"Michele isn't only offering Chris money. He's pulled the strings with some of his well-connected friends in London: Froome will be honoured with a Victoria Cross for self-sacrifice on the battlefield in the 2013 New Year's honours list."
Talking of honours, it is said to be Acquarone's bizarre infatuation with not only being responsible for helping Wiggins make history, but also making history himself, that is proving his most steely motivation.
"Michele has it in his head that should Wiggo win the Giro one year after he wins the Tour, he'll be in line for a peerage. He wants to be the man who will be remembered in the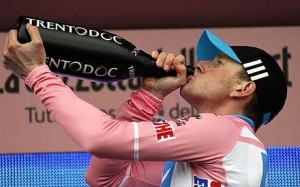 history books as being the principal contributor to Wiggins' upgrading from a Sir to a Lord. This might sound odd, but I believe he fancies himself as a type of honorary Italian Austin Powers type figure – but with better teeth," added the source with a whisper.
Acquarone offered no comment when approached by Saddleblaze about these allegations. He did, however, stress his disappointment that Katusha's absence from the race would deprive fans of the chance to see Denis Menchov in action.
When quizzed about the choice of wildcards for the race, Acquarone said the decision had been a difficult one and hoped that next year a new system will jazz things up a little. Acquarone is said to be in favour of seven wild cards joining 15 ProTour teams, with a public fan vote deciding just who makes the cut.
"He already told us about his plans to produce a Saturday night reality TV game show called 'Who Wants To Be A Giro Wildcard?' which will be presented by Silvio Berlusconi's new wife," confirmed the source.
One thing's for sure, with Michele Acquarone at the helm, things are rarely boring. Which is why, quite frankly, his efforts to make Wiggins the face of the Giro is just so very baffling…