Update:
The panel has met, the super-secret balloting has taken place, and the results are in.
The winner of the Abus Lock Haiku contest is Su Zi/@xsuzi00 with this entry:
@CyclismasEditor @Cyclismas @ABUS_Locks these precious steel tubes/ now still, but which rolled through air / with this click, stay safe.

— Su Zi (@xsuzi00) October 10, 2013
For her efforts, Su Zi will receive a Granit X-plus Bordo lock from Abus.
Honorable mentions go to @taticycles and @Ge_Willi for their near-winning entries.
Many thanks to all of you who participated, stay tuned for our next contest, to be announced on Tuesday, October 22nd.
———————————————
Entries are in, let the judging commence. We will post the winner of the Haiku contest tonight. If you submitted an entry and don't see it listed here, please be sure to contact me ASAP.
@CyclismasEditor @ABUS_Locks Financial district / Ti Merckx secured with cable / Dood needs a Bordo.

— TATI Cycles (@taticycles) October 8, 2013
@CyclismasEditor @Cyclismas @ABUS_Locks Love this sport. Sacrifice it all. #ididthat

— Brad Sohner (@bradsohner) October 8, 2013
@CyclismasEditor @abus_locks One Fence One Bike No Lock No Bike #haiku

— Derek Troy (@flammecast) October 8, 2013
@CyclismasEditor @ABUS_Locks Someone has stolen my beautiful bicycle wish Id bought a lock

— Ben (@Ben_M_Berry) October 8, 2013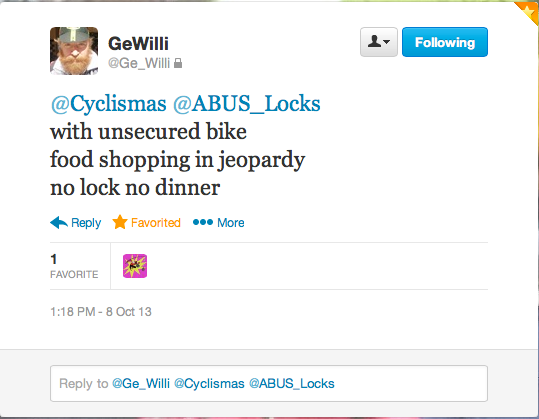 @CyclismasEditor @Cyclismas @ABUS_Locks these precious steel tubes/ now still, but which rolled through air / with this click, stay safe.

— Su Zi (@xsuzi00) October 10, 2013
@CyclismasEditor @abus_locks #lockhaiku lock hanging from hip ready to go anywhere you aint stealing shit

— Kat Daley (@attnkatdaley) October 11, 2013
Not US resident but wrote anyway @ABUS_Locks @Cyclismas hot coffee in cafe cold approaches the frame there's no snap this time. #lockhaiku

— Mark Newitt (@mjnewitt) October 8, 2013
@Cyclismas @ABUS_Locks Crap! My bike is gone! I didn't buy an ABUS Now I ride the bus.

— W. D. Neumann (@WDNeumann) October 8, 2013
@CyclismasEditor @Cyclismas @ABUS_Locks no seriously / do you even see that lock? / can't steal this ride bro

— Nate Chenenko (@chenenko) October 8, 2013
Bike thieves suck my shit. What the fuck is a haiku? Lock your fucking bike.

— Sarcastic Tom (@sarcastitom) October 8, 2013
And from Facebook: