With this piece we introduce a new feature to Cyclismas, a regular column on bike wrenching and commuting by the Internet curmudgeon known as Ge Willi. Aptly titled "Two Cone Wrenches and a Megaphone" (regular habitués on the New England Cyclocross scene will get this; the rest of you will have to become edumacated as time goes on), Geoff's column will tackle timely topics on bike commutering, do-it-yourself fixes, and maintenance tips, all delivered in his uniquely colloquial and opinionated style. If there are topics you'd like to see covered, or a question you're hankering to get an answer to,  feel free to submit them to our Contact Us page and we'll make sure GeWilli takes a gander. Thanks for reading. ~ Lesli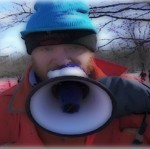 Last night as I was getting suited up for the 17-degree F ride home in the growing storm I was grateful for the decision to swap wheelsets over to the studded commuter tires. Especially as I crossed over the Henderson Bridge in the unplowed bike lane, the bare car tire tracks a bit uncomfortably close made the 20 mph gusty crosswind pretty scary. Each gust was causing the tires on my bike to slip sideways grasping for traction. And that with lower pressing in the what I've found to be the best studded 700C commuter tires on the market.
The morning was totally dry and cold, but as always when commuting by bike you need to think about both directions. Weather is rarely identical going in as going home.
Tire choice though, there's a myriad of things to cover with riding when it is 30 in the morning and 50 on the way home, but today – tires, winter studded tire options.
The beauty of commuting by bike is the continuum of options. There isn't ever one right or absolute answer. Variables of skill, experience, equipment, cash, time, all impact what each individual will do.
Now one of the most important factor is your personal temperature threshold.
If your riding threshold is 40ºF/4.4ºC then studded tires generally aren't something you will need to think about. But if you ride on untreated bike paths or live in areas with snow melt that freezes overnight on the shoulder or with the chance to encounter black ice, studded tires can be the difference between not riding, or riding and breaking a collarbone or worse. I've been riding with studded tires for the last good number of years when conditions demand , but I've also spent years commuting with just selectively picking routes or bikes (MTB vs commuter/cyclocross bike).
Riding in the winter on ice w/o studded tires is possible, low pressure, fat tires, and extreme caution is usually enough to survive, but it is still a bit of a gamble. And a risk I'm less and less willing to take as the years add up; I guess 20+ years ago commuting by bike, I was a bit less concerned with crashing and full of youthful confidence. And I was lucky. Mostly in that I never encountered it much then, later in Michigan everything was so heavily salted and there were few to no dedicated bike routes where studs weren't needed. Out here in New England, the bike path isn't plowed or salted, the roads get lots of melt during the day and the tire tracks where the cars go keep pretty dry with the salt and the vehicles but the plowed shoulder is usually a patchy skating rink in the morning and a slushy wet mess on the way home.
Weather is the key variable, I've had a few winters that the studs have stayed on the bike from January through to March and I've had a couple winters where I've needed the studs twice in the whole season and one of the days I didn't use them.
That said, when it gets icy, the studs have made the difference between being able to keep riding to work, avoiding sitting in the cold car halfway in, or standing around in the weather waiting for a bus.  Cycling in the winter is great. Cold? Add more layers. Leave the house warm, pedal to stay warm, arrive at work ready to go.
Lets get on topic. Tires for the winter, studded tires.  The best can be very expensive in the $80-$100+ range per tire. Are they worth it? Let me answer by asking a few questions. What is your co-pay in the ER? If you have free health care, what is the cost of being off the bike while you heal, dealing with alternate transport, all that mess? Granted, money is still money and there are lots of options out there for less than the high end of buying the best tires and a whole second set of wheels to swap in and out when needed, but for the lifespan of the tires and your personal well-being, the investment is pretty trivial.
The most basic entry level setup would be one of the Innova studded tires on the front only. Usually about $40 or so, inexpensive but if you run into ice on a regular basis putting just this tire up front can keep just enough control to keep you upright. If the back end walks out on you it is rarely as catastrophic as when you lose the front end. As always with the studded tires, running a bit lower pressure when it is going to be icy is super smart, if you leave it on there all the time heading up to a bit higher on the recommended pressure range when the roads are ice free can minimize the trade off of the drag and noise of the studded tires.
Next level would be adding a pair of the Innovas, then you can sort of keep going up the scale in price and features.
The more expensive tires tend to also be more durable and may outlast the cheapest options three to four times over, easily offsetting the high cost of entry. Carbide studs generally are the biggest difference. Very long wearing compared to the less expensive stainless steel studs, and the rubber compound is often a harder durometer rubber that wears long and also holds the studs in more effectively. There are even higher-end MTB knobby treads that go to the length of encasing the carbide stud in an aluminum stud to reduce the weight penalty.
So when you take a look at all the options how do you choose?
Bike. What bike are you commuting on? Hopefully it is a CX/Hybrid or maybe a MTB for the winter. Road bikes with little frame clearance present a challenge as a commuter, good fenders are hard to find, hard to fit and generally more expensive, and topically they generally don't have the clearance for studded tires. So your bike will determine diameter (700c/29er or 26) and your frame and fender clearance are going to be your width limiters. To a degree going wider is almost always better.
But snow throws a bit of a loophole in that guideline. Until you get into the 3 to 4-inch-wide fat bike tires, being wider than 35 can cause some serious traction issues in snow. A thinner tire will cut down through the snow to the pavement better than a wider one, and unless you weigh half what I do you will need all of that 3-4″ tire in a fat bike to float over it.
A light coating of dense wet snow over ice can be super tricky even with studded tires. The snow can pack down enough to prevent the studs from gripping. One of my only falls with the studs was before I realized what I was riding on and with a little bit too much weight on the front I shifted and the bike went sideways and I face planted on the ice. Fortunately the front of my helmet got most of the action, my chin hit and scraped up a touch, and my nose got a wee bit of rash from sliding on the ice under the snow but I avoided any serious injury that time, and with the new knowledge of the conditions I managed to make it into work without falling again.
So width, or diameter, 700 x 35-40 is just about the perfect sweet spot though. 26 tires often will be fatter but knobbier and those knobs do help cut through the snow.
Over the years for year-round commuting I've found no more durable, flat-proof, long-wearing tire than the Schwalbe Marathon Plus. Hands down. Nothing works as well for my commute, and until I tried those, I was going through tires pretty frequently and getting flats pretty regularly despite my best efforts (Continental tires with Mr Tuffys, even). Currently I commute on one of my cyclocross bikes; I find it to be the perfect bike for commuting, with clearance for studded tires, option for multiple hand positions, efficient, not terribly heavy, room for fenders, etc. Since 1990 when I first started commuting by bike on a routine basis, I've been on pretty much all different bikes, from mountain bikes to road bikes, and I really do feel strongly that a nice CXy bike is the way to go. But the best bike is always going to be the one that gets ridden.
So in a roundabout way the success with the Marathon Plus on my commute led me naturally to choosing the Marathon Winter as my studded tire. And I really do think it is about the ultimate in traction for commuting when you run across ice on a regular basis; the reflective sidewall is a nice bonus and appreciated. Now I say Ice, but how about Snow? To be best in the snow just get a fat bike, but if you think a set of studded tires is heavy and will slow you down, don't get your hopes up that you'll be getting to work on time with a fat bike. Fun, but slow.  In all but the deepest wet snow these tires have been fantastic.
The Nokian Suomi Hakkas A10s are a good popular options for many people. Billed more as a road tire with a solid center strip of tread, they are still a bit wide for most road bikes (700×32). They do make less noise than the Marathon Winters when pumped up to the max pressure and roll with a bit less resistance and are lighter. I have gone head to head on a lumpy frozen path of shiny glare ice with a friend riding the A10s and he was crashing and slipping out left and right even with low pressure, all the time on the same surface I had no issue with traction running the Marathon Winters.  That may have been an extreme case scenario and isn't typical of most of our commute, and in general for most commutes the Nokian may be a very good choice.
The biggest key to selecting the proper tire is to know what you are going to see on the bike day in and day out. You know your conditions better than anyone else.
One thing many people may want to consider is getting second set of wheels as dedicated snows. The big advantage is being able to make a choice in the morning before you leave for the day. Was the ride home dry? No melt? Swap in the regular commuter tires. Looks like ice? Take the minute or two and swap in the studded tire wheels. Having a second set of mounted wheels with studs both minimizes wear on your fancy studded ice/snow tires and the time it takes to get them ready if you switch back and forth regularly, but it also gives you the hidden benefit of having a backup set of wheels in case of mechanical through the whole year.  Wheels take a significant amount of abuse and even if you can fix it yourself, a second set –while potentially costly – is next-level commuting stuff. Swapping studded tires on and off can be painful, those metal bits in the tire can do a number on your hands. I have my studs mounted on a set of old wheels that have been rebuilt a few times, not maybe my favorite wheels but they work and the studs hang out on them most of the year. Since I keep my chain wear in check and replace it at the 0.50 wear mark, usually I leave an older cassette on there so the swap is really a very quick process.
It can be a very significant investment and if you ride on streets that are heavily salted and plowed you may never have a need for them. But if you only encounter a few patches of ice in the morning, studded tires on your commuter bike can mean the difference between arriving safely or face planting on the pavement.
Oh, and always wear a helmet. Studs aren't magic. You have to keep your weight over them and if they let go, crashing is never good. Helmets. Wear one.
-GeWilli
Some additional thoughts:
Now if no studs, how might you vary or think about tires? Run what you have.
A little tread is always better in snow or sand than a slick tire but most people have what they have, not much choice other than what came with the bike.
My advice is usually to ride what is on the bike until it wears out. At that point you will have a very good idea of the conditions you face day in and day out. Sad truth is that few bikes ever get ridden enough to wear out a set of tires.
Going with a larger diameter gives you the ability to adjust the pressure based on the conditions you see, even with a skinny road tire changing the pressure 10-20 psi can make a huge difference. When you need more traction lower the pressure, higher pressure for when the roads are clear and smooth.  Try to stay within the range on the sidewall but remember, that Max pressure rating is just that. It isn't where you need to run the tire all the time and can actually decrease the lifespan of the tire, decrease your comfort on the bike and be less efficient.