It's the fall guys that make history. History is their requiem.

~ Raymond Chandler
If David Millar's Racing Through the Dark is this generation's A Rough Ride then Tyler Hamilton's The Secret Race must be Breaking the Chain. And if that alone doesn't tell you what went wrong in our sport as cycling dragged itself into the twenty-first century then you really do have to read Hamilton's story. It's the story of a sport so corrupted by its own mythology that it has lost all touch with reality and seems incapable of heeding the warnings given to it.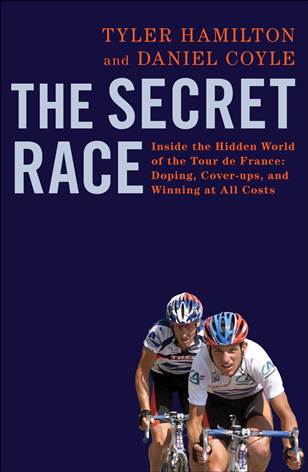 In his introduction to the 1998 edition of Rough Ride (in which the title lost its indefinite article), Paul Kimmage noted how his original intention for the re-issue of the book was that it would be re-worked in the style of a hard-boiled noir:
Its opening chapter would be scripted straight from the Raymond Chandler school of thriller writing ('When in doubt, have a man come through the door with a gun') and begin not in 1962 with a baby boy and a kindly staff nurse at the Rotunda hospital in Dublin, but twenty-two years later when the boy arrives in Paris in search of fame and fortune. I even had the opening line worked out: 'A man with huge shovel-like hands, greying hair and a tanned, weather-beaten face was waiting at the airport.' OK, so it would have taken a couple of chapters before the gun was produced, but you get the drift."
(Had, in 1998, Kimmage realised just how much of a role blood doping was playing in our sport, I suspect he might have switched from Chandler to Dashiel Hammett. As a way of explaining just how fucked up cycling had become, Kimmage could have had a lot of fun playing with Hammett's Red Harvest (the unacknowledged basis of Akira Kurosowa's Yojimbo, which then begat Sergio Leone's A Fistful of Dollars). I can just imagine Kimmage casting himself as Hammett's Continental Op, setting the various factions against one and other as he sets about cleaning up cycling's own sordid Poisonville.)
For many cycling fans – those of us who've wanted to understand the reality behind the feats we've watched or read about and not just live in the moments of epic heroism – following cycling has been like living in a real-world crime thriller: week by week, month by month, the evidence mounted up about just how mired in doping our sport had become. The evidence of a crime was obvious, but it was not always clear just who the guilty parties were, or even what the real crime was.
In Breaking the Chain Willy Voet (aided by his own Agatha Christie, Pierre Ballester) served as a sort-of Hercule Poirot, pointing out the evidence and the missed clues that would explain much of what had gone on in cycling prior to 1998 and that Tour de Farce which had rolled off in Dublin and ended caught up in what we all hoped was to be the worst doping scandal our sport would ever see. Eight years later Operación Puerto showed us just how much our hope had been misplaced.
In The Secret Race Hamilton serves as our guide through some of the clues and red herrings that led up to that latter scandal. Read as the dénouement of a crime thriller – the detective recasting the story you've just read so that things makes sense – The Secret Race is less Christie and more Ross Macdonald and Hamilton is less Poirot and more Lew Archer.
In a standard Lew Archer story, Macdonald's Californian private investigator is called in to solve a recent crime – a stolen painting, a missing child, a dead body, whatever – but the more he digs for clues the more he unearths a problem that transcends generations and has its roots in secrets buried in the past. And this is true of cycling's doping problem: Hamilton, Lance Armstrong, Floyd Landis, all the rest of that generation, they didn't create the problem. They are, in part, victims of a problem rooted in cycling's past. Victims of a culture of doping. Victims of a culture in which a blind-eye was turned to doping by everyone, from the UCI at the top down to the fans at the roadside. And in that they deserve, if not some sympathy, then certainly some understanding. And that's what Hamilton's ultimate plea in The Secret Race is for: understanding, not sympathy.
However, there is another crime going on here. And in many ways it's a crime much bigger than doping. Cycling's hustlers and grifters, cycling's confidence tricksters, cycling's players of the big con, they stole something they can never give back. They stole the innocence – the presumption of innocence – of those who chose to follow a different path. And they didn't just steal from their peers. They stole from the generations that are following them: Hamilton and Landis, Bjarne Riis, David Millar, all those who lied about their doping and pleaded with us to believe that they rode clean, only to turn around and fess up, through their lies they have made it all but impossible to simply accept that the problems of the past have now gone away and that the riders coming up today are taking the opportunity afforded to them to do it clean.
Riis may have stopped being part of the problem and become part of the solution by assisting in the ushering in of independent anti-doping programmes, thus helping to force the UCI's hand on longitudinal testing. Millar may have stopped being part of the problem and become part of the solution by helping to build and lead a clean team. Landis and Hamilton may have stopped being part of the problem and become part of the solution by giving USADA the evidence that might finally force cycling to really confront its past. But it will take a generation and more for the trust of the fans that they and others like them squandered to be rebuilt. It will take a generation and more for anyone but the most naïve cycling fan to not have doubts about, want to ask questions of, the stars of today and tomorrow. That is and will continue to be the biggest crime of Gen-EPO. Sadly, this is the crime that The Secret Race fails to acknowledge. I wonder if Hamilton or Landis or Riis or Millar or any of them realise it's a crime they've committed. Or even care about.
* * * * *
Before turning to some of the things said in The Secret Race – the clues highlighted by Hamilton to explain some of what we saw between Festina and Puerto – a couple of other holes in the story need to be considered. The first is the UCI. There are two main mentions of our sport's governing body in the story Hamilton tells. The first is the now-familiar story of Armstrong and the 2001 Tour de Suisse. The second concerns Hamilton and the 2004 Critérium du Dauphiné Libéré. Both of these I'll return to momentarily. Apart from those two tales, though, Hamilton has little to say about how cycling was governed during his time in the peloton.
Perhaps had Daniel Coyle framed the story as less of a continuation of his earlier Lance Armstrong's War (here, Armstrong versus Hamilton) more might have been said of the role played by the UCI in cycling's inability to clean up its act. (Me, I couldn't help but find some irony in the fact that Hamilton's first experience of doping, in 1997, occurred on the eve of the GP Luis Puig, Puig being Hein Verbruggen's predecessor as head of the UCI.) More needs to be said of the role played by the UCI in this story, through both their actions and their inactions.
The second absence is of stories that might have put some perspective on the position Hamilton found himself in. As Hamilton tells it, he had no choice but to dope. I accept that it was difficult not to dope, that the system positively encouraged it. But it wasn't impossible. Nor was it impossible to turn your back on doping. There are riders who took those paths. Frankie Andreu and Jonathan Vaughters are just two who did and were close to the story told in The Secret Race. Perhaps Coyle should have said more about them, even if only in his footnotes. But perhaps in doing that he would have only highlighted even more Hamilton's sense of entitlement, made us realise that the only real differences between Hamilton and Armstrong were that the Texan was far more efficient at controlling his environment and much, much better at not falling off and breaking bones at inopportune moments.
* * * * *
And so to the stories told, the clues revealed. It's not my intention here to highlight all the revelations made by Hamilton in The Secret Race. Most of them you'll already be familiar with anyway, they've been seeping out in the two years since Floyd Landis had his Damascene conversion and became the prodigal son of the anti-doping fraternity. They've been seeping out in the eight years since David Walsh and Pierre Ballester published LA Confidentiel. They've been seeping out in newspapers and on websites in the decade and a half since the Festina affaire kicked off. And, of course, they've burst forth since Hamilton's book was published earlier this month.
There are some new revelations. Or, in my innocence or laziness, stories that are new to me. Those are the ones worth looking at here. There's a story I don't recall appearing in Breaking the Chain, that in 1997 the Festina squad had added perfluorocarbons (PFC) to their armoury (is Hamilton here just peddling peloton gossip? He does later when he says that Stefano Garzelli's probencid bust was an echo-positive). There's the picture offered of pro cycling's kidult culture of codes and cliques and perceived slights that would ultimately drive even blood brothers apart.
Or there's a story which Bjarne Riis forgot to mention in Stages of Light and Dark, about using blood transfusions before the 1996 Tour de France and on its two rest days (conventional wisdom has it that blood doping burst onto the cycling scene around about 1984, when Francesco Moser set his Hour records, but then disappeared again until 2000/2001, when the EPO test arrived. In reality, the early history of blood doping in the peloton can be pushed back into the 1970s, when Joop Zoetemelk admitted to having given it a try. What was really happening between 1984 and the new millennium is shrouded in mystery). If Riis forgot to discuss his transfusions in his autobiography, then what other recent tell-all autobiographies have been equally economical with the actualité in this regard?
Some of the stories in The Secret Race mean that we must reconsider some of the revelations previously made about cycling's recent doping history. Take the story of the genesis of doping in US Postal in 1996, how Marty Jemison, backed up by Hamilton, had approached the team's then doctor, Prentice Steffen, and attempted to get him to move with the times and implement a doping programme. Here Hamilton – supported by Jemison – suggests that Steffen may simply have misunderstood what was being suggested, that all that was being proposed was IV transfusions to aid recovery.
Or consider the story of Hamilton, after the 2004 Dauphiné Libéré, having been warned by the UCI's Mario Zorzoli that his blood values were out of whack. The previous understanding of that incident was that this was a case of the UCI warning Hamilton off, trying to protect him and stop him from taking a fall when the new test for homologous blood transfusions came in later in the year. In The Secret Race Hamilton redraws that picture, tells us it was a case of Armstrong reaching out through the UCI to either put the frighteners on him or bring him down. Perhaps had Hamilton done as Armstrong had when he got called to the headmaster's office in Aigle after the 2001 Tour de Suisse – put an apple on the headmaster's desk and promised to write a cheque to the UCI – all his problems might have gone away.
(In one of our sport's grandest ironies you have to laugh when you realise that Armstrong played the role of the UCI's mole in the peloton, telling them what riders to pay attention to. The poacher as gamekeeper. Only to have himself brought to ground by the guys he'd fucked over. That's both comic and karmic at the same time.)
For me, one of the bigger challenges to the current received wisdom concerns the role played by Luigi Cecchini in our sport. Cecchini is said to have been a protégé of Francesco Conconi, but this is a claim he denies:
Everywhere they call me a pupil of Conconi," Cecchini has said, "but I only know him from conventions for sports physicians. I met him only once. I also was only once at the Ferrara university. Still my name is being linked with that university in the media. Why? I don't have a clue."
We have long been schooled to believe that Cecchini, along with Conconi and Michele Ferrari, was one of the dirtiest doctors in the sport, one of the chief architects of Gen-EPO. Pat McQuaid has even gone so far as to warn riders off working with the Italian doctor.
Others have been equally critical of Cecchini and – publicly at least – sought to distance themselves from him. Dave Brailsford had to tell David Millar to cut his ties with Cecchini after Millar hooked up with him as he prepared to return to the pro peloton following his two years on the naughty step:  "If he had a relationship with Cecchini," Brailsford is reported to have said of Millar, "we would say, 'Thank you and goodbye.' I told him he shouldn't have done it and that Team GB don't want to have any association with Cecchini. David knows that in this climate he has to be very careful as to who he associates with." (Why Team GB were only too willing to have an association with a client and friend of Cecchini – Max Sciandri, the man who hooked Millar up with the Italian doctor – is one of the great unasked questions of recent years.)
But those who have worked with Cecchini paint a different picture of the Italian doctor. Jörg Jaksche had only kind words to say of his Italian trainer:  "Cecchini and his family belong to the best people I have met in the cycling scene, he has nothing to do with doping, those who claim the opposite are lying!" Bjarne Riis echoed this in his autobiography:  "in his time as my personal trainer he had never given me any banned products nor written me out any prescriptions for any." Millar said something similar in his autobiography:  "There was never ever money involved and it was never even discussed. I'm sure I'm probably the only professional rider he has ever trained for free. We got on extremely well, and I never even got a hint of him being involved in anything to do with doping."
According to Hamilton, Millar was far from the only rider Cecchini worked with on a pro bono basis: "though we worked closely together for years, Cecco never charged me a dime."
Hamilton's picture of Cecchini and his methods is worth considering:
Cecco had short gray hair and big, perceptive eyes; he looked a little bit like Pablo Picasso. He also had a revolutionary and refreshing attitude about doping, which is to say he encouraged me to dope as little as possible. He never gave me any Edgar; never handed me so much as an aspirin, because Cecco believed that most riders dope far, far too much. Insulin, testosterone patches, anabolics – bah! To win the Tour, you need only three qualities.

You have to be very, very fit.
You have to be very, very skinny.
You have to keep your hematocrit up.

Rule number 3 was regrettable in Cecco's eyes, but ultimately unavoidable, a simple fact of life. Cecco made it clear: he never got involved in the dark side. He constantly told me that I did not have to engage in the risky, medically questionable, stress-inducing arms race of chasing after Substance X or Substance Y, or some Russian anabolic jelly beans. He constantly warned me about Fuentes, telling me I didn't need all the stuff he provided. I could simplify my life and focus on what mattered: my training."
Does this mean that we have to consider Cecchini as one of the good guys? Of course not: throughout his time with Cecchini Hamilton was doping in order to keep his hematocrit up. Cecchini was far from a latter-day Paul Köchli, determined to win clean. He seems to have believed in the Clintonian ethic of compartmentalisation and learned to play the 'don't ask, don't tell' game when it came to doping.
This, though, might suggest that Cecchini had more in common with Köchli than with other doctors who believed that victory could only be found in the barrel of a syringe. This might suggest that we should revise our view of trainers like Cecchini. This might suggest we should open our minds to the possibility that the likes of Cecchini might actually have something positive to offer athletes who are willing to play clean. Something positive to offer a sport that is actually determined to police its century-old doping problem.
* * * * *
Endings are hard. The end of The Secret Race is especially hard because deadlines saw it being completed before Armstrong threw in the towel and decided not to contest USADA's charges against him. We've yet to see the damage limitation, character assassination tricks that will be employed when the USADA file is finally made public. Hamilton probably has an idea of what's in store: a repeat of his own performance in 2002 when Prentice Steffen claimed that Jemison and Hamilton had asked him about doping products back in 1996. Hamilton aimed both barrels at Steffen and pulled the trigger, questioning Steffen's motives and pointing out his past problems with recreational drugs. "I was learning," Hamilton says of his actions here, "when the accusations come, hit back twice as hard."
But the ending of The Secret Race, as imperfect as it is, does reveal something. There's a tale told early in the book which resonates in its ending and is illustrative of something important in the story of Hamilton and Armstrong. In that tale, the two were out for a ride one day when a driver cut them off. Armstrong gave chase, caught the car and laid into the motorist, punching him. Toward the end of the book Hamilton echoes this with a story from just before he quit Boulder earlier this year. He was out on his town bike, it a beat-up with fat tyres and he in jeans and tennis shoes. Two lycra-clad riders on thousand-buck bikes passed him at a junction and one of them gave him a look. On seeing the slogan on the guy's jersey – Dopers Suck – Hamilton took this as a personal affront to his dignity and gave chase. (Hamilton doesn't even consider that the guy might just have been eyeing up his ass.) It took him a mile to reel them in, and when he did Hamilton shook the hand of the guy with the "Dopers Suck" jersey and introduced himself as a doper who doesn't suck:
…I rode home, and my heart was full of happiness. Because, I realized, that's my story. Not a shiny pretty myth about superheroes who win every time, but a human truth about one normal guy who tried to compete in a messed-up world and did his best; who made big mistakes and survived. That's the story I wanted to tell, and keep telling, partly because it will help the sport move forward, and partly because it helps me move forward.

I want to tell it to people who think that dopers are bad, irredeemable people. I want to tell it so people might focus their energy on the real challenge: creating a culture that tips people away from doping. I want to tell it because now I need to tell it, in order to survive."
Which is where we loop back to the opening of this review and the problem with The Secret Race being this generation's Breaking The Chain: we've been here before. Back then, we'd just been delivered a new hero, a guy the world could believe in, a hero with a big engine, a long history, and a great story. And the lesson was lost in the adulation of our new hero. He came from a different culture and so was beyond the taint of our sport's past. He was clean and anyone who said different was just a fun-sucking troll. There's no way that could happen again, is there?
* * * * *
Having started thinking of Hamilton as a kind-of Lew Archer plotting a path through a story about a part of the past still echoing in the present, let's end this with a bit of Ross Macdonald. Here's Archer, from the end of The Doomsters:
I stopped and leaned on a white wall and lit a cigarette. When you looked at the whole picture, there was a certain beauty in it, or justice. But I didn't care to look at it for long. The circuit of guilty time was too much like a snake with its tail in its mouth, consuming itself. If you looked too long, there'd be nothing left of it, or you. We were all guilty. We had to learn to live with it."
* * * * *
The Secret Race – Inside the Hidden World of the Tour de France: Doping, Cover-ups, and Winning at All Costs, by Tyler Hamilton and Daniel Coyle (2012, 291 pages) is published in the US and UK by Bantam.