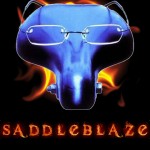 Professional cycling is not immune from the lurid horsemeat scandal that has engulfed the UK. This is the view of Dr. Dickmachen die Blutsverwandtschaft, a Germany-based nutriment hygienist from the University of Friedberg.
The past month has seen UK consumers – and in particular those impartial to frozen microwavable lasagnes – jockeyed about by the fraudulent introduction of horsemeat into human food. Tests carried out by the Food Safety Authority back in January showed certain brands of beefburgers containing traces of equine DNA. Since then, the situation has reached tipping point with many 'beef' products proving to contain up to 100% horsemeat.
But the professional peloton is about to be overshadowed by a far more concerning independent report put together by a team of scientists led by Dr. Blutsverwandtschaft, the renowned celebrity nutritionist who made his name as a plastic surgeon on the East side of the Berlin Wall in the mid-80s.
According to the report – entitled Bunch Gallop: Why So Many Long Faces In Cycling? – the peloton is riddled with equine DNA to the extent of "gross contamination."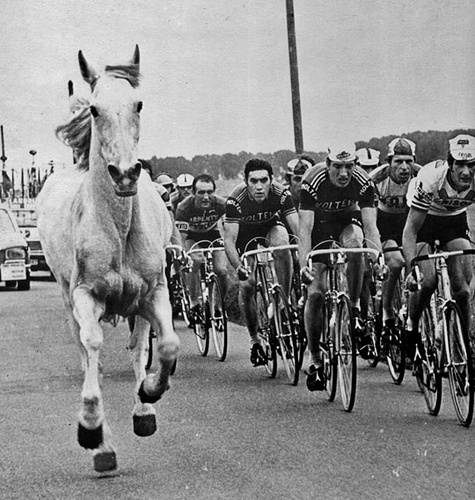 In random blood samples taken from the past decade and tested over the previous few weeks, 40% returned dangerous levels of horse DNA. It is thought that these traces primarily entered the blood stream of the riders in question through either deliberate or unwitting consumption.
"Our tests showed that while the average level of horse contamination amongst the peloton is around 30%, almost 90% of the 14 French riders tested contained high levels of horse DNA brought about by the active ingestion of horsemeat. This, in itself, is not a huge cause for concern; after all, horse is the national meat in France, where young children are even reared on salt-licks when still in diapers," said Dr. Blutsverwandtschaft.
When consulted, the chefs of all French teams indeed proudly admitted that horsemeat was an integral part of their riders' lunch-time musettes. The Chavanel brothers, for instance, are said to be keen horse devourers, while on a recent live Q&A with Cofidis fans on the team's official website, David Moncoutie listed his favourite dish as "slow-cooked marinated horse hoof."
Japanese rider Yukiya Arashiro is also said to enjoy horse tartare with his Europcar team-mates, while the new South African pro continental team MTN-Qhubeka are rumoured to have a refined penchant for zebra.
What is more of a concern, however, is the high-levels of equine DNA found in the blood stream of certain Scottish neo-pros – thought to originate from a diet of Findus Crispy Beef Pancakes and deep-fried Mars bars.
"Further tests showed that the beef dripping used to create the batter for a high proportion of Scottish fried fish and confectionary was in fact 80% horse lard," elucidated Dr. Blutsverwandtschaft.
There are also concerns of the worrying level of 'bute' – a powerful anti-inflammatory drug for horses – showing up in tests. This has led to a theory of crooked directeurs sportif casting a blind eye on the old Soviet practice of "bute bidons" which reached its zenith during the popular criterium circuit of the Brezhnev era in the 70s.
One London-based UK rider also tested positive for a suspicious amount of horse tranquilliser – although that is thought to have stemmed after a night out in Vauxhall.
More worrying was the discovery that two unnamed Dutch riders were, in fact, part-horse.
"From samples of flesh left behind as road-rash, we carried out a number of tests and besides the expected levels of equine DNA in certain cyclists' bloodstreams, we were perturbed to find that the flesh of two riders was actually 29% horse," said Dr. Blutsverwandtschaft.
"Funnily enough, if you were to grind up those two Dutch riders and make them into mince meat for burgers, then technically they would contain less horse – that is to say more beef – than some of the beefburgers on supermarket shelves across Europe," he added confusingly.
No explanation has yet been found, although it is expected that the Rabobank team of the 90s will take the flak.
Such discoveries are part and parcel for Dr. Blutsverwandtschaft and his team, who are concerned that their findings may well be brushed under the carpet.
"Already it is discouraging to see no mention of illicit horse blood transfusions during the ongoing Operacion Puerto case," said Dr. Blutsverwandtschaft. "Tyler Hamilton almost pinned the tail on the donkey, so to speak, when he mentioned he had once been transfused with the blood belonging to a dog. But had he considered that blood may have actually been more Sea Biscuit than Tugboat?
"Indeed, our own private investigations have shown that Dr. Eufemiano Fuentes owned his own set of stables on the outskirts of Girona and many professional cyclists often booked themselves in for a 'ride' or a 'dressage' session," he said.
The report – which will be published on Oprah Winfrey's official website on 1st April – is said to make some more startling revelations, including high levels of notoriously indigestible donkey meat clogging up the microvilli of the arteries belonging to cycling's old guard – and also a condition known as 'pony pastrami' that is widespread amongst the young US-based contingent.
"The ironic thing is this," concluded Dr. Blutsverwandtschaft. "Do you remember when Alberto Contador tested positive for clenbuterol and blamed it on the Basque beef steak from Uruguay? Well, his defence team should really have tested a load of Romanian horsemeat instead. That way, the Spaniard would have avoided a ban and be well on course to become the first rider to win five Tours since Bernard Hinault."
Dr. Blutsverwandtschaft admitted that his special team of horse experts was working hand-in-hand with the University of Friedberg's porcine division.
In a separate report entitled The Pigwick Papers: Cyclists Bringing Home The Bacon In Their Blood, it will be revealed that the riders of the T-Mobile team of the 90s contained so much pig in their genetic make up that, on a hot sizzling day, their aroma would send Johan Bruyneel's nostrils into a wild frenzy worthy of a Patrick Süskind novel.
But what happens when they bite back?