The month of February is lashing out at members of the pro peloton after recent comments in the media have worsened the reputation of a month with few fans. The excitement of the season kick-off in January along with riders' numerous public expressions of love for March, have forced February to go on the defensive in a campaign to erase monthism from calendar discourse.
In an interview conducted with February over Skype and iMessage, the month stated that it has taken abuse from humankind since the dawn of the Julian calendar, mostly due to its short stature and the myth that it has control over the duration of winter based on the ability of a small woodland creature to see a shadow. But, this recent rash of anti-February comments from riders has opened a new seam of emotion.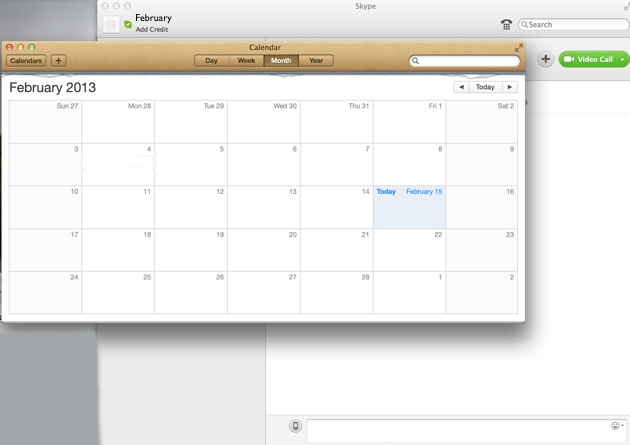 Following the summit finish on Green Mountain in the Tour of Oman, Team Sky's Chris Froome was quoted as saying "I'm fully aware it's only February."
In a Velonation report, Joaquim Rodriquez, the winner of the Green Mountain stage said about his competition on the day, "Obviously they're not at their top shape, and neither am I, but I'm in a good condition for February."
February points to remarks such as these as indications that pro riders are taking cues from the general population, and joining a swell of negative feelings towards the month.
"So many people do their first races of the season, or launch comebacks after injuries over my days," said Feb. Hushovd is back, Talansky started his season with me. So did Cadel…ok, so Schleck came back in January and deployed the SchleckChute™ on me, but Cavendish could not have won Qatar without me. You can't celebrate things like this that are part of me, and then turn around and say slanderous things and make it sound like I'm somehow less than the other months.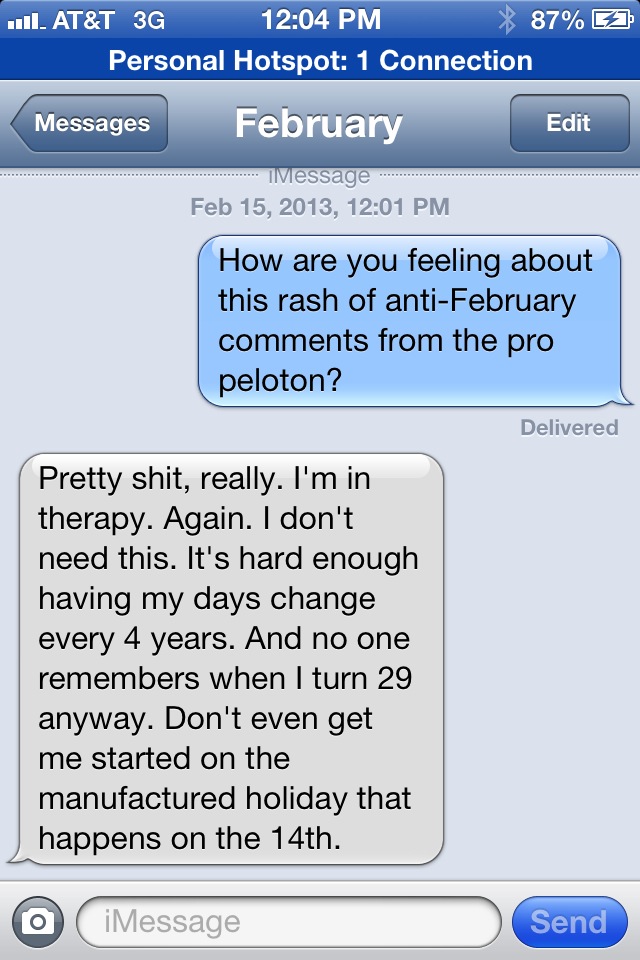 February had this to say when reminded that it is, in fact, less than the other months:
"Look. If you want to be pedantic and go on number of days, then yeah. I don't have as many. But that does not excuse these riders from making intolerant comments."
Discriminatory remarks regarding February aren't limited to riders. Froome's team boss David Brailsford also made a comment to media from Oman: "Quite frankly, it's good for Froomey's confidence to be able to put in a performance like that," Brailsford stated in an interview with VeloNews. "Albeit February, it's good for him."
"I mean, what kind of thing is that to say? 'Albeit February'? Seriously." said Feb.  "Come on. I know I'm short. I know I'm early. I know people aren't really sure if I'm a winter or spring month, but I deserve some respect. There is no place for these monthist comments in Hein's sport."
A string of bad luck incidents during February, including the recent theft of Garmin-Sharpe's bikes from Tour of the Med, Koen de Kort's broken collar bone, and flooding on the Cyclocross World Championship course, has shaken the confidence of a month that is desperate to remind people of its existence.
"I'm tired of being March's doormat. Everyone loves March because of the Spring Classics. No one wants to acknowledge that without February, March doesn't happen. If you want to get to March, you have to go through me."
"Everyone is testing their progress during me, and getting ready for the guy next door. Even January gets more love because of the Tour Down Under, and I'm the one that has Valentine's Day!" said the month.
February went on to say that lack of love for the Love Month has forced it to seek professional help. Damage from monthism has exacerbated February's identity crisis over confusion regarding its number of days, when Leap Year really happens and who can make a marriage proposal, and criticism that Valentine's Day isn't a real holiday.
"I have this to say to the pros, the teams, and cycling media: I still love you. I'll still be providing you races with little change in scenery in which to test early season form."
"You can knock me down and you can put me behind you, but time doesn't stand still. I'll be back. This time next year, I'll be here."