In an effort to secure the necessary points to ensure a return to World Tour level, troubled Katusha management have reached out to senior members of the British royal family.
A chance moment reading an Aeroflot inflight magazine drew the curiosity of Vlatislav Ekimov, tainted Katusha team director. The subject was Prince Charles's interest in alternative medicine, notably homeopathy.
"We need points real bad, but we no longer can be caught with the dope, so I ask Charles to help us so for in return the Russian people will buy much more property from the Duke of Westminster."
Reading that Charles is convinced that molecular doses of a substance can have significant therapeutic effects, Eki sought out the King-in-waiting to devise a non-pharmaceutical means of boosting the team's performance.
The pair sat down with advisors in the Duchy of Cornwall's 5th largest kitchen and discussed the possible options. Essence of beetroot was the preferred means of administering added powers of power.
Early tests proved inconclusive when just as the project seemed doomed, the youngest of Princess Diana's sons, Prince Harry, confirmed to UK media that he had been involved in deadly attacks on Afghan freedom fighters and wedding guests.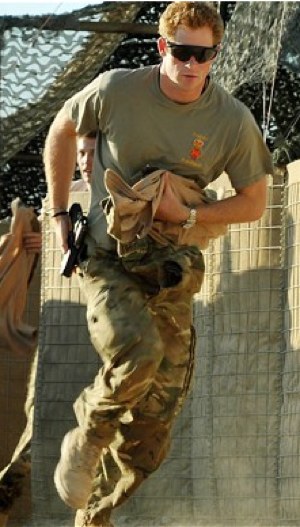 This was the breakthrough they had sought and the testosterone homeopathic plan was born. This simple regime involves several pairs of Prince Harry's Apache helicopter underwear being worn for several days past the regulation 5 days. These are then being secreted about Katusha buses and team hotel kitchens.
The molecular doses of killer homeopathic testosterone have been infusing subliminally into riders and bringing the same performance boosts that Eki used to enjoy whilst he allegedly benefited from the Lance A-team program.
"I have much joy to be knowing that the very macho briefs of a warrior Prince will help us with points and also to be accepted into the WPCC as we no longer are quite of cheats. Harry is much more bad ass than Uwe Ampler, and everyone feels his testosterone is the answer to the team points conundrum."
It is understood that the news has prompted SKINS to send several pairs of compression tights to Kensington palace.