Growth, growth, and more growth. We keep hearing this mantra from our friends in Aigle, from team owners, from race organisers, and from sponsors. The UCI feels globalisation equals growth. Team owners feel more sponsorship dollars equals more growth. Race organisers feel more races in their stable means growth. Sponsors feel more revenue equals more growth.
Does the cycling world truly understand what growth means?
The top two dictionary definitions of growth are as follows: "The process of increasing in physical size; The process of developing or maturing physically, mentally, or spiritually."
Josh Whitmore is one of my followers on Twitter, and it was a series of tweets to me which inspired the penning this particular column. Whitmore expressed how he's having trouble signing up sponsors in the aftermath of the Armstrong debacle, as the public perception of the sport is downgraded the way Moody's downgrades a poorly-performing company after finally acknowledging what its real health is in spite of the masking spin of its PR machine.
Cycling has been obsessed with increasing its "physical" size by any means necessary. As I alluded to in my last column, our governing body – with the full cooperation of USA Cycling, Thomas Weisel, and Lance Armstrong's inner circle – created a "Cycling Bubble" in an attempt to contrive a grand cycling public relations spectacle hitherto unseen. Their hope was that by creating this grand mythology of athletic superiority, the cycling public would flock to the sport in droves.
And in droves they came. The governing body arguably created said gravy train that team owners, race organisers, and sponsors all jumped aboard, in the hopes that the cycling public, too, would catch the express as it steamed across the globe. They felt the more Armstrong won, the more people would hop on the bandwagon to some sort of cycling utopia where everyone was consumed with buying everything related to cycling that would transform them into a winner.
National federations boarded their own versions of the gravy train, attempting to prop up their own heroes. Germany had Ullrich. Italy had Basso. They all attempted to generate their own "Cycling Bubble" using the same contrived formula.
The trouble was, not everyone cared for the kind of person Armstrong was or the way he conducted himself. Eurosport's David Harmon expresses these sentiments in the latest episode of  CCNN-TV, where he says that Armstrong was the type of individual he'd have one beer with him and then take his leave, because Harmon didn't particularly like him. Betsy Andreu, in an email to @festinagirl, expresses the same sentiments.
However, no one wanted to cross Armstrong as long as he was the golden boy of the UCI. Thus the crux of the problem with how the sport has been developed, marketed, and promoted. Pat McQuaid and Hein Verbruggen both have stated that cycling must promote its stars in order to "grow" the sport into some sort of mythical status, but they've gone about it in entirely the wrong way.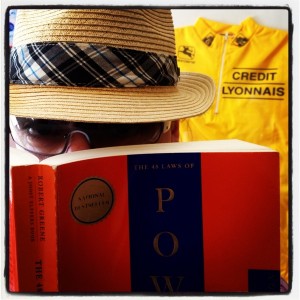 Verbruggen and McQuaid have both been guilty of a Calvinistic version of predetermination. Almost all governing body heads and private sports league leaders rarely interact with their star athletes outside of formal events. I specifically and directly asked a North American sport commissioner the last time he received a phone call from his current star athlete. He couldn't recall the last time, and in fact, stated that he's never given out his mobile number to any of the star athletes in his league. When asked why, he stated that it wouldn't seem proper to favour one athlete over another.
In fact, this league prefers to market several marquee stars, but it changes based upon who the league champion is and who the MVP is. The league stays fluid. It evolves with the fan base, and it hardly ever discusses growth outside of its geographic boundaries due to travel logistics. These would be novel concepts for the sport of cycling.
Compare this to McQuaid's gushing comments over Bradley Wiggins beginning last year and culminating this year at the Olympics. Compare this to McQuaid's actions at his October 22nd press conference where he states Lance Armstrong called him on his mobile phone the Friday prior to the press conference asking what the decision was going to be. Now ask yourself why McQuaid doesn't gush about Ryder Hesjedal – this year's Giro d'Italia winner – the same way he does about Wiggins. Ask yourself why McQuaid would use Fabian Cancellara and Mark Cavendish as two "superstars" from whom he would accept donations to improve the sport, rather than use "professional cyclist" as his example.
These illustrations show the UCI has been guilty of using artificial means and methods to grow our sport in a physical manner. So? What's the danger in that? Everyone profits, everyone makes money, so everyone should be happy. Wrong. Just like the hectares and thousands of empty homes (in some cases only half built) littering the landscape of Spain, cycling will now have sponsors moving on to other sports, and people abandoning their Livestrong bicycles for the next sporting flavour of the week. Britain is no different. No matter how much exposure Wiggins brings to the sport, it isn't going to solve the decade-old battle between cyclists and motorists for control of England's roads.
In fact, a glut of new riders on England's roads by this contrived marketing scheme may in fact cause more problems than solutions. How many cyclists emboldened by Wiggins triumph have them buy all the latest gear, jump on the roads for the first time, and become petrified because they don't know how to rider their bike properly, let alone ride properly in traffic? I digress.
As Whitmore pointed out to me on Twitter on Sunday, the racing organisers at the local level are allegedly as inept and corrupt as their counterparts in Aigle, and have continued to undermine his ability to gain sponsors. In fact, another individual in the sport identified this phenomena as well, but in more general terms. BMC public relations officer Sean Weide pointed out on Twitter the challenges the Colorado race have by over-promising to host cities and vastly under-delivering, as similarly the UCI has done in China.
This goes back to the definition of growth. Focusing on the first definition of the word without recognising the second definition of the word is why we are in this mess in the first place. There is a lack of development and a lack of maturation in the sport of cycling. The constant bleating about the "end result" and a lack of focus on the process creates this patchwork approach which is completely confusing to someone outside the sport. BMX is handled differently that mountain biking, cyclocross and road racing. Road racing worries about revenue sharing but teams/riders in other disciplines don't even have a say in their TV revenues, and are struggling just to make it a "job." Why is Sam Willoughby not a household name, but Bradley Wiggins is? Do Pat McQuaid and Hein Verbruggen know who Sam Willoughby is? He's the current BMX world champion, if you were wondering.
Maturation and development. It's not enough that Brad Wiggins is on the television generating interest in cycling unless there is a Garry Beckett who helps run a local cycling climb, puts on a hill-climb challenge and banquet every year, and offers encouragement to the local young people to start riding. Without the Becketts working in the sport everyday, when the next crisis hits cycling, all you'll have is a stack of dis-used bicycles and equipment, and an ever-shrinking local race scene.
The lack of focus on maturation and development of existing markets is going to continue to lead to the demise of lower-level races in all countries. McQuaid complains to Herbie Sykes in an interview that the European races are staffed by "old men" and the youth aren't coming anymore. His answer is going to China, rather than stopping to ask the question why the youth don't want to race or ride anymore. I asked youth in Italy, and one startling answer I received was the fact one young woman didn't like Armstrong and didn't believe he was clean, and concluded  she couldn't believe in a sport where its leaders tried to perpetuate that myth. I wonder what the young lady thinks now, after Armstrong has been disgraced and forgotten by the UCI.
Cycling will survive the current laundry list of scandals where areas of cycling are grown from the lowest levels up. Places where cycling heroes are on Saturday morning cartoons. Places where people ride for fun. Places where people ride to run their errands. Places where people can climb the same roads their heroes climb, no matter the level their heroes race at. However, the UCI may not survive this exercise if they continually focus on ever-expanding physical growth. Just as a middled-aged man can only grow one way as he continues to eat, so too does the UCI. That sort of growth causes heart attacks, something the UCI is getting warning signals about currently.
It's high time we shift our focus onto what "growth" should be – real, coordinated development in the sport from the bottom back to the top, not the other way around.